You may hear some new or former names around our district starting in January. We are fortunate to be bringing strong team players with previous experience in many of the roles to Coleman. Please help each of them and their families feel welcome! Mrs. Lucy Kosinski will be joining us in 4th grade. Mrs. Kosinski has taught previously out of state and tutored for 18 years. Her family is new to the area and love the town of Coleman with their child attending here. Please help her and her family feel welcome when you meet them! Ms. Emily MacDonald will be joining us as a 2nd grade teacher. She will work with Mrs. Melissa Allen for a few days. Mrs. Allen has been teaching the class this year and doing a fantastic job, but this will allow her to move back to her Elementary Math Interventionist position to support our students in a different way. We're excited to bring Ms. McDonald on board and give a HUGE thank you to Mrs. Allen for all of her efforts. Mrs. Cheryl Luna will be a long-term substitute teacher in the elementary through the end of the school year. Some of you may remember Mrs. Luna as the Coordinator of our SPARKS program a few years ago and she is now completing her teaching degree. Mrs. Luna will be placed in classrooms as needed each day. Thank you for working with us again, Mrs. Luna! Mr. Jason Sharpe has been hired as an 8-hour custodian and will start with us on the 9th. He will be the afternoon custodian at the Jr./Sr. High and has experience as a full-time custodian in schools downstate. He comes highly recommended and we are thankful for his custodial/maintenance experience and excitement for the position. Mr. Daniel Inman has been hired as an 8-hour custodian and will also start with us on the 9th. He will be an afternoon custodian, split between the Elementary and the Jr./Sr. High. Mr. Inman also has previous experience working in schools and other businesses in the maintenance/custodial areas. His addition allows for additional custodial time year-round to better support the summer, career-technical and other programs we have added over the years.

Congratulations to Comet alumni and recent SVSU College of Business grads: McKenzie Miller, Spencer Pnacek, and Jayna Hess! We've heard that a few of our former students recently earned college degrees. Please send photos to
pr@colemanschools.net
so we can share in the celebration!

Mrs. Klopf's 6th grade class was treated to a Holiday treat for their November good attendance. Thank you Mrs. Shoultes and Mrs. Long for the Michigan Holiday cookies and frosting fun.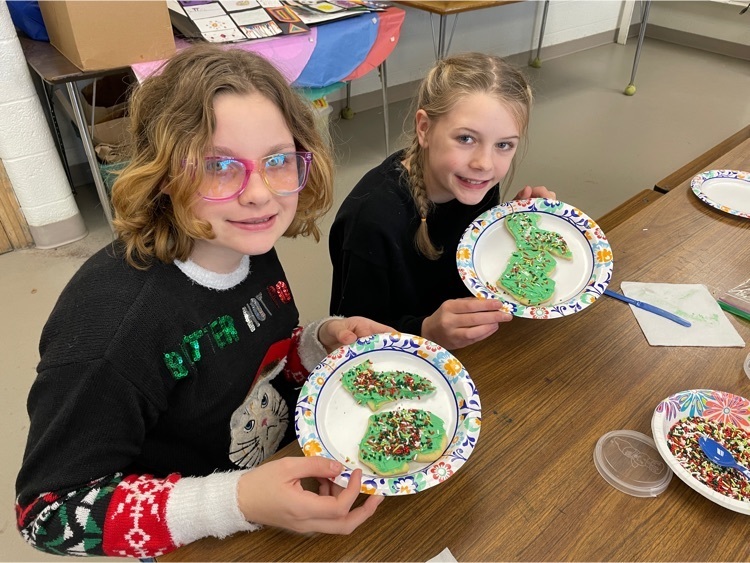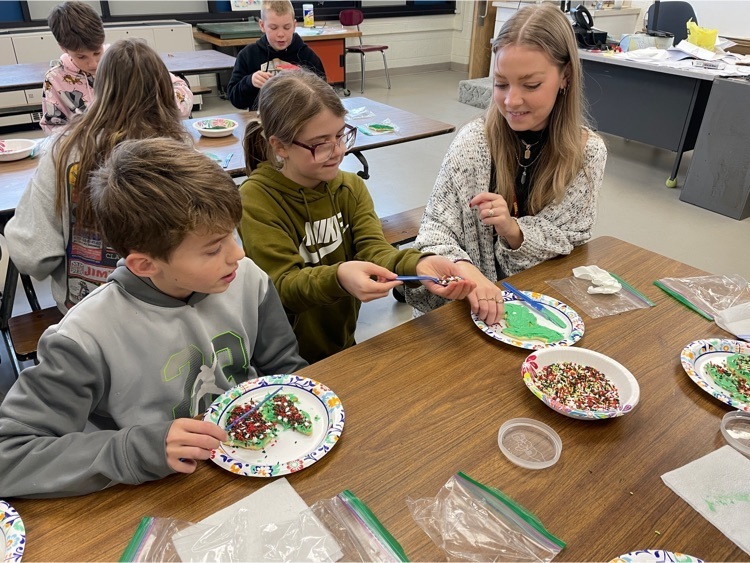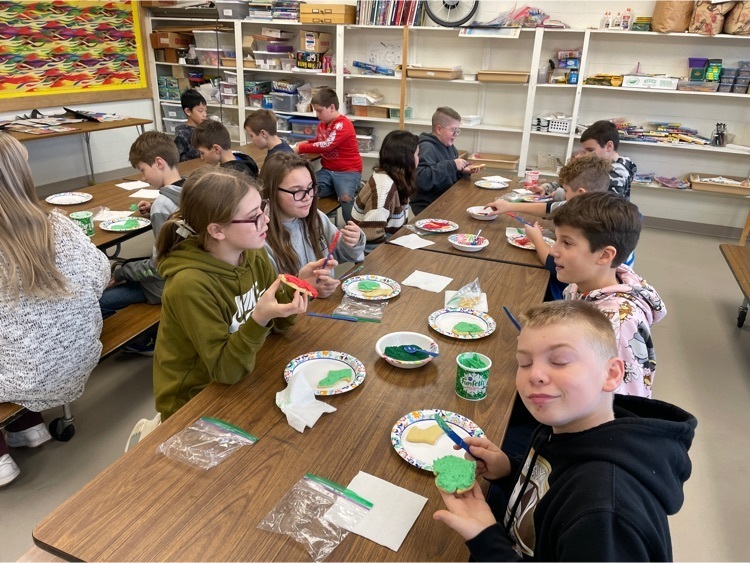 Just a quick reminder that Wed., Dec. 21st, is our last day before the winter break. Jr./Sr. High will release at 1:50 p.m. and Elementary at 2 p.m. School will resume on Tuesday, January 3rd, and we look forward to seeing you then. Enjoy your winter break and holidays and we hope you have a relaxing and fun time with family and friends! See you on the 3rd!

Tonight's Pledge Leader at the Board of Education Meeting: Braxton Wilson! Braxton was accompanied tonight by his siblings, Landon and Addison. Thanks for saying the Pledge so nicely and loudly for us!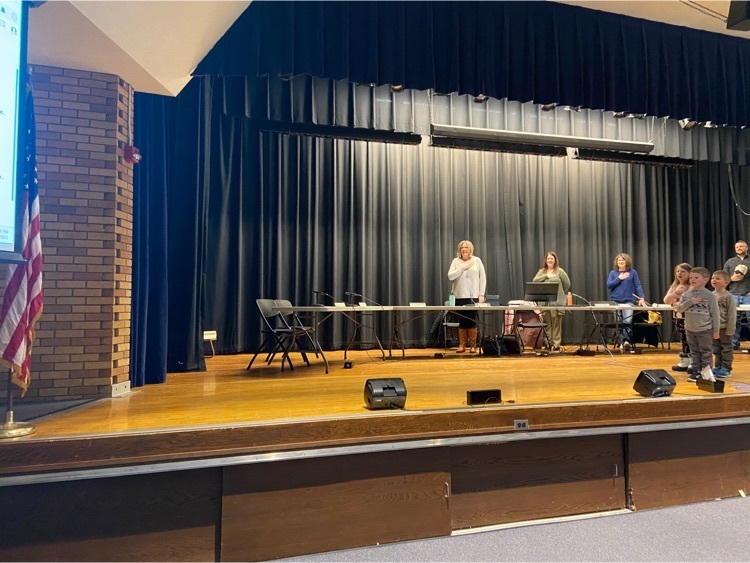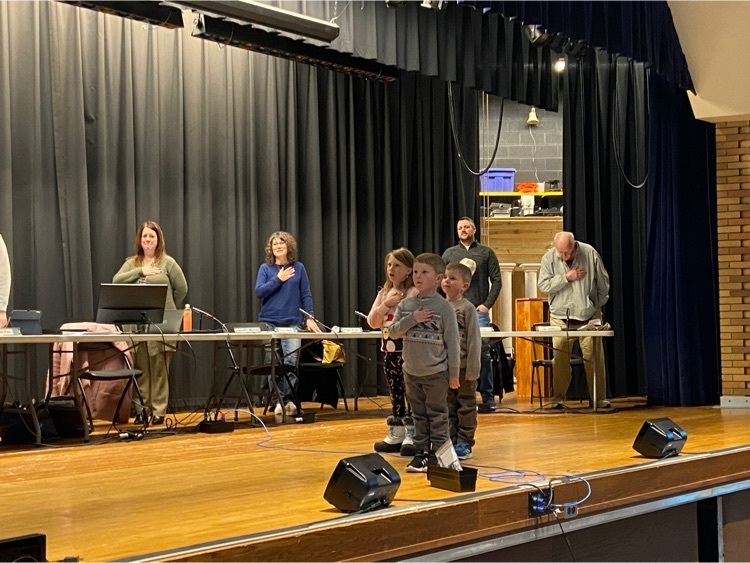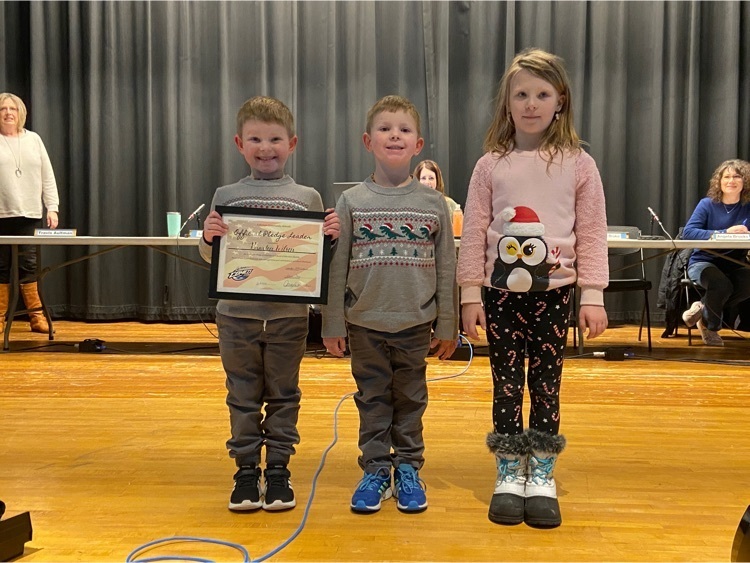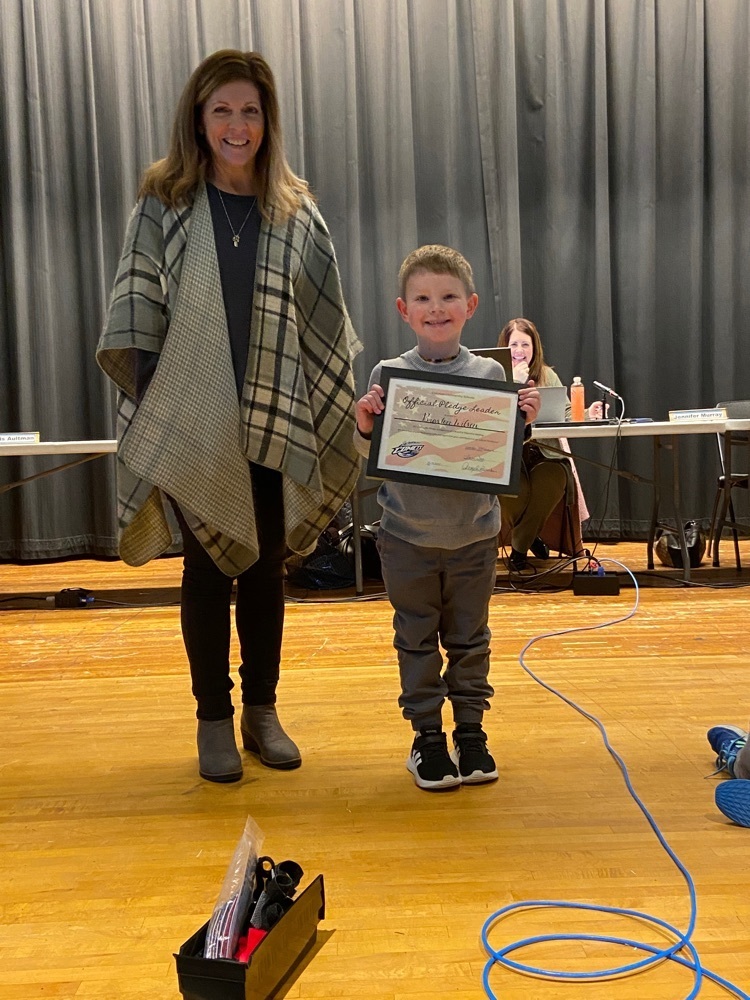 Crafters in our community: we need your help! As part of a school initiative, our teachers and staff are planning to hang leadership quotes above their doors. If you own a Cricut and are willing to cut out quotes out of vinyl (ideally, sized 6-8in) we would be so appreciative! Attached is the list of quotes we would like to have printed. If you can commit to even just a few, that would be so helpful! Thank you!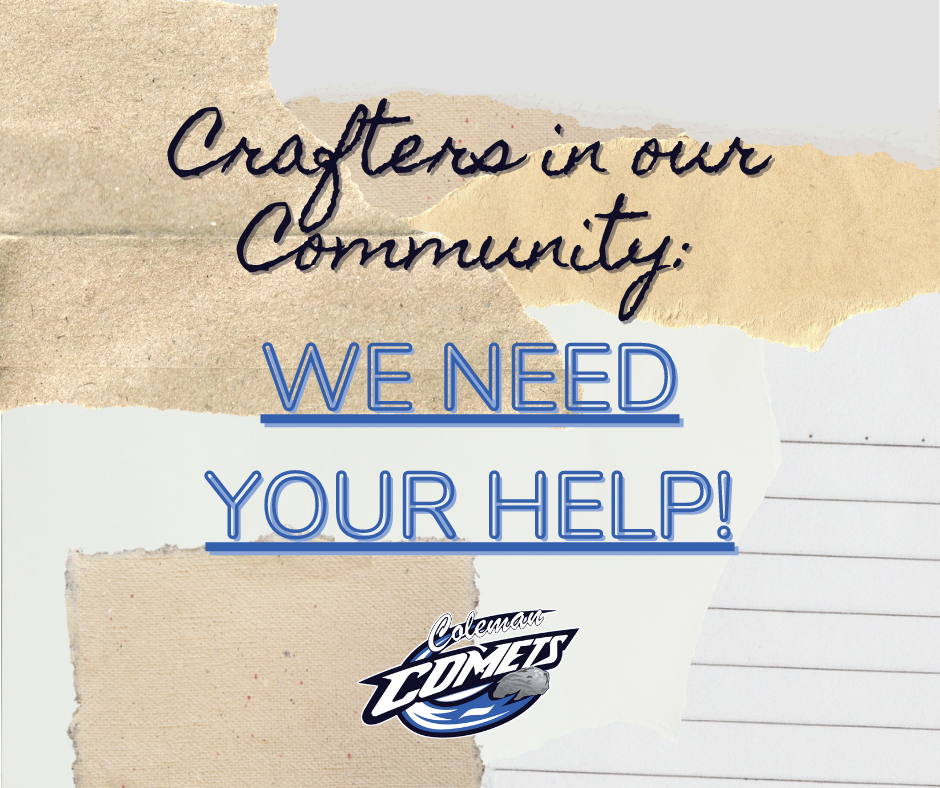 Tonight during halftime of the girl's Varsity basketball game, we will be recognizing Isaiah Biers's big win of the MHSAA D4 Pole Vault Championship last year! We're so proud of our Comet for reaching his lofty goals! Stop by tonight if you'd like to see some basketball and to congratulate Isaiah!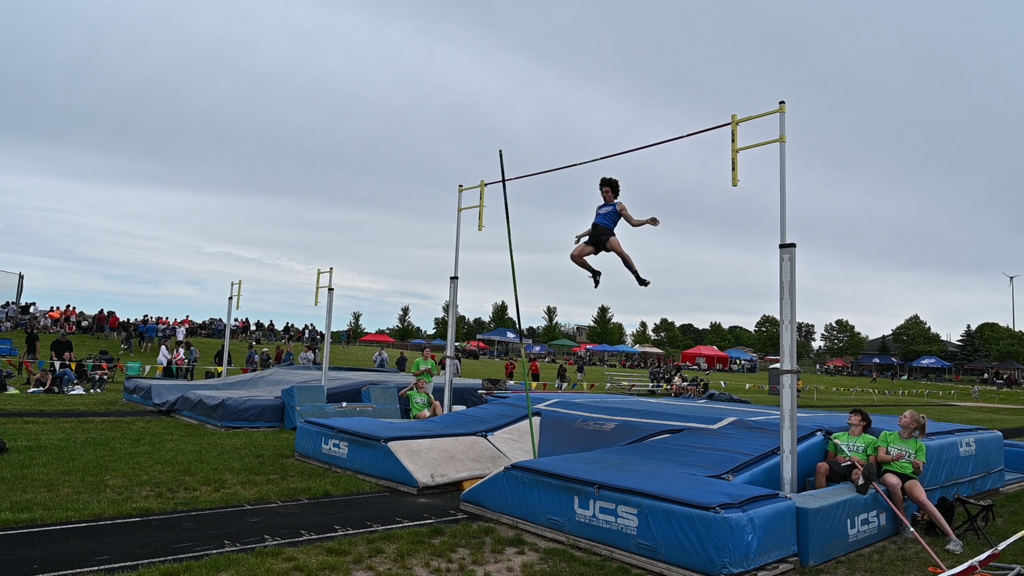 Would you or someone you know be interested in a Social Worker or a Reading/Writing Interventionist position at Coleman Schools? We're hiring! If you enjoy working with kids, want to work a schedule that flows with your kids' schedules, and love a small-town feel, please consider applying or SHARE this post! Read the full School Social Worker posting here:
https://5il.co/1m3ay
or the Interventionist posting here:
https://5il.co/1k0cj
Or, if you're interested in some of our other job opportunities, check out our Employment page here!
https://www.colemanschools.net/page/employment-opportunities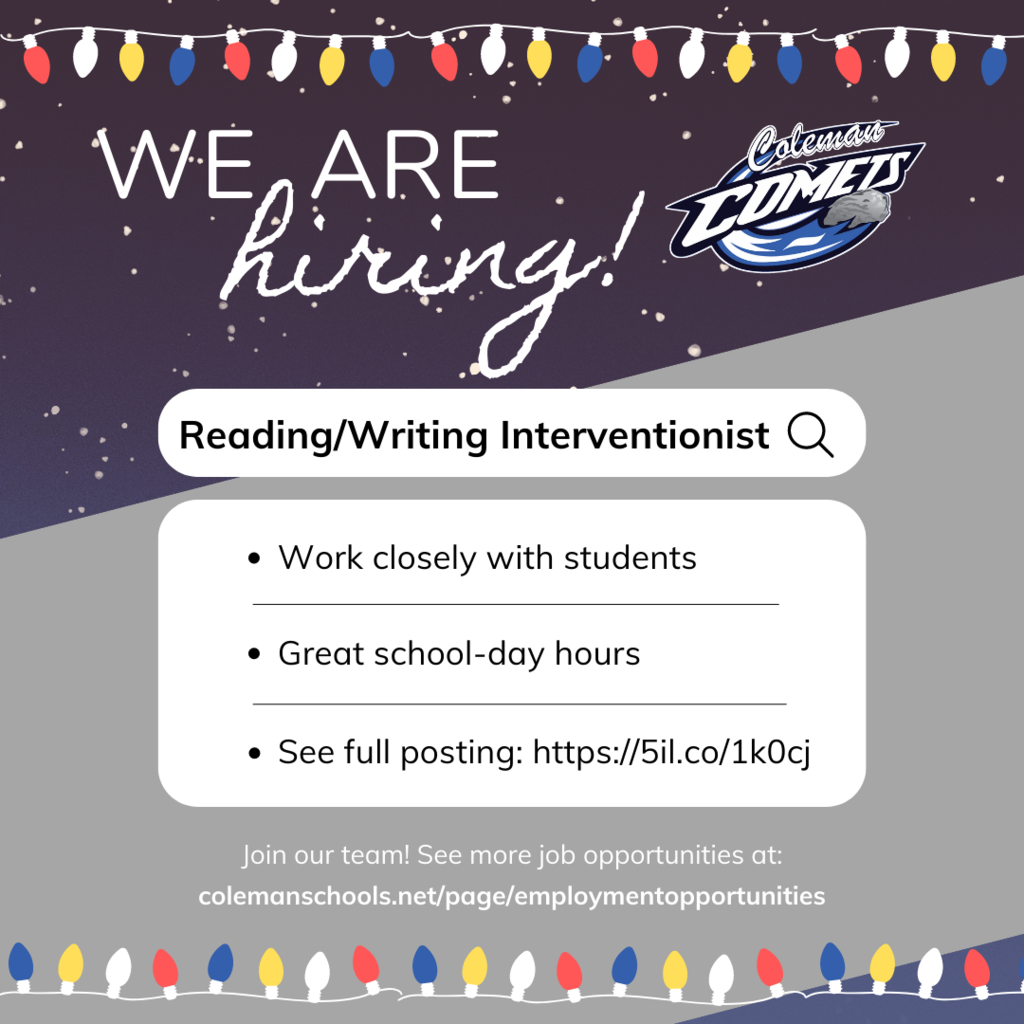 TONIGHT! Come see the Christmas play our Drama Club has been working so hard on at 7pm in the Jr/Sr High auditorium! See you there!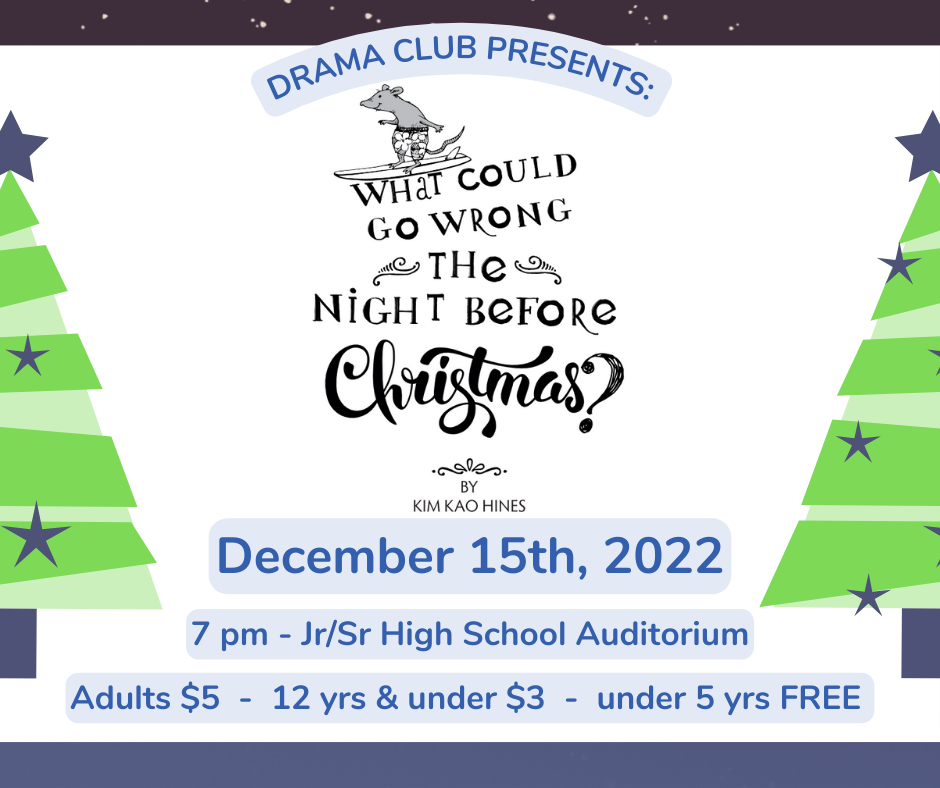 The Christmas play "What Could Go Wrong the Night Before Christmas" is coming up TOMORROW night at 7 pm! Come support our Drama Club students and see all the hard work they've put into this performance!

Mrs. Peckham's American Sign Language class had a visitor last Friday! Mr. Trent Wade, the director of the ASL program at Delta College and a close personal friend of Mrs. Peckham's, took the time to share his experiences of being born deaf, his challenges learning sign language at age 13, his determination to overcome obstacles to graduate with a MA in education and how he navigates the daily struggles with his deafness while Mrs. Peckham translated. The class enjoyed this opportunity to learn more about deaf culture from someone who experiences it first-hand. To teach her classes, Mrs. Peckham brings in lessons from the Delta ASL classes that she's involved with, but at a slower pace with added information to enhance their learning. Additionally, a new Deaf community member visits her class every month to share about their life and struggles in a hearing world. Thank you, Mrs. Peckham, for sharing this great information about your class, we're so glad to have you with us!

Thanks, Mr. Klopf, for sharing these fun photos from your class!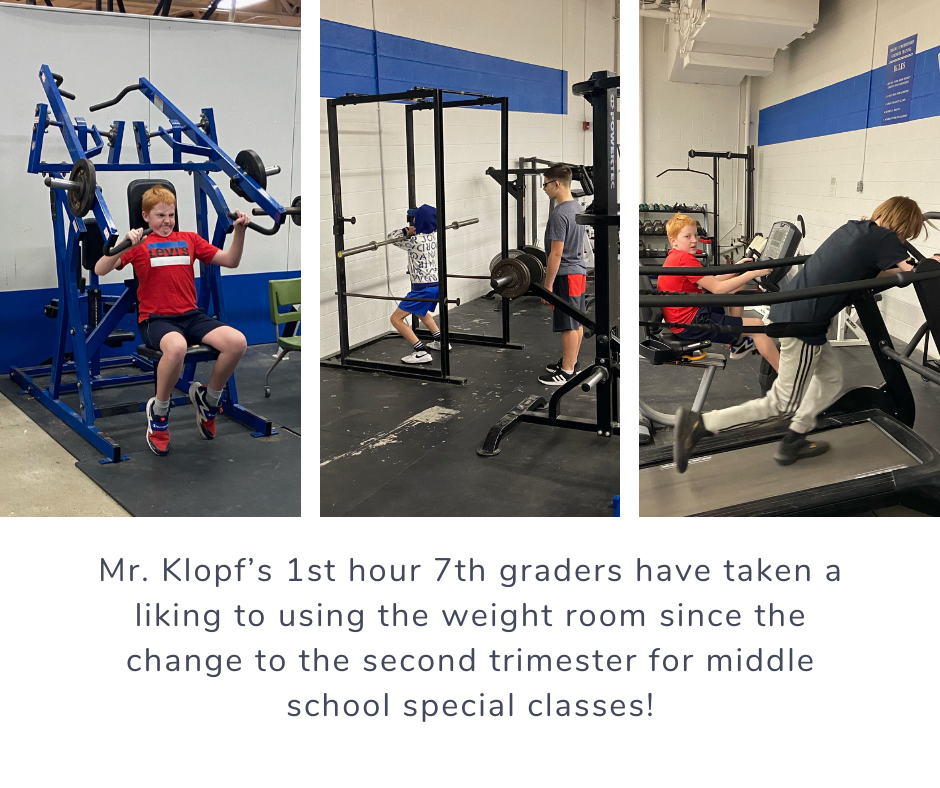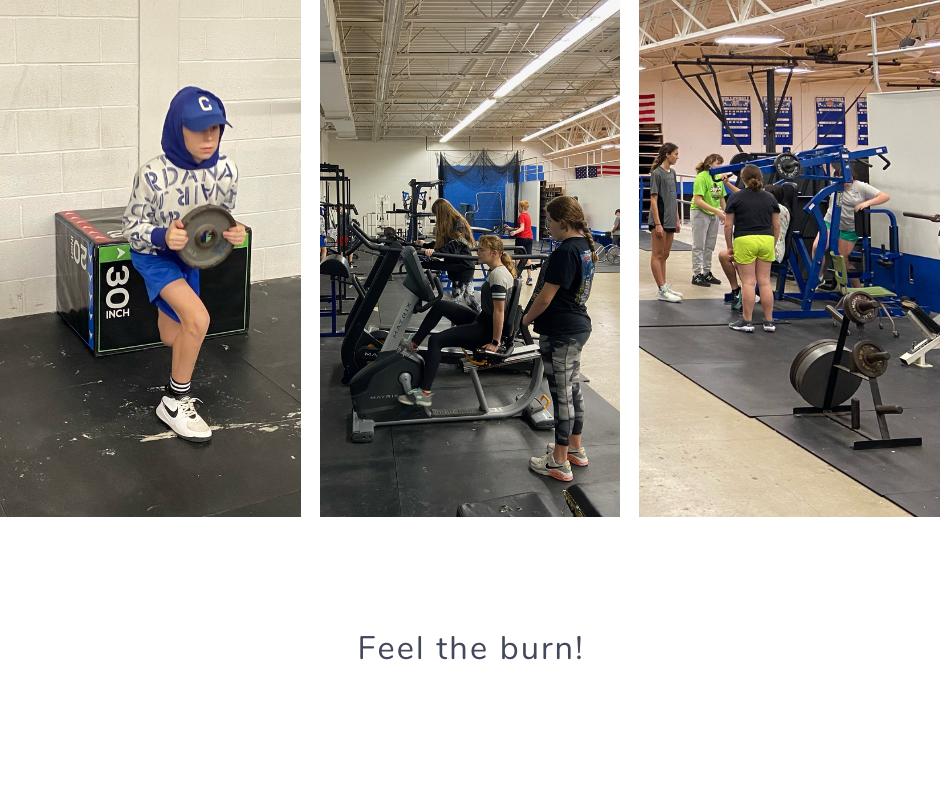 We are seeking a Para-Professional! If you enjoy working with kids, want to work a schedule that flows with your kids' schedules, and love a small-town feel, please consider applying! Read the full Para-Professional posting here:
https://5il.co/1jbs4
Or, if you're interested in some of our other job opportunities, check out our Employment page here!
https://www.colemanschools.net/page/employment-opportunities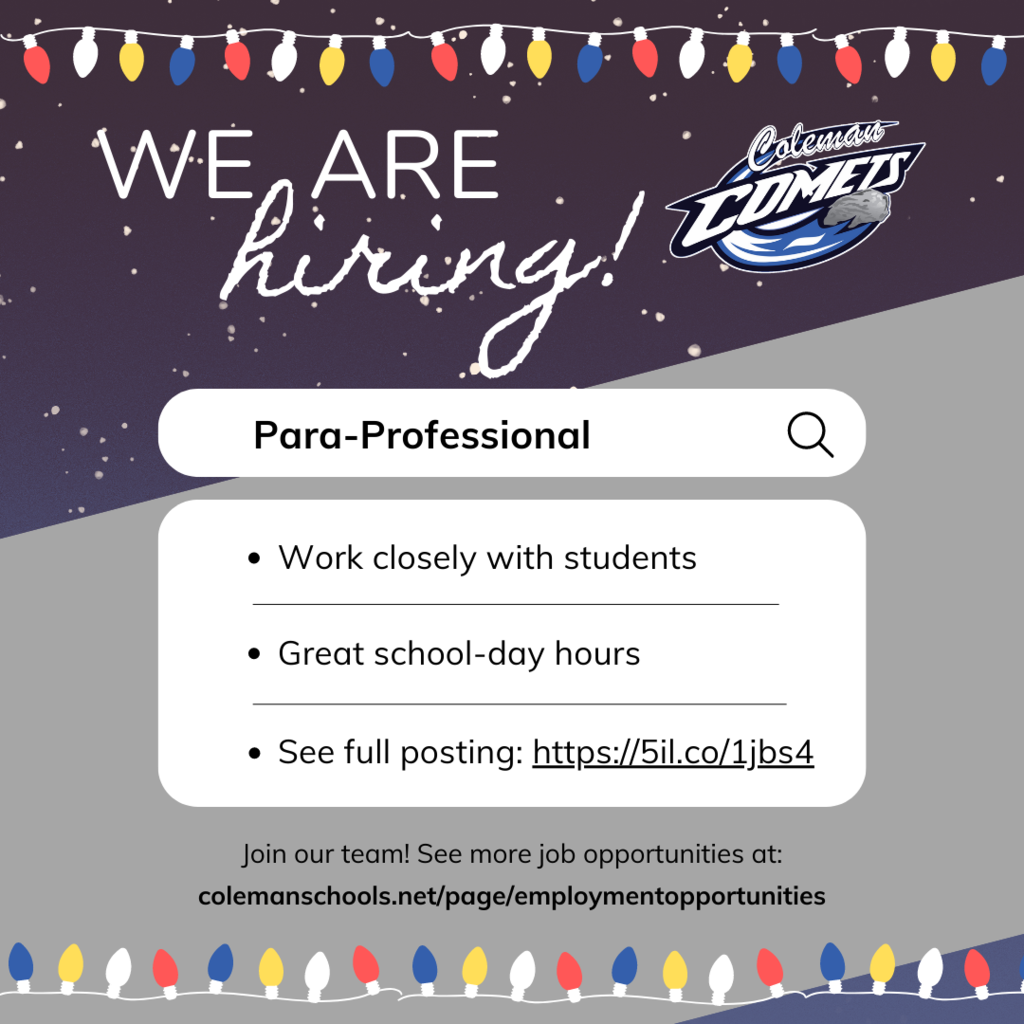 Patriot's Pen Essay Contest Winners Announced! In October, 7th grade students wrote essays as part of an essay contest sponsored by the VFW. The topic was "My Pledge to Our Veterans." The winners from the Coleman Post #1071 were announced. Winning first place was Emmi Carr, and second place was awarded to Raegen McCoy. Charlee Rhode earned third place. Each winner was awarded a cash prize, courtesy of VFW Post #1071. Congratulations to our essay winners, and a special thank you to VFW Post #1071 for their generous prize donations! (left to right) Charlee Rhode, Reagan McCoy, Emmi Carr

A story shared by Mrs. Young: I recently entered to win reading buddies for each of my students, and a $200 gift card to put towards my class library. I had to write about how reading buddies can be beneficial to our students, and how we could use them in our district. I just returned back to my classroom to 2 huge boxes FILLED with teddy bears! Turns out, I won! Each of my students will receive a reading buddy, and the rest will be donated. I also get to shop for $200 worth of new books to help diversify my library. I plan on using it for social emotional stories to use with my kiddos :) Congrats on your big win, Mrs. Young!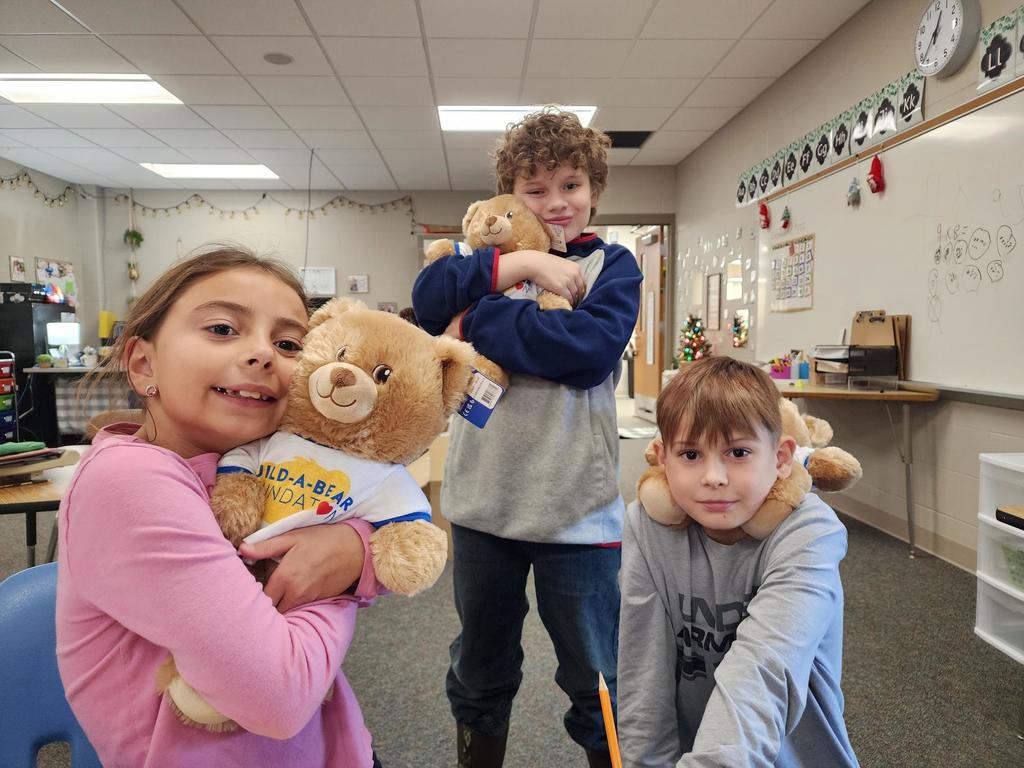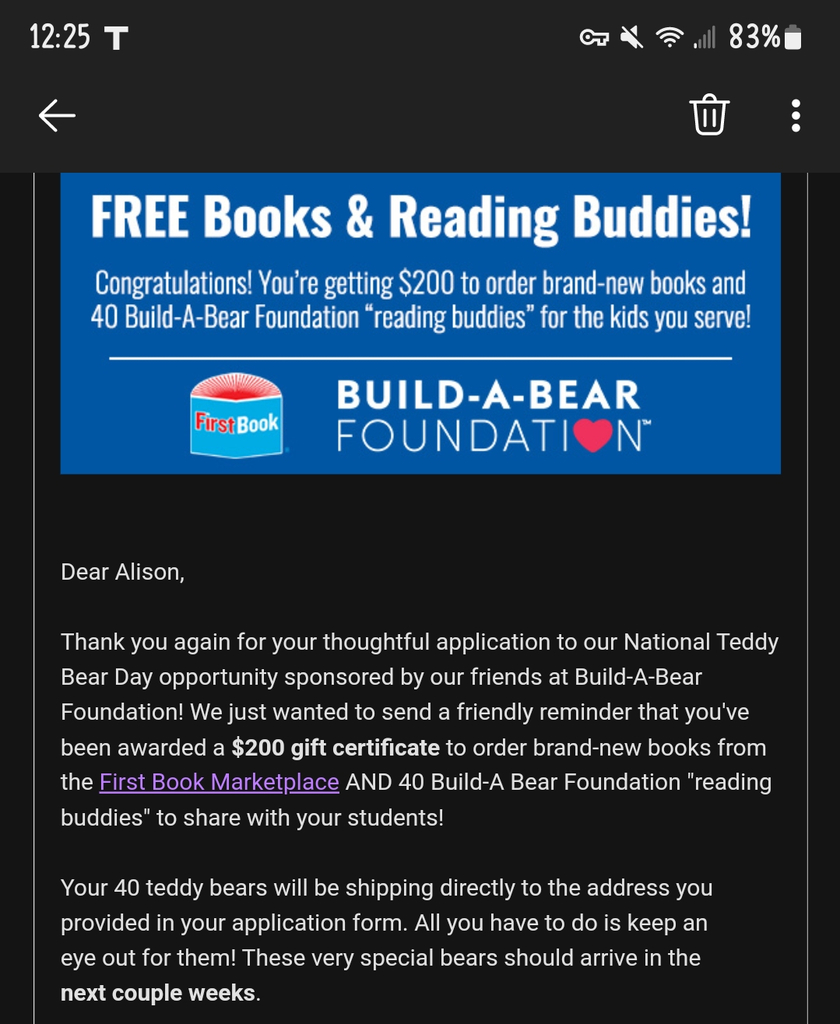 All month the elementary has been passing out I Spy a Leader tickets to students that have been showcasing the 7 habits of a good leader! Last week we drew names for our November leaders (you can see these students in the large group picture). The smaller pictures showcase some of our October rewards in action! So proud of all our Comets showing off their awesome leadership skills!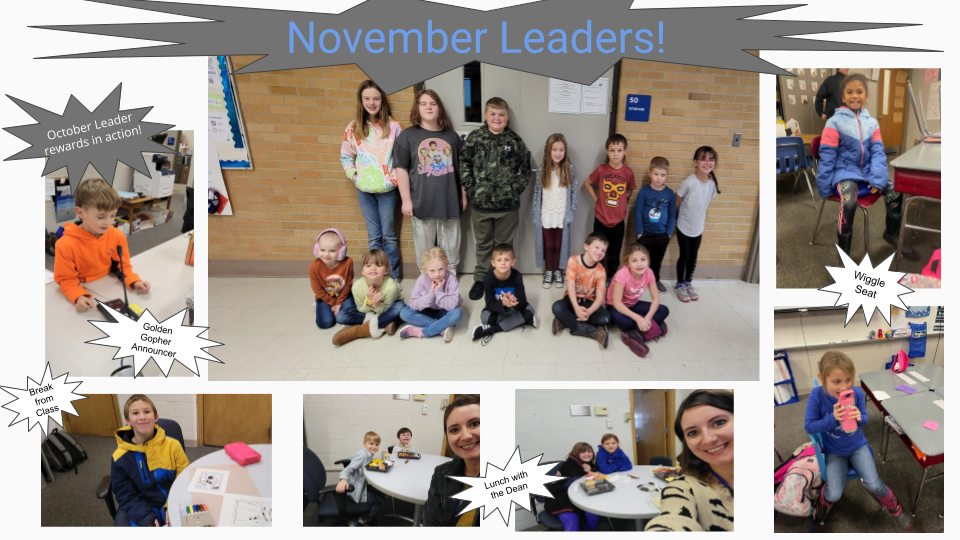 On December 5th, the Elementary Choir presented a musical reader's theater production, "Star Bucks, the musical" for their holiday program. Congrats, Comets, for a fun and festive performance!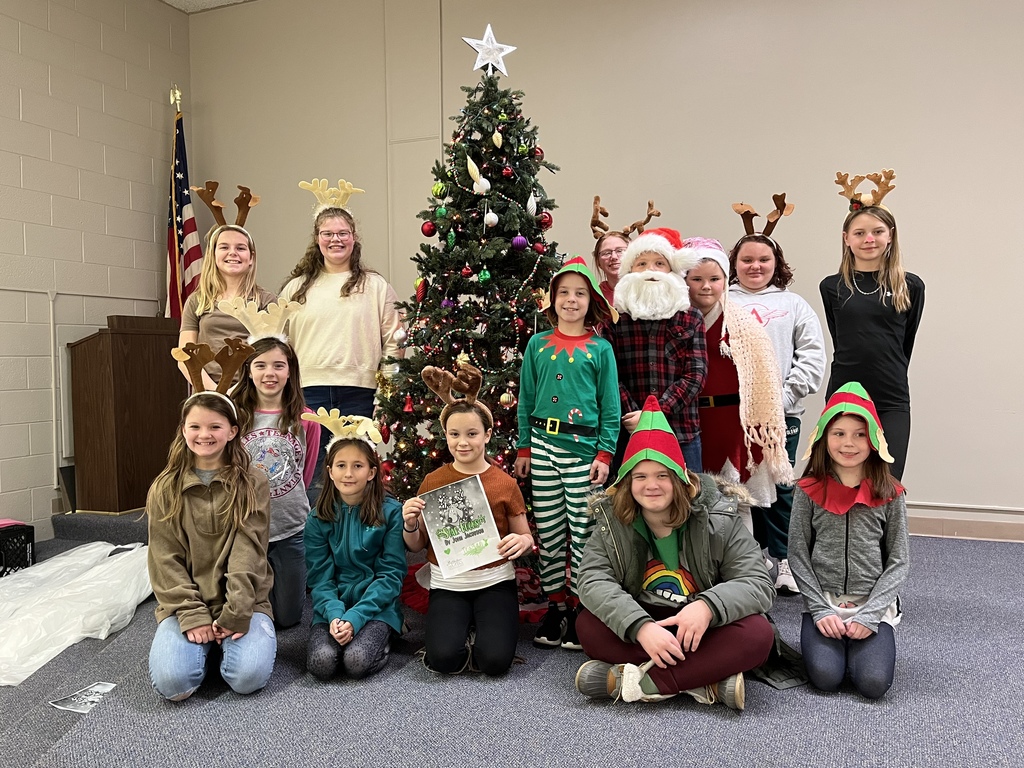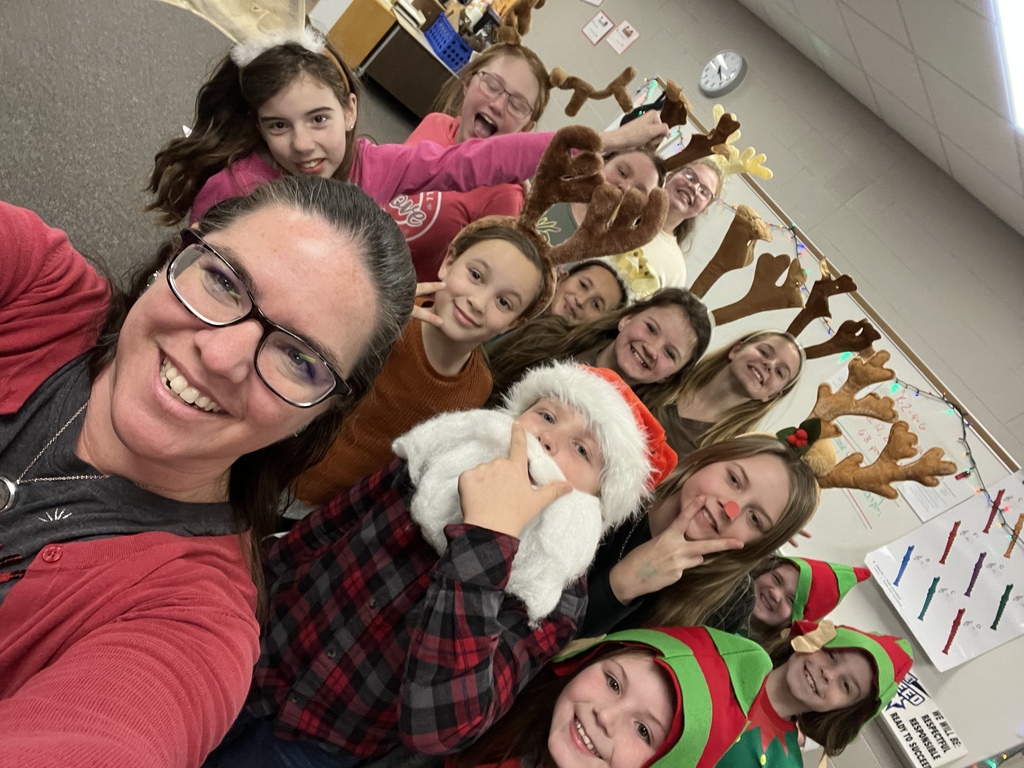 10th grade seminar students are volunteering at the Coleman Senior Activity Center! On Wednesday, 7 students went and served the Christmas luncheon. In addition to spending time with the seniors at the activity center, Mrs. Torreano and Mrs. Shumaker's seminar students have been making Christmas ornaments that will be distributed to all seniors that receive Meals on Wheels. This is part of the Leader in Me program. The 8th habit is to contribute to the community.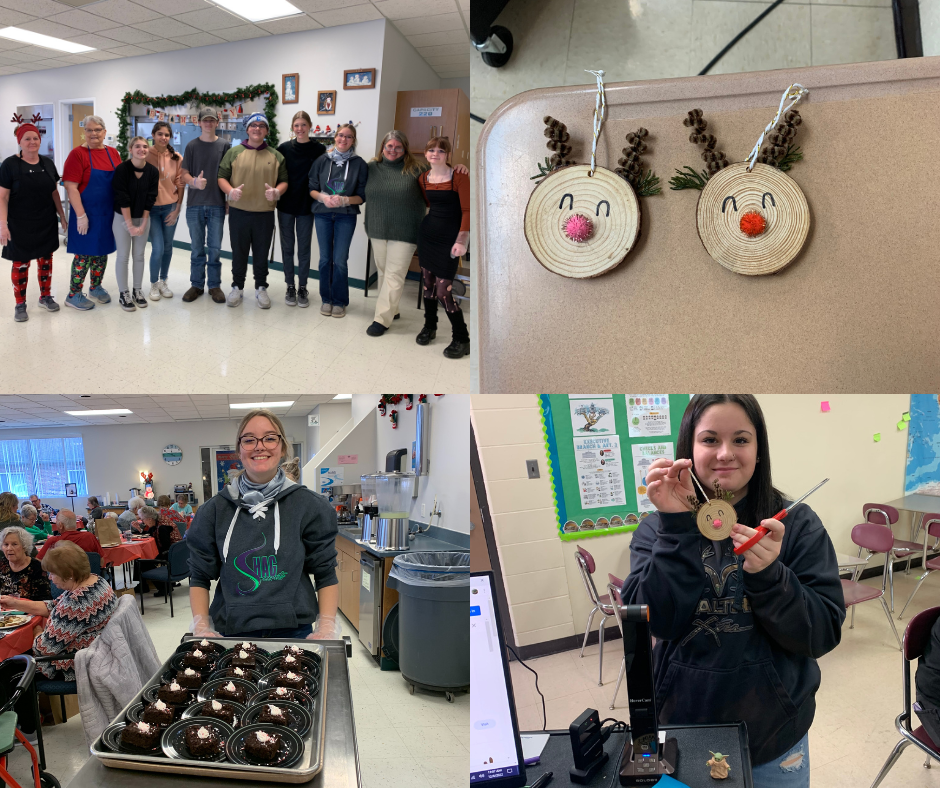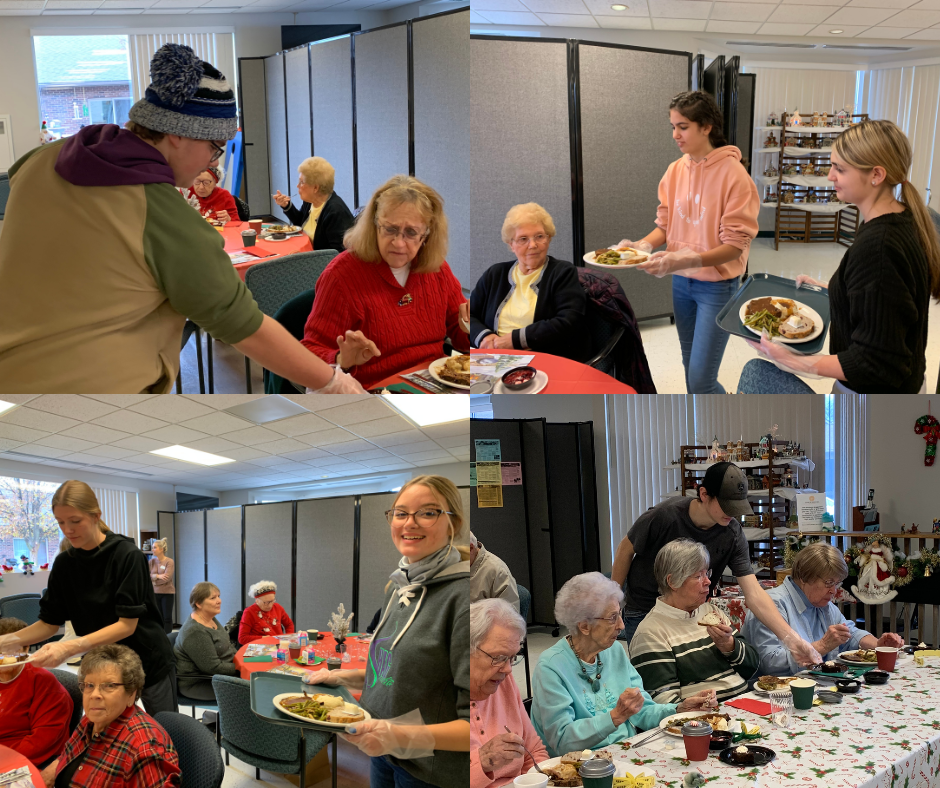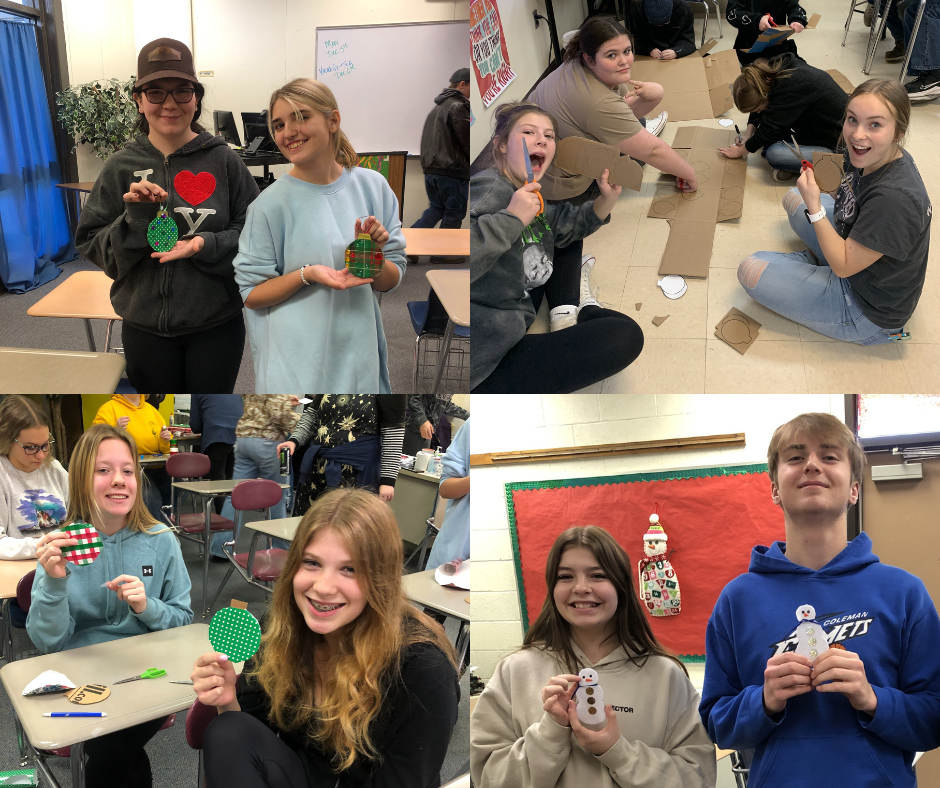 Meet our set-building crew for Drama Club's upcoming Spring musical, Cinderella! From left to right: Ty Murray, Cole Aultman, Ethan Houghton, Hunter Harsh, Mr. Brown. They built the platform for the Prince's castle wall. They have a few more projects to finish the set, but so far they have done an excellent job! Other groups of students in the STEAM class will be painting scenes on the platform, backdrops, and pillars. Thanks for helping support Drama Club, Comets!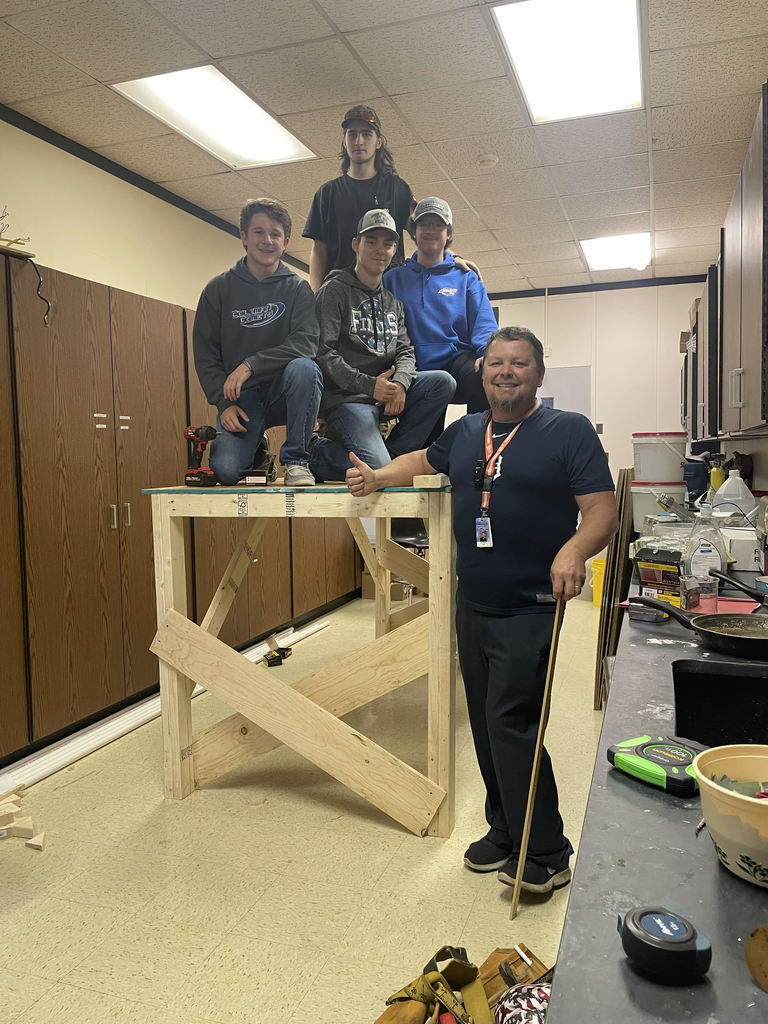 Have you added this to your calendar yet? Come see Drama Club's performance of "What Could Go Wrong the Night Before Christmas?" coming up on December 15th!