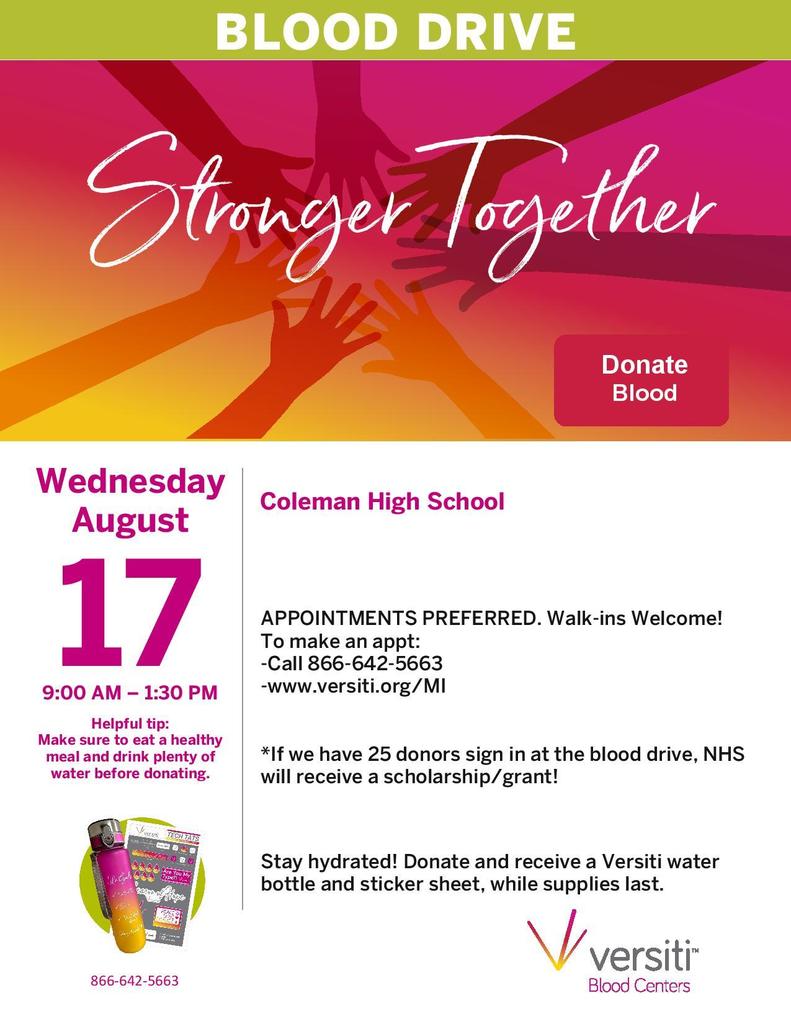 Congratulations to Mike Huss, who has served as our Custodial/Maintenance Director for many years in addition to Transportation Director for most of that time! While we will still have him with us through December, he will be retiring this year. Although we've asked him repeatedly to just stay, he seems to want some more time with the grandkids and his wife, Kelly. We can understand that! A posting for his position is this link
https://5il.co/1fjxv
on our website. Congratulations to Natalie Rogers! Natalie will be moving to the part-time Business Office Assistant position in the board office, utilizing her Business degree. This will allow her to still keep her role as our Communication Specialist working part-time on PR for the district. We're excited to have her in this new role starting August 12th. Please congratulate her! This means we will also have an opening for a Secretarial Aide position available which is available at this link and on our website:
https://5il.co/1fjxu
Also attached are postings for the following Schedule B positions which were added to the most recent contract to better support our student athletes: Boys Bowling Coach- Fall (
https://5il.co/1fjxw
); Mr. Francis will continue as the Girls' Coach Asst. HS Track Coach- Spring (
https://5il.co/1fjxx
) JH Competitive Cheer Coach- Winter (
https://5il.co/1fjxy
) To view all of our employment opportunities, you can visit our brand new employment page here:
https://www.colemanschools.net/page/employment-opportunities
.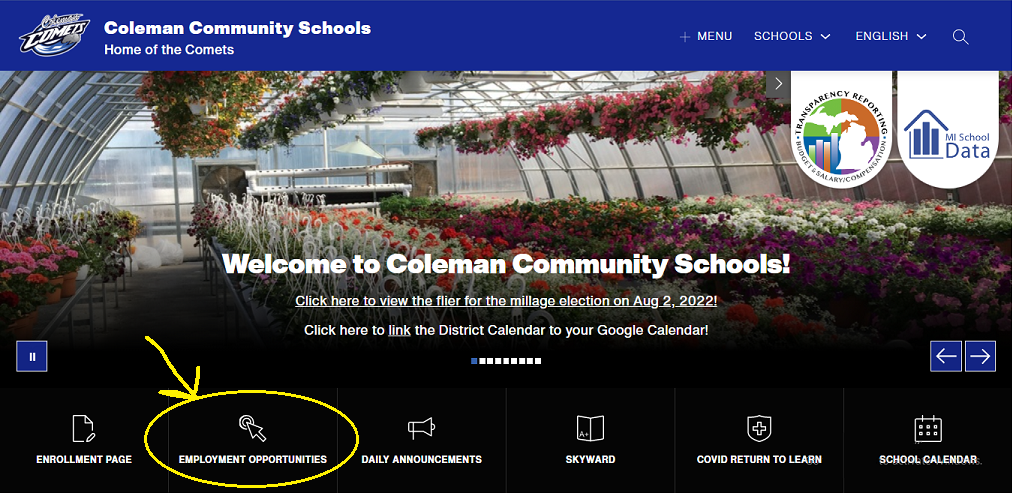 Congrats to our Comet, Brooklynn Lattimer, on winning Champion County Bred!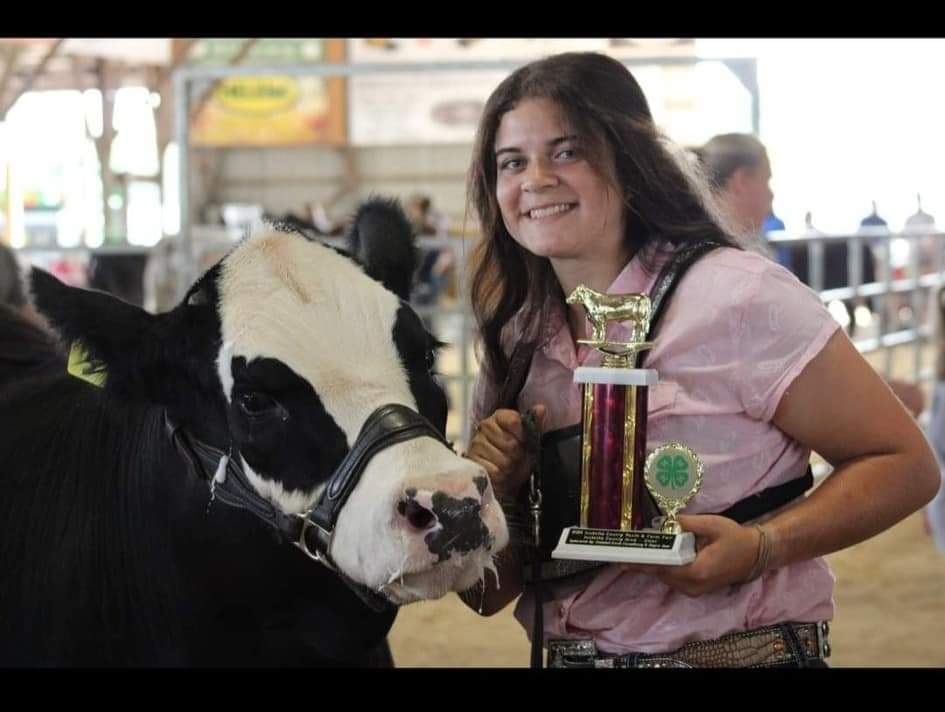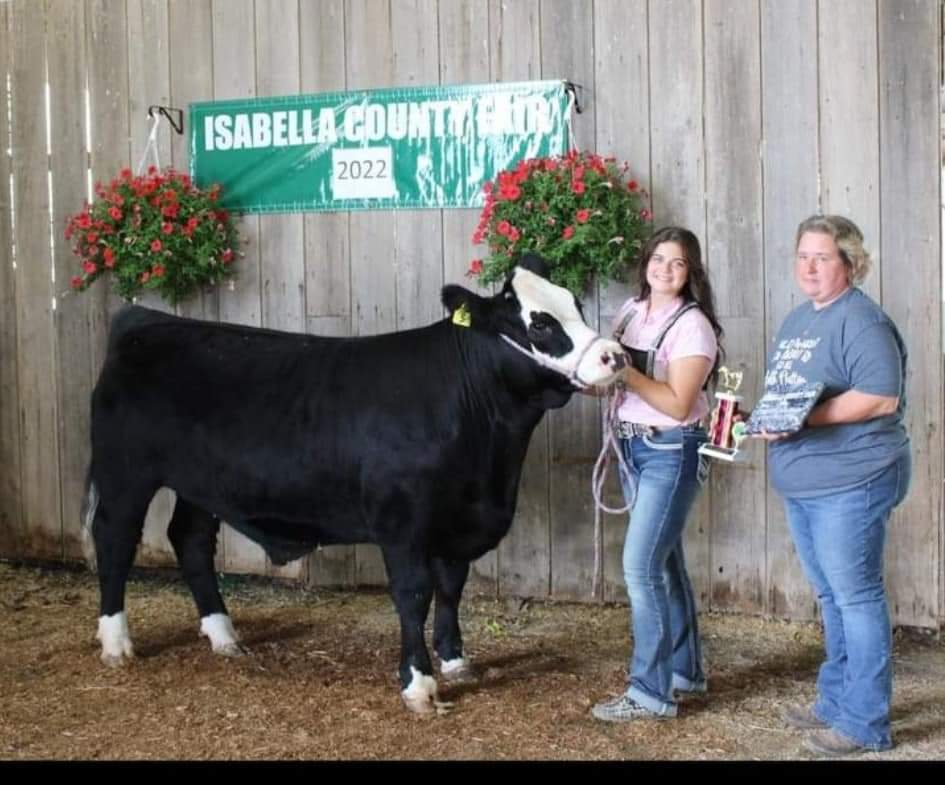 Bergen Mowery and Paige Lynch attended multiple leadership seminars as well as conducting classes throughout their three days at MSUPAC Drum Major Camp late June. They studied many different movements involved with conducting a marching band that they hope to put to good use this season. Paige and Bergen were also introduced to mace-work, whistle theory, and some intros to the famous MSU drum major back bending. They gained knowledge on how to better their position as co-drum majors this year as well as methods to help the band retain the most information they can out of this upcoming marching season. They are excited for the 2022-2023 marching season and can't wait for everyone to join them on the field!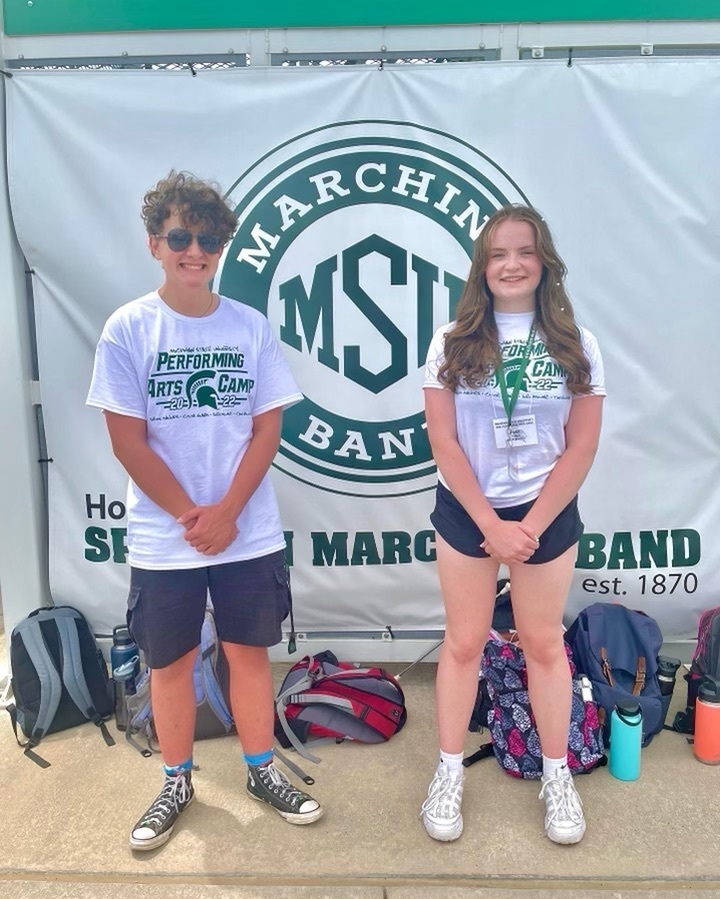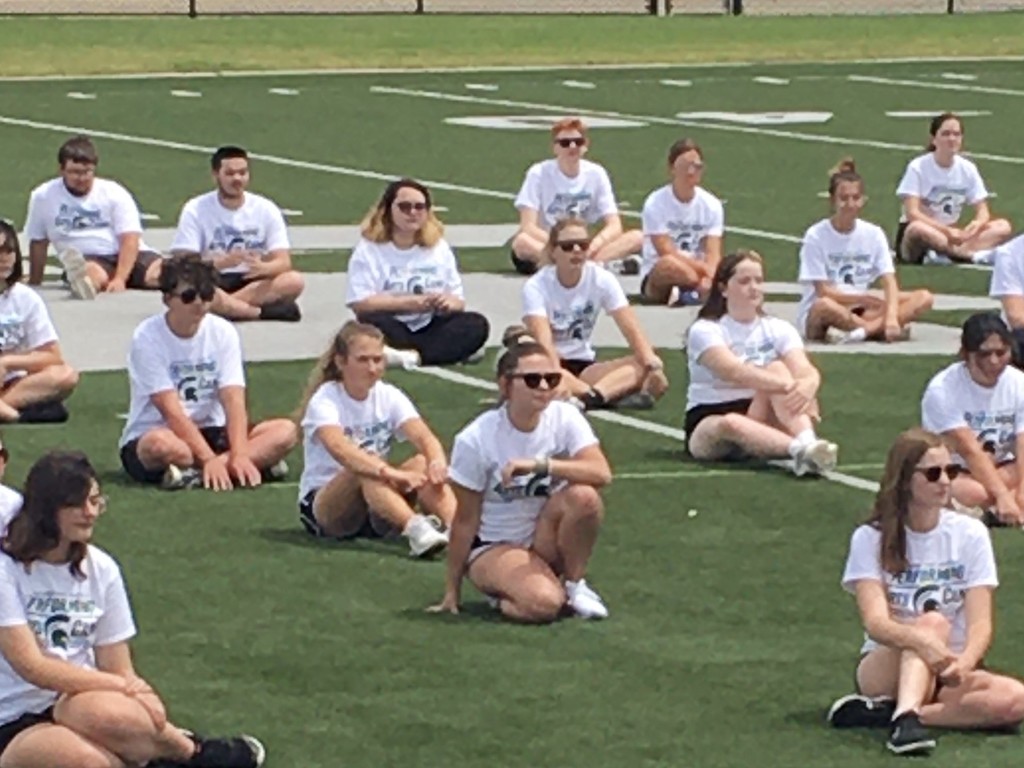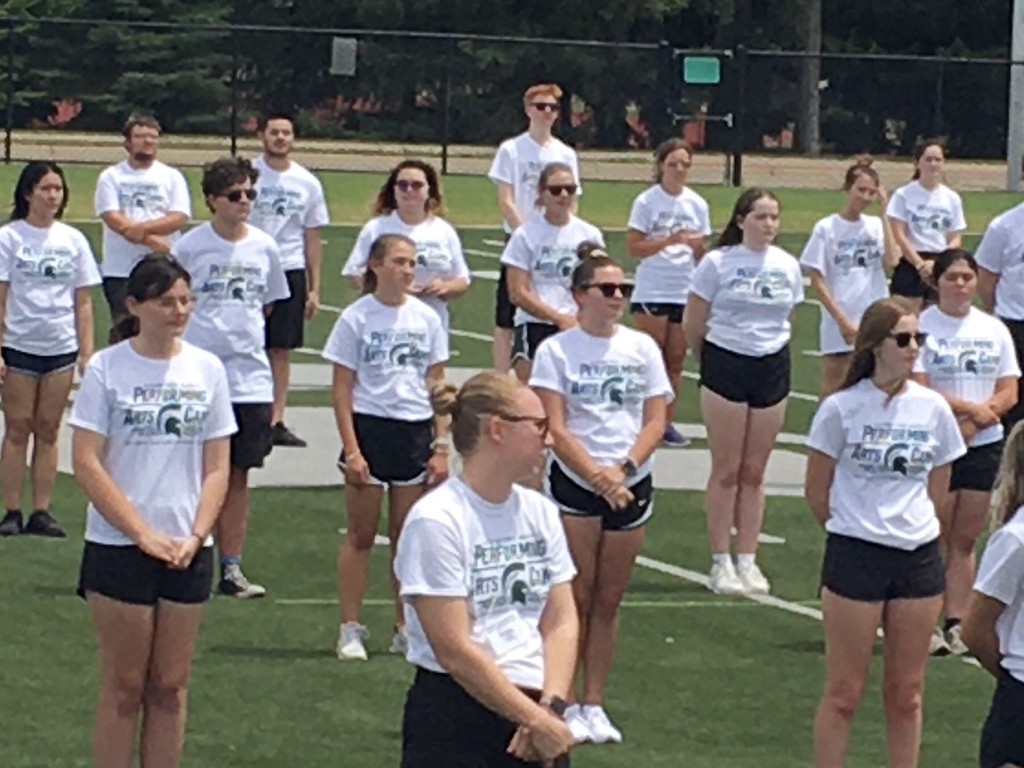 Today's the day! Our operating millage renewal is on the ballot and the polls are open! Please consider taking the time today to VOTE and support our school. We couldn't do it without our awesome community!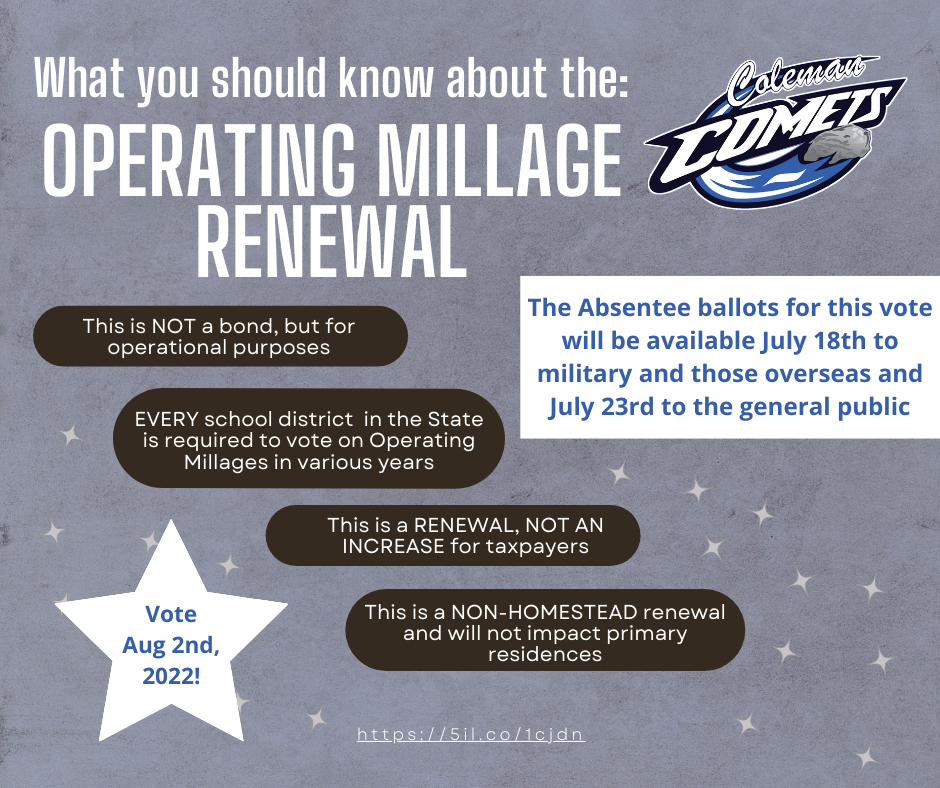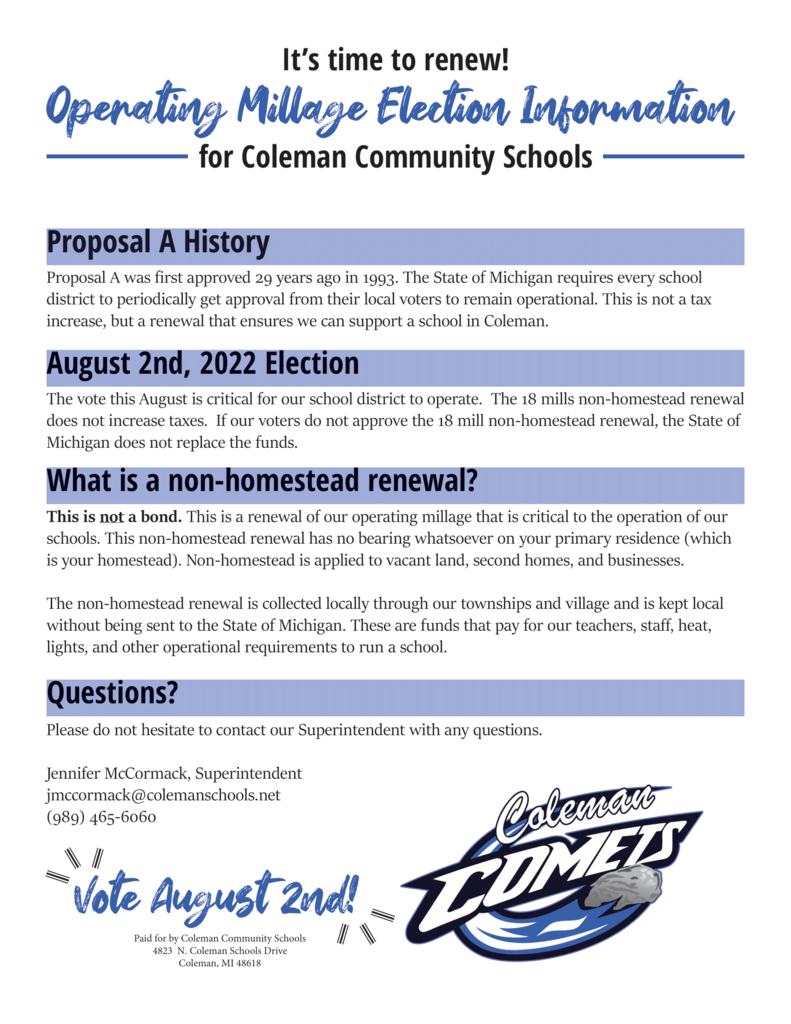 Athletes: Just one week to get your physicals in for HS fall sports! Contact your coaches for practice times and locations. (Note: We're still looking for a JH volleyball coach.) Schedules are posted to the Jr/Sr High calendar and can be printable copies are available at
https://www.colemanschools.net/page/athletics
.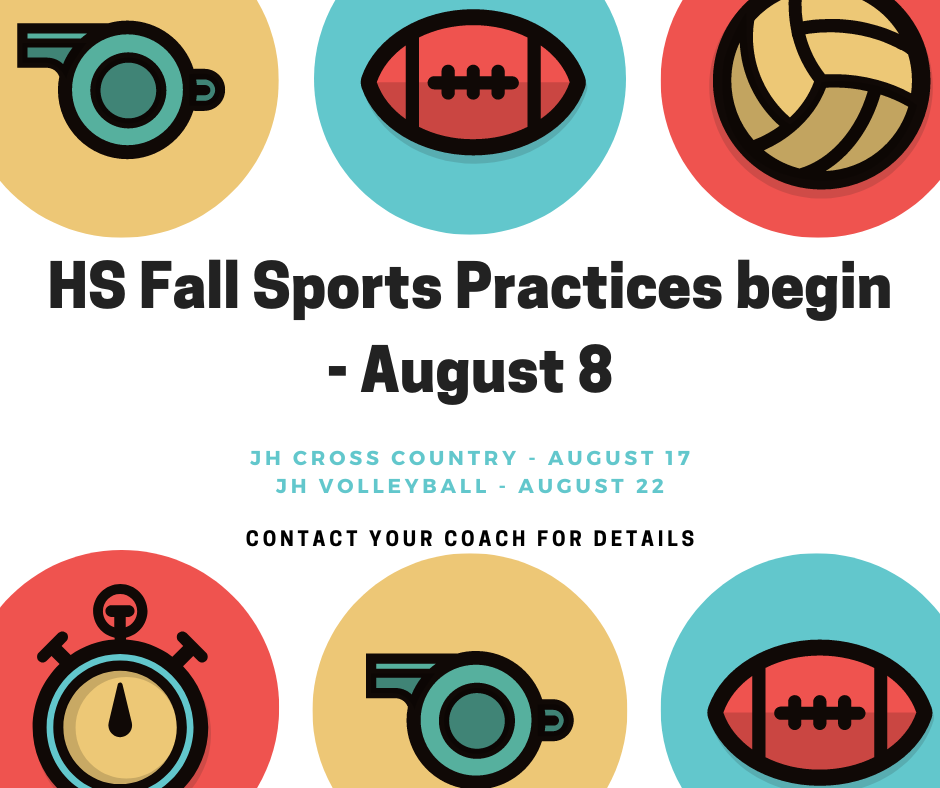 Thank you to our summer work crew of students and staff! They've been a huge help as usual along with our custodial staff cleaning and organizing the Ag Garage Bay, painting, and cleaning things up to get ready for the new school year. Thanks for working so hard, the school is looking great!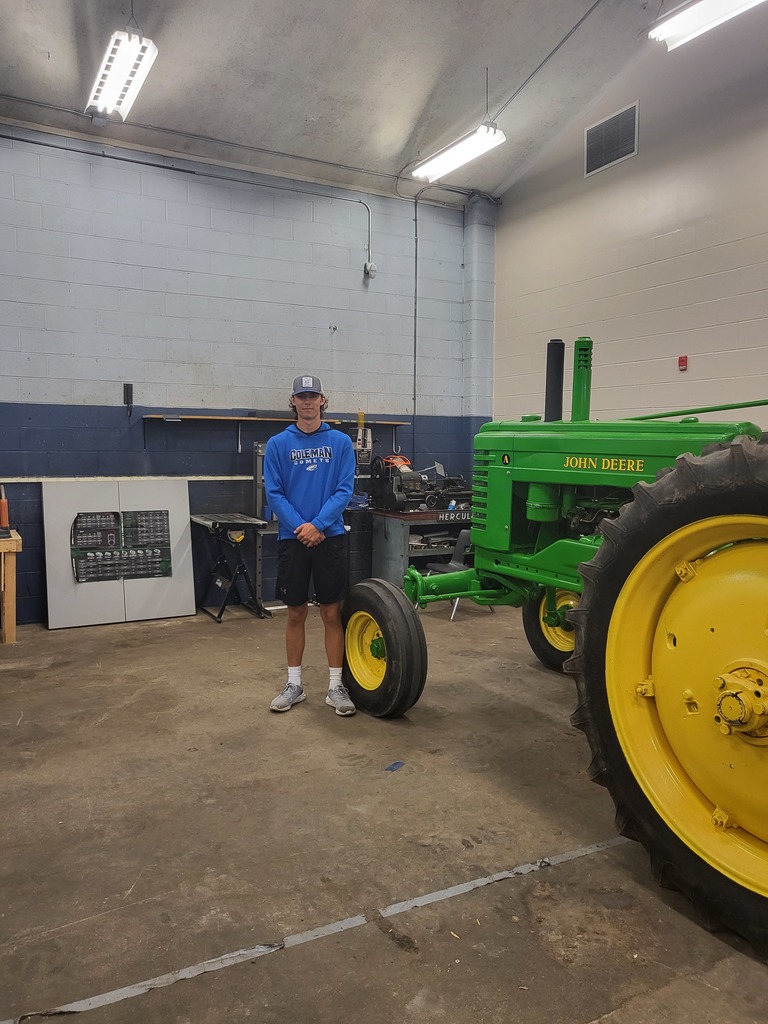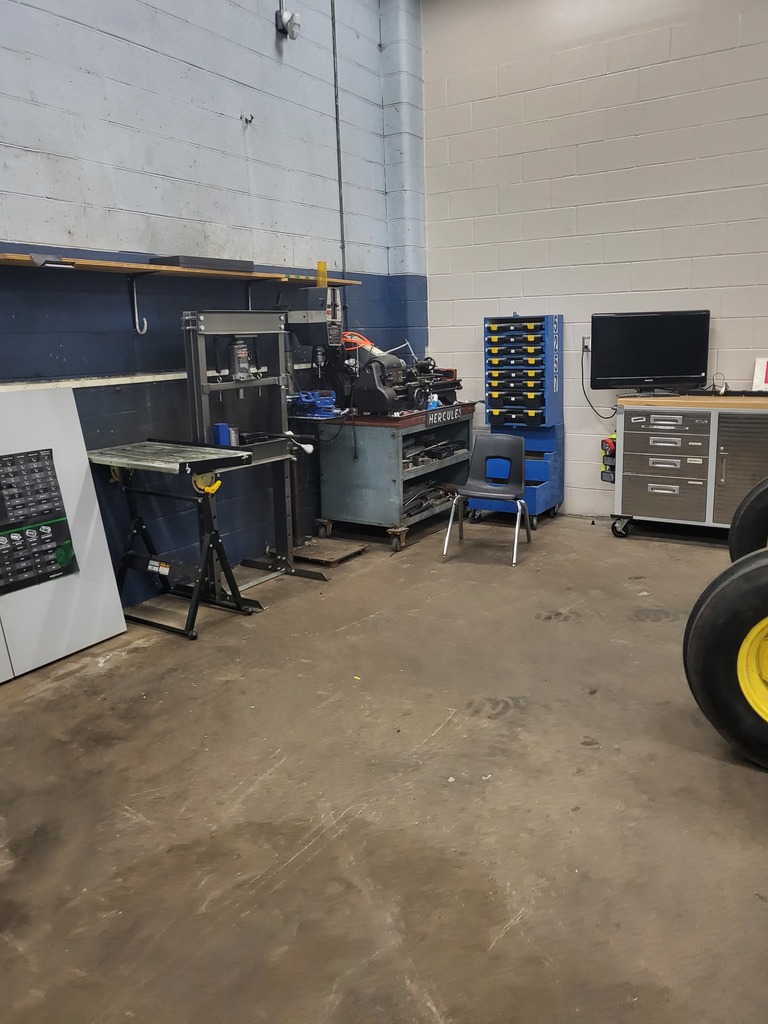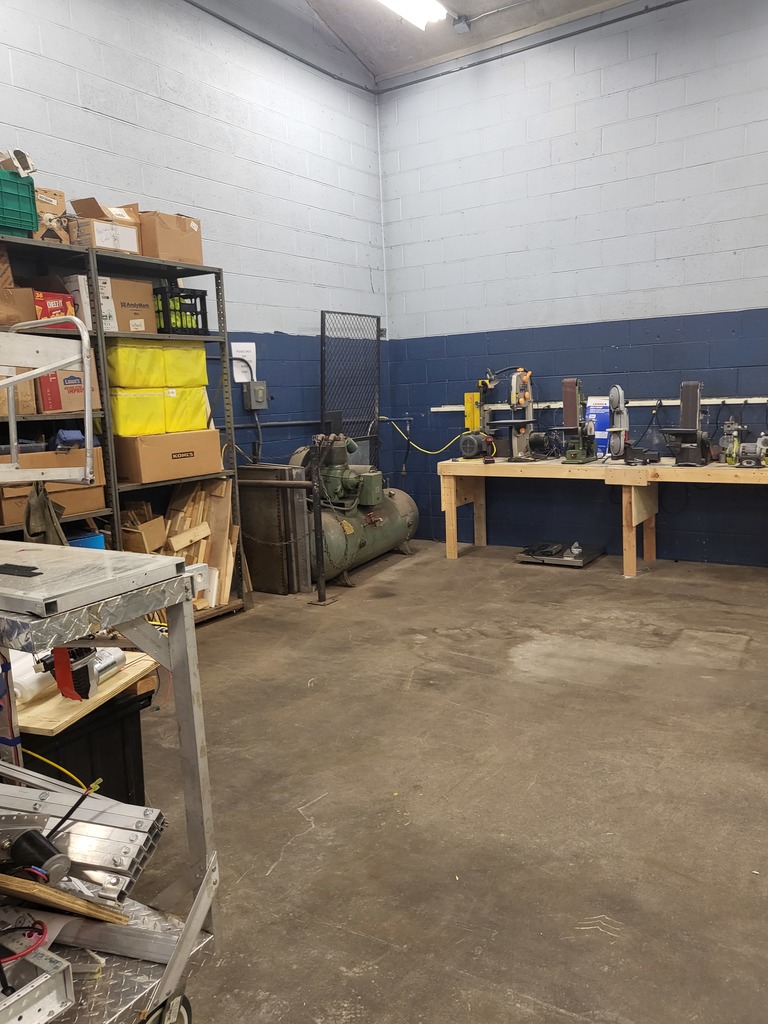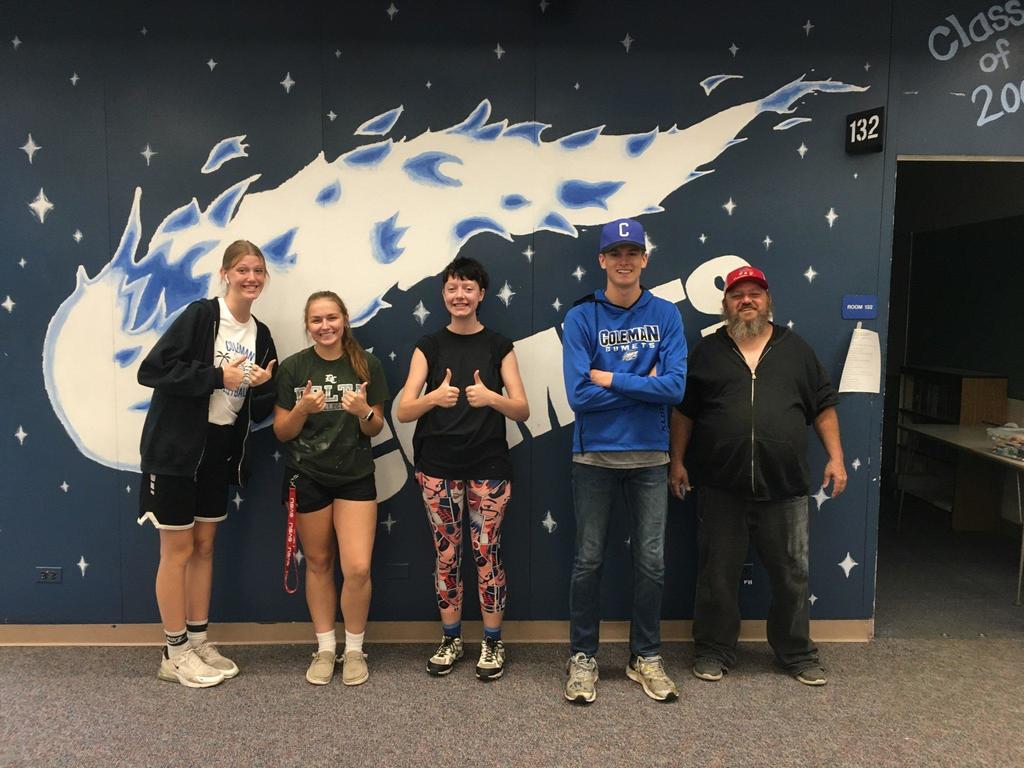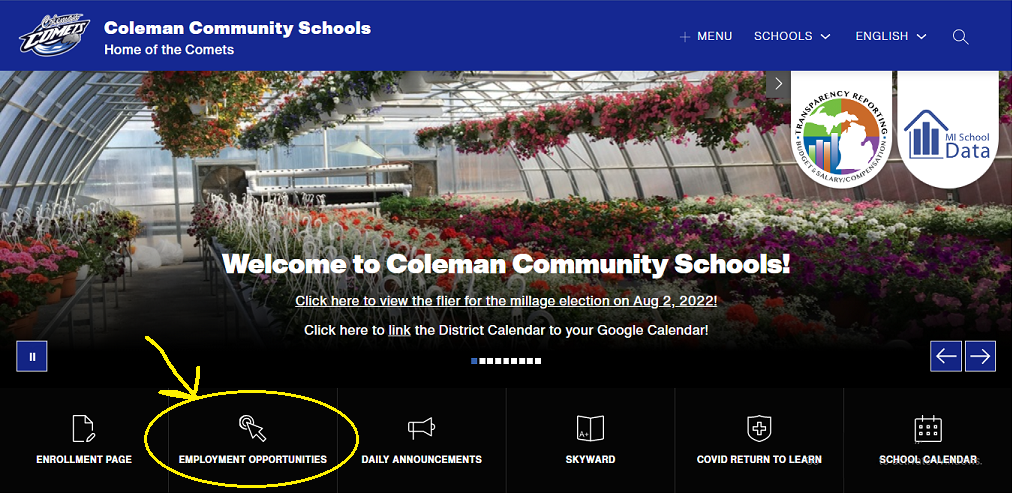 Volleyball open gym and practice has been going strong this summer. There have been at least 37 athletes attending already this summer. Way to put in the effort to build your skills! Thank you to Coach Schallhorn for your knowledge and expertise as well as others who've been assisting.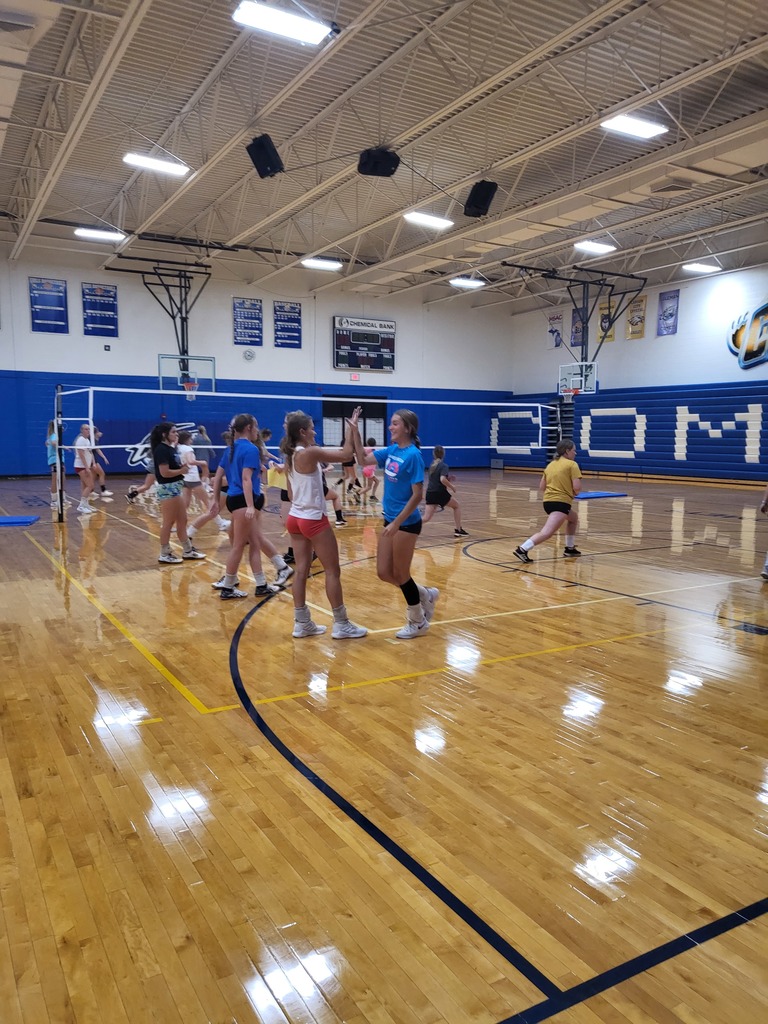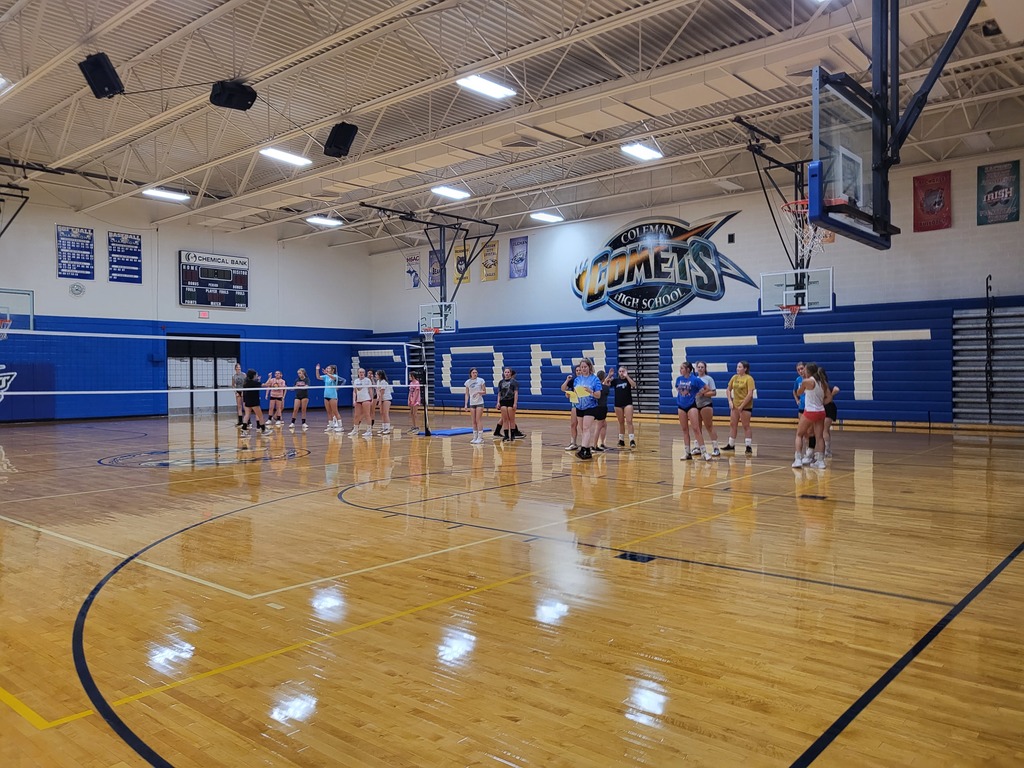 In just 5 days, our operating millage renewal will be on the ballot! Make sure to review our information materials and fliers before you VOTE on Tuesday, August 2nd! Please consider sharing this post to help us spread the word about this opportunity to support our district and our students. Thank you!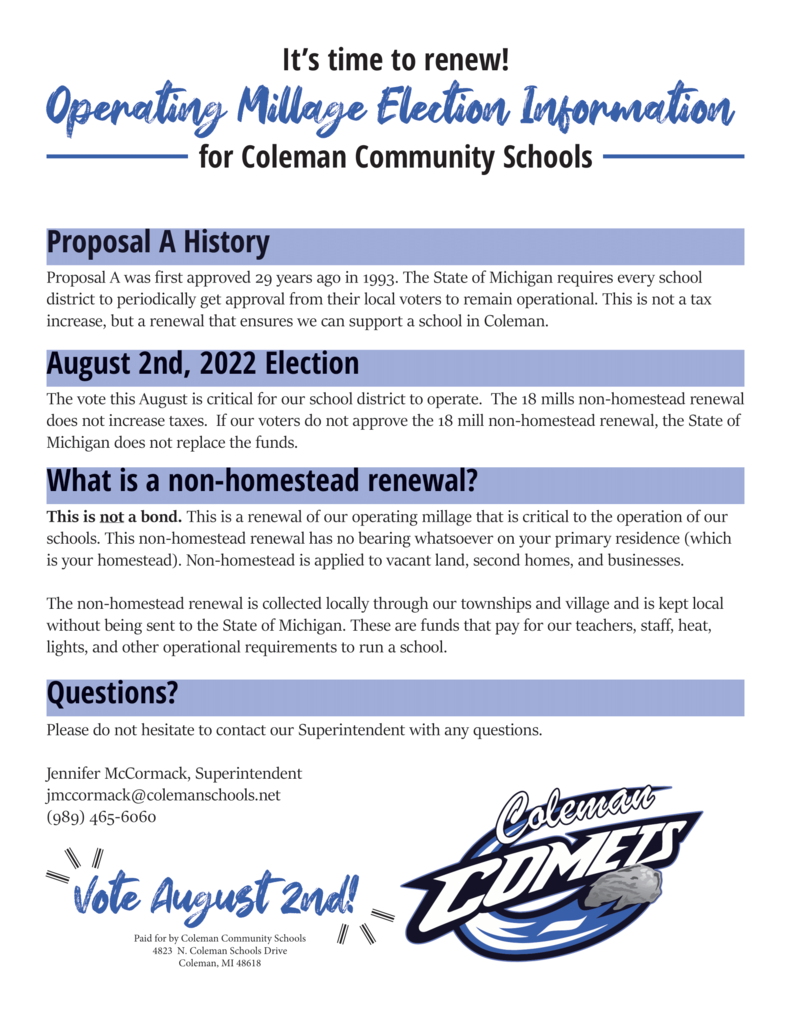 Some key points to keep in mind when considering our upcoming millage election renewal on Aug 2nd, 2022! To view the official information flier, please visit this site:
https://5il.co/1cjdn
.

Dalton Rinehart was able to visit our soybean plot this morning for the Michigan FFA Association Crops Management Contest. While there, he evaluated flowering and insect pressure. Though there were Japanese Beetles present, there was little damage and the plot looked very good overall! Be sure to attend AgroExpo in August to watch our team presentation.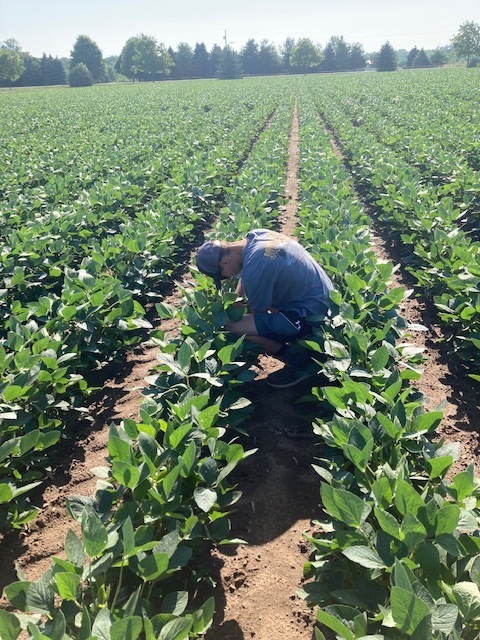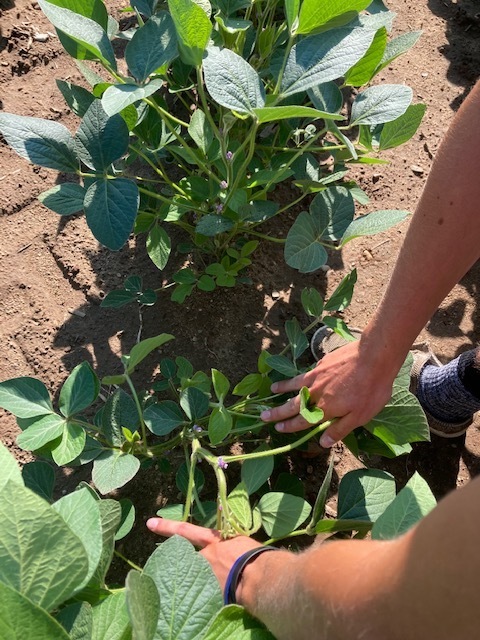 I hope this message finds you enjoying your summer and a more relaxed pace! There are several items on the August 2nd ballot pertaining to schools that I would like to share with you. If you feel willing, please share the information with others you know in the Coleman Community School District. Coleman Schools Operating Millage RENEWAL: The August 2nd primary is just weeks away and the Coleman Community Schools' Operating Millage Renewal will be on the ballot. You can vote now by Absentee Ballot through your Township or City Hall. Information about the Millage can be found at this link:
https://5il.co/1cjdn
This is NOT a bond and is NOT a tax increase, but a renewal ensuring the critical operations of Coleman Community Schools to pay for our teacher, staff, heat, lights and other operational requirements to run a school.  This is also a non-homestead renewal meaning it has no bearing whatsoever on your primary residence (which is your homestead). Non-homestead is applied to vacant land, second homes and businesses. The State of Michigan requires every school district to periodically get approval from their local voters.  Midland County School Resource Officer (SRO) Millage RENEWAL: This millage renewal is on the ballot in August as well, allowing for our SRO, Deputy Brandan Hodges, to be in our schools daily supporting and mentoring students, monitoring behavior, providing us updates on the latest technology and safety strategies and training for our staff and students, assisting with traffic and acting as a resource for administration, staff and Comet families. Again, this is a renewal of the current millage already in place.  Midland County Educational Service Agency (MCESA) Bond: Students from all Midland County Schools, including Coleman, receive support from the Midland County ESA for Career-Technical Education (CTE), Early Childhood Services, Special Education programming and funding and Technology Services. The MCESA has a bond on the ballot for August 2nd. This is a new bond specifically for use by ESA and the programs it supports. The maximum number of years the bond of any series may be outstanding, exclusive of any refunding, is 12 years. A homeowner with a home with a taxable value of $100,000 pays $50.00/year. For more information on this bond proposal, you can Google Midland County Educational Service Agency and click on the bond link on their homepage. Whether voting by absentee ballot now or in person on August 2nd, please get out and vote. Should you have any questions at all, please do not hesitate to contact me at
jmccormack@colemanschools.net
or 989.465.6060. And if you would, please take a minute to share with friends and families of the Coleman Community School District. Excited to see our students and families at Open House on August 24th and in school on August 29th! As always, thank you for your support of our schools, Jen McCormack, Supt.

Summer Volleyball Camp next week with two time options for girls entering grades 7-12! Email Coach Schallhorn at
kschallhorn@colemanschools.net
with questions.

Join us at the Fairgrounds on July 23 to raise funds for the American Cancer Society. Nick Katzinger has graciously agreed to be our local "Soak the Celebrity" volunteer from 2:30-3:00. How many $10 automatic soaks do you think we can get in a half hour?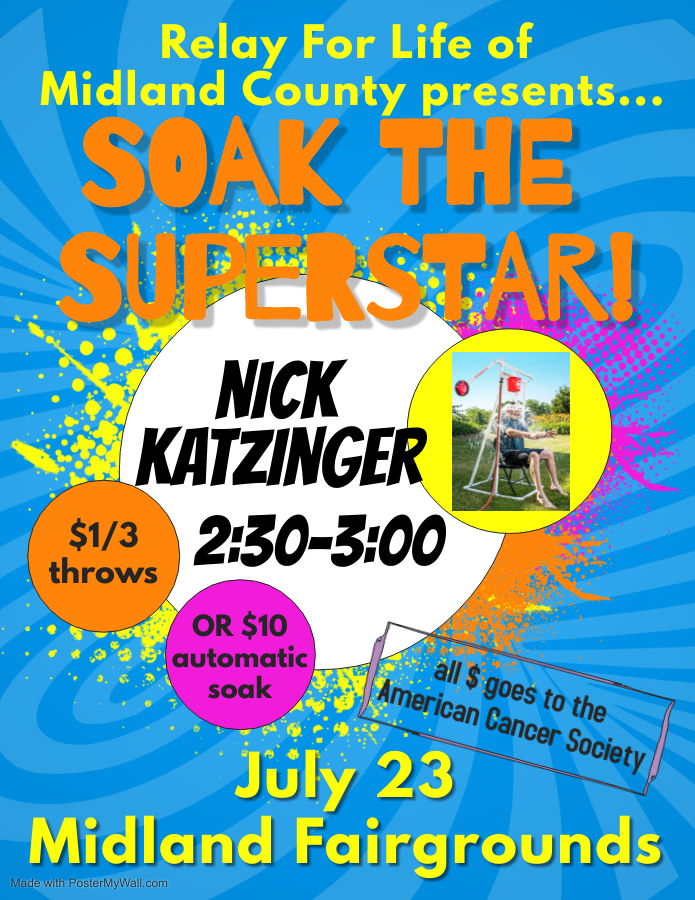 Any questions regarding the upcoming operating millage renewal for Coleman Community Schools? Our superintendent is happy to address your concerns! You can contact her at
jmccormack@colemanschools.net
.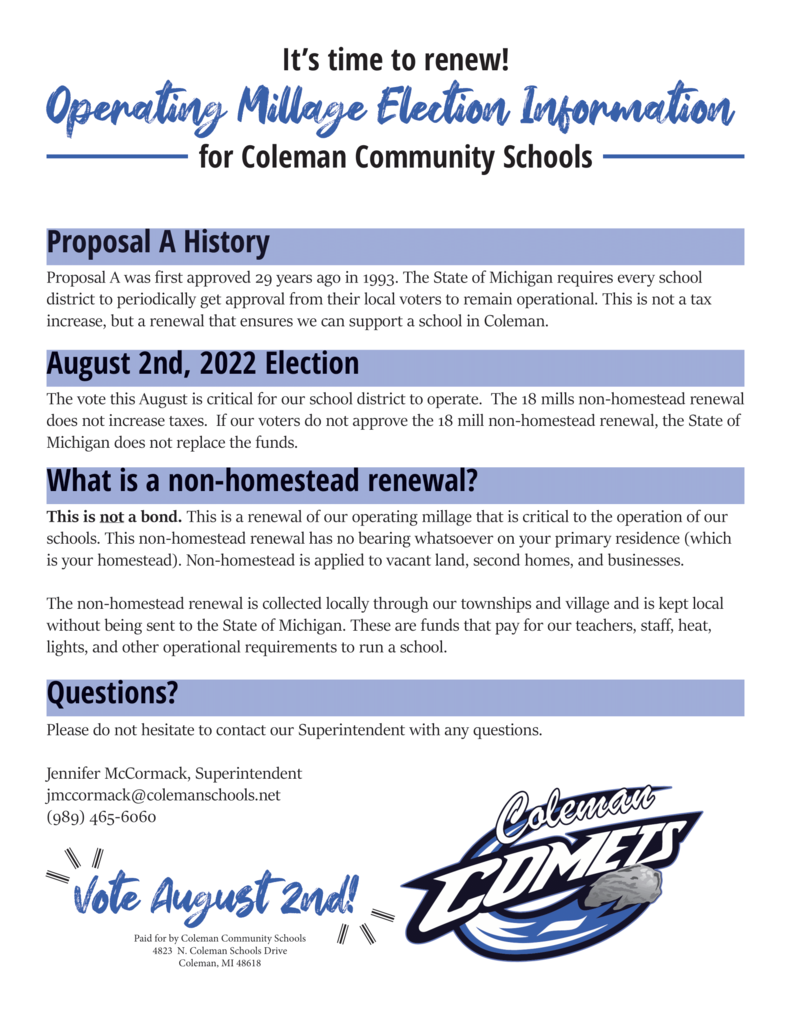 Did you know we have a vote coming up to renew our operating millage? This is NOT a bond, but a RENEWAL that is crucial to the operation of our school district. Please consider voting on Aug 2nd! Thanks for sharing this post and for your continued support of our community!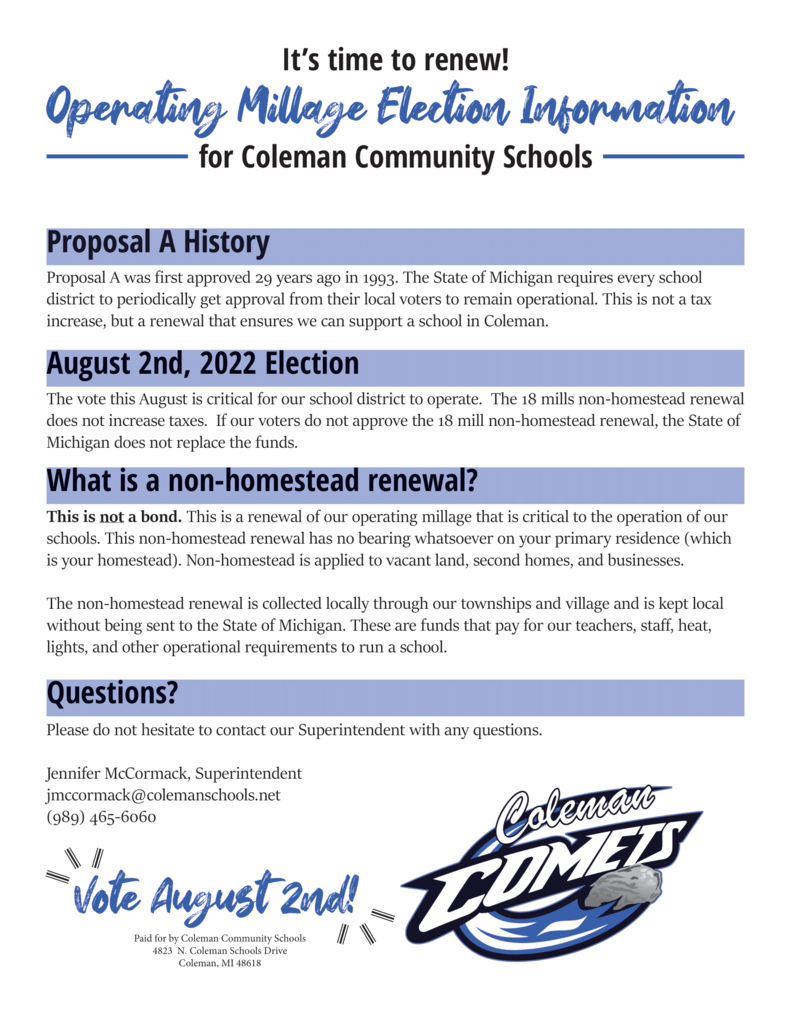 The Boosters Golf Outing is coming up August 6 at the Pohlcat! See the attached registration flyer and tee box sponsorship form.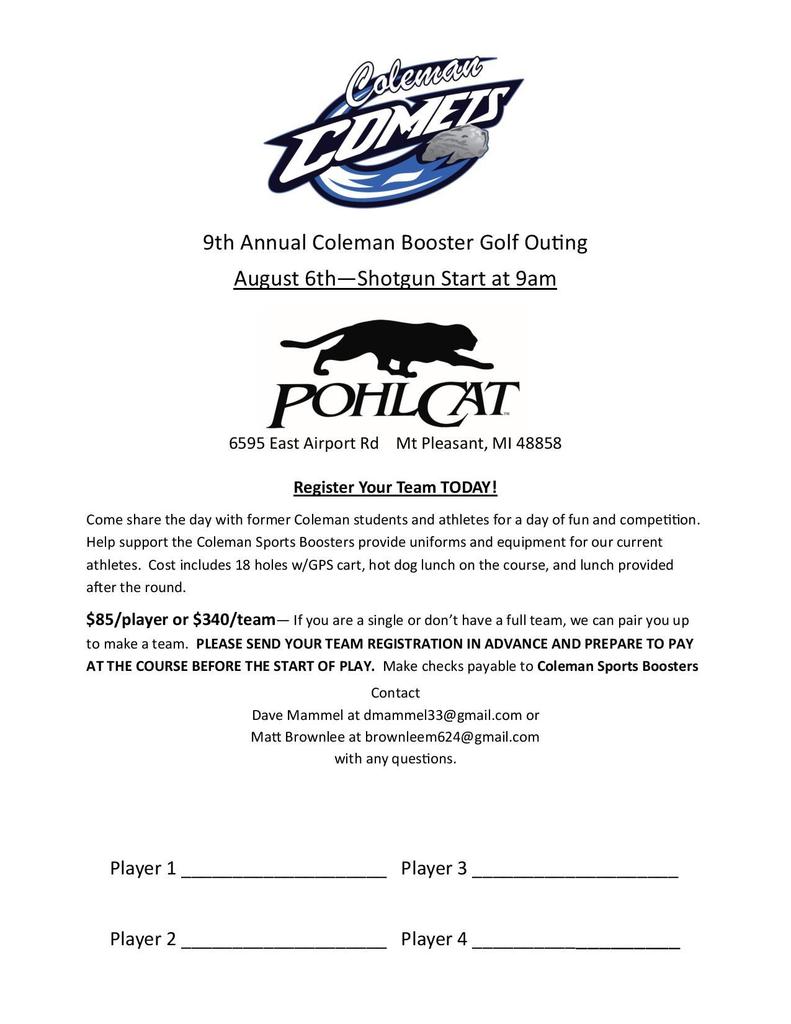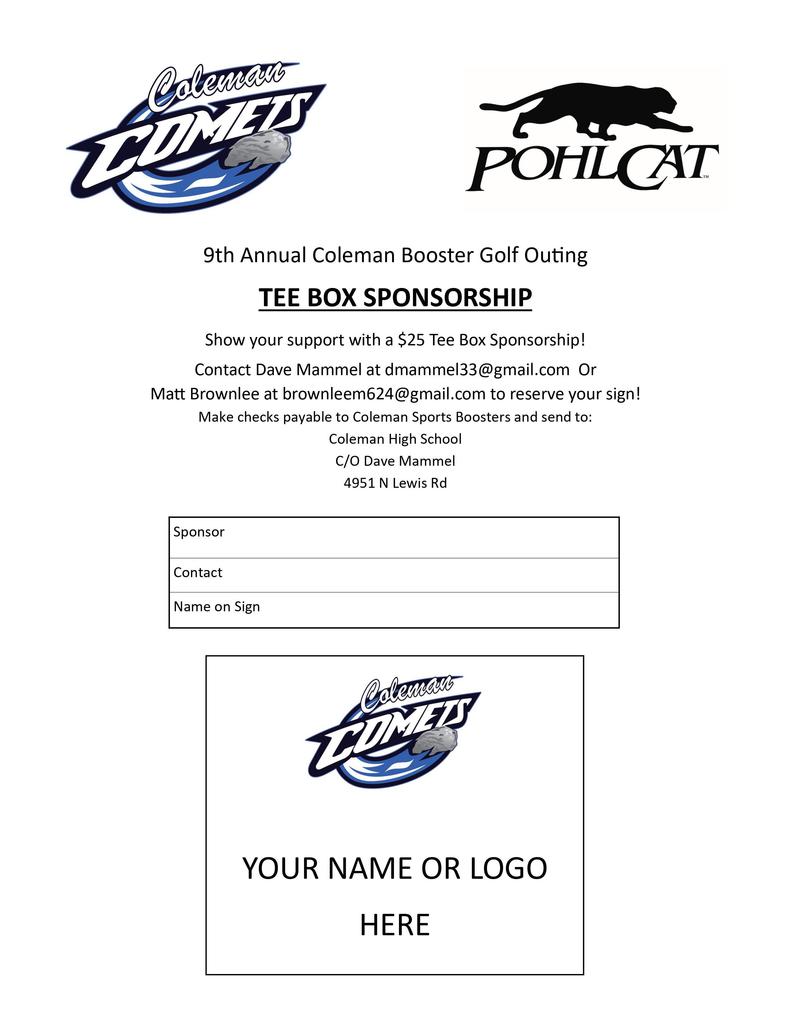 Please vote on Aug 2nd, 2022! Read through this flier for important information regarding our operating millage renewal. Feel free to share to spread the word and support our school district!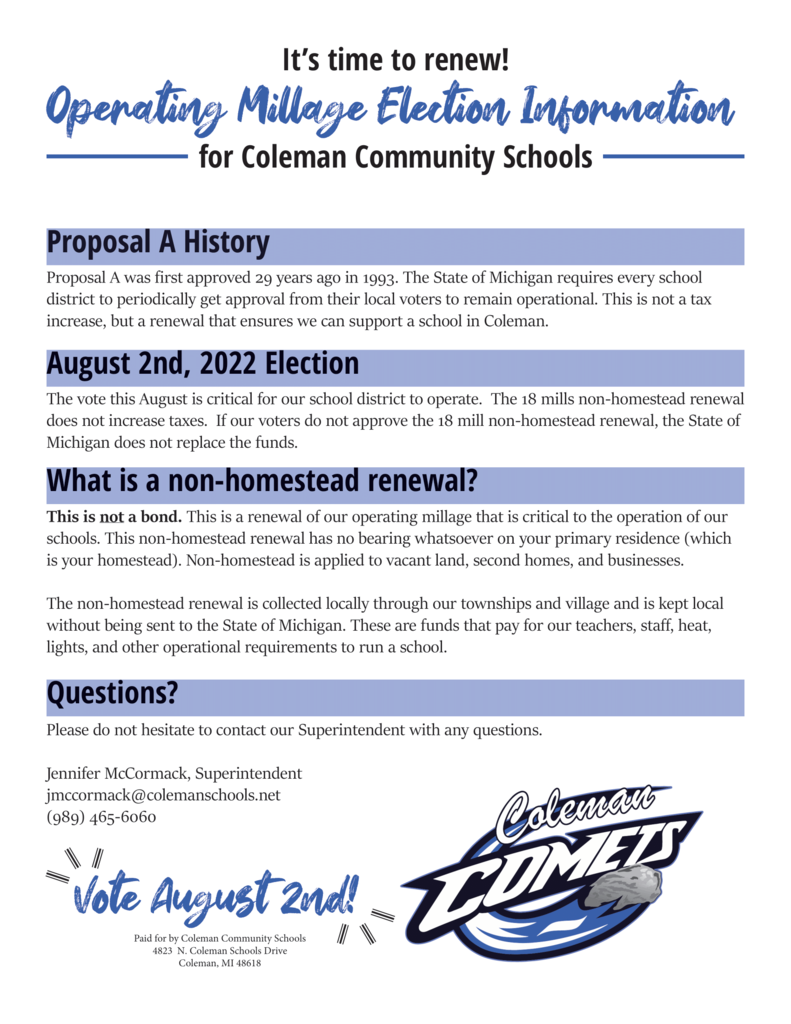 The June 2022 edition of Comet News is out! Check out this link to view this month's newsletter.
https://5il.co/1d2i0