Some great pictures from Tuesday night's Varsity Volleyball game. Thanks to student Matthew MacPhee for sending them to us!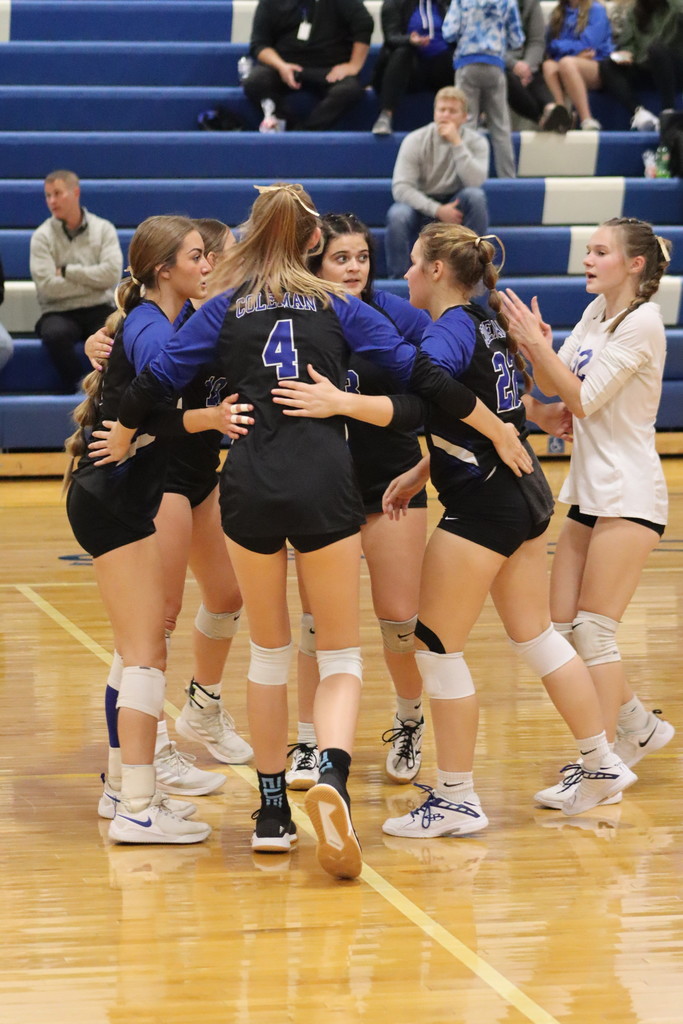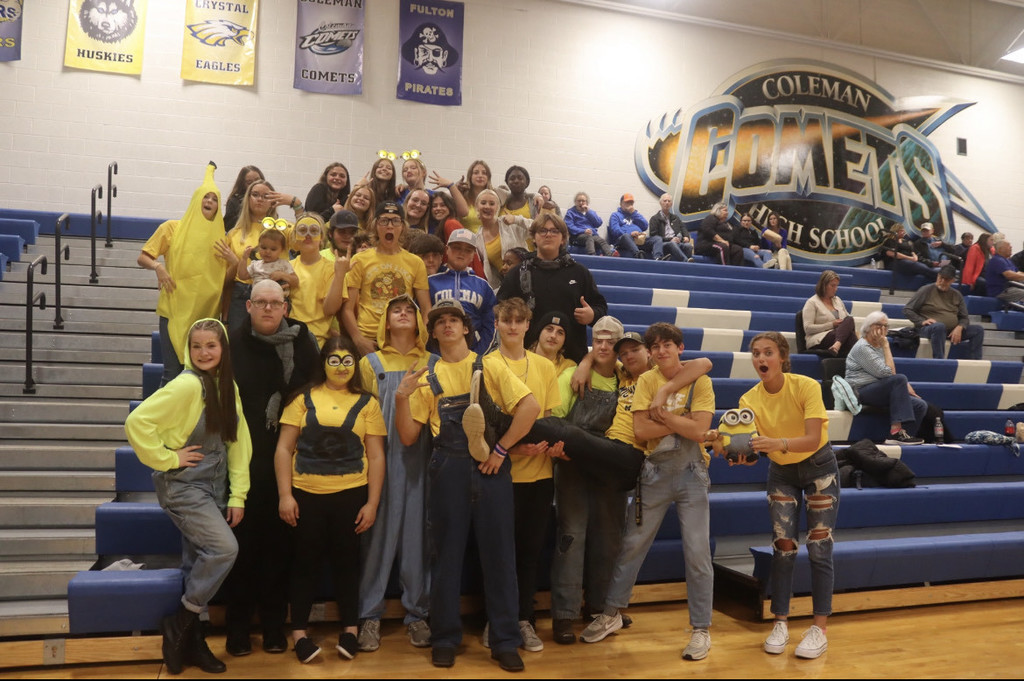 Who's ready for Spirit Week next week? BOTH schools are participating, but with different daily themes. Refer to this schedule to make sure you know what's coming up next. And don't forget -- send your best Spirit Week style pics to
pr@colemanschools.net
to have them shared to the website! Have fun, Comets!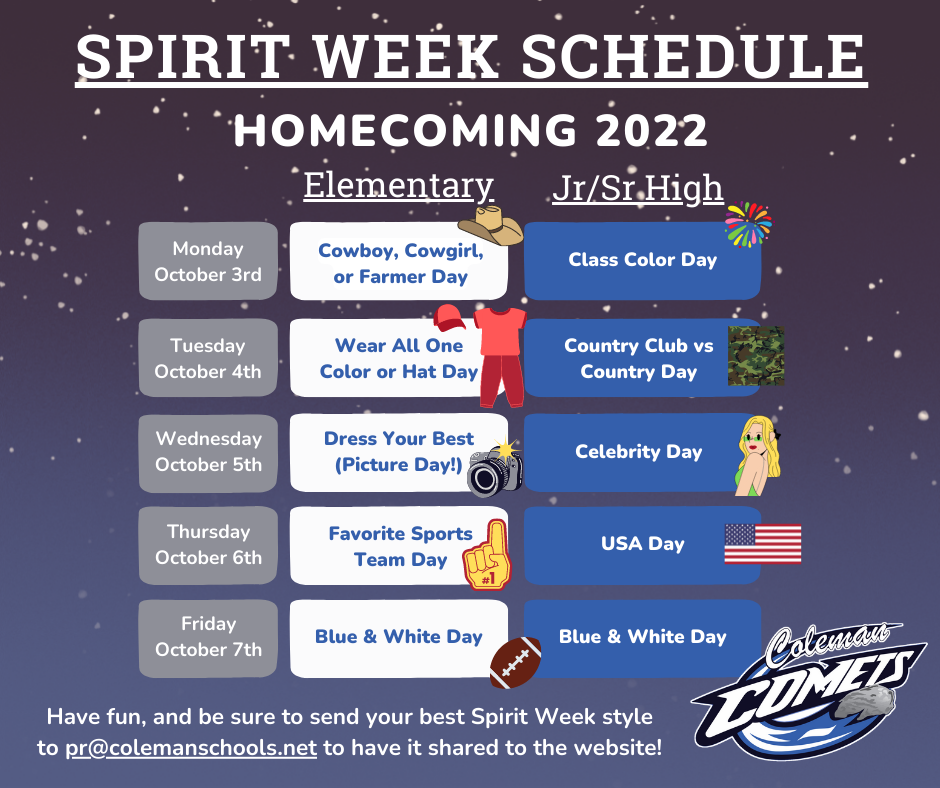 Check out this list of props the Drama Club is seeking for the upcoming Christmas plays! Contact Mrs. Shumaker if you can donate any of these items or if you know anyone who can. Make sure to pay a visit to the Drama Club page on the website for updates, articles, pictures from past productions, and more!
https://www.colemanschools.net/page/drama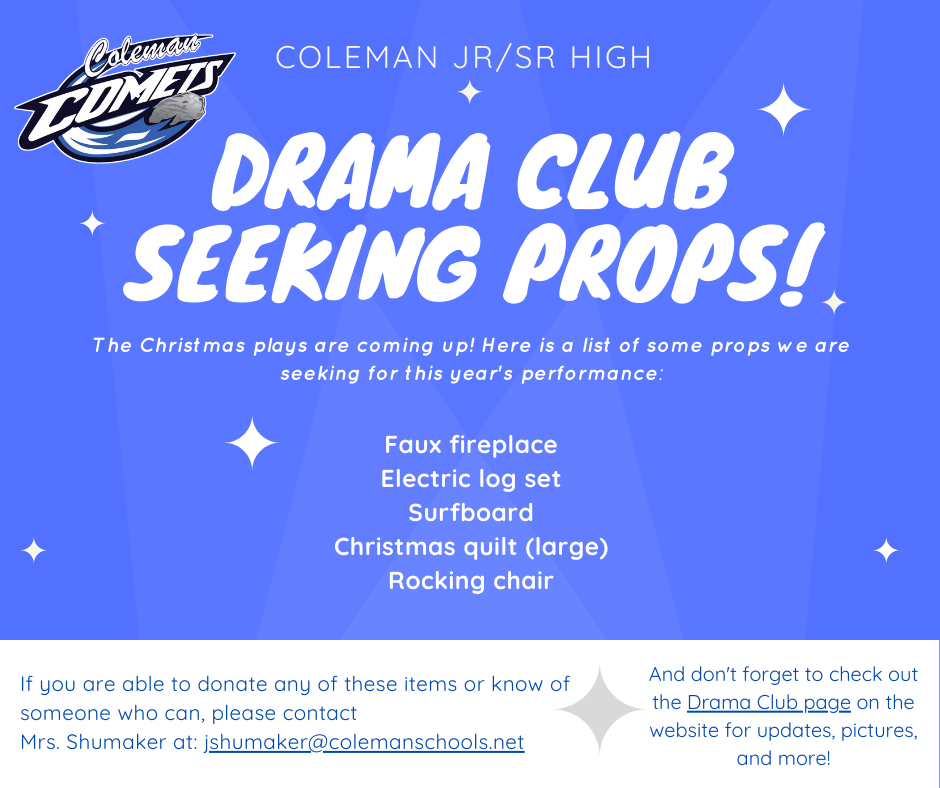 Varsity Volleyball celebrating our educators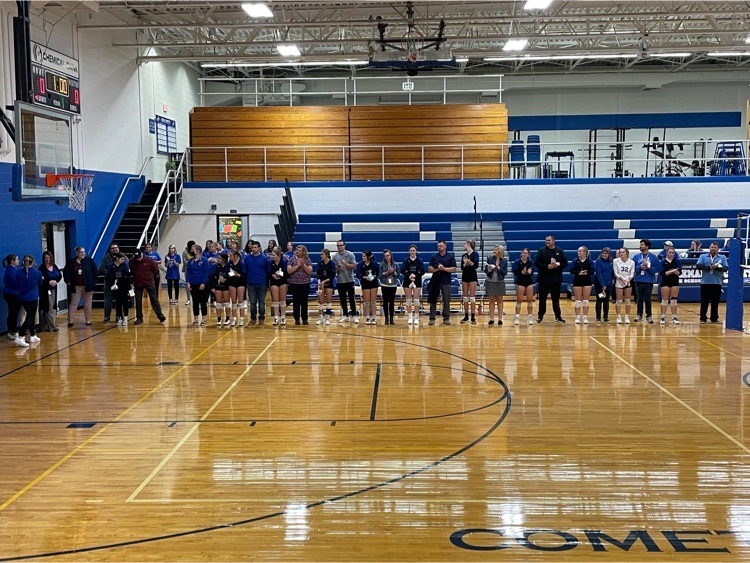 The Varsity Football game v Merrill that was originally scheduled for Saturday, October 22nd has now been moved to Friday, October 21st at 7pm. We hope to see you there!


6th graders getting new insights to the Culinary Arts program. Thank you Chefs for the visit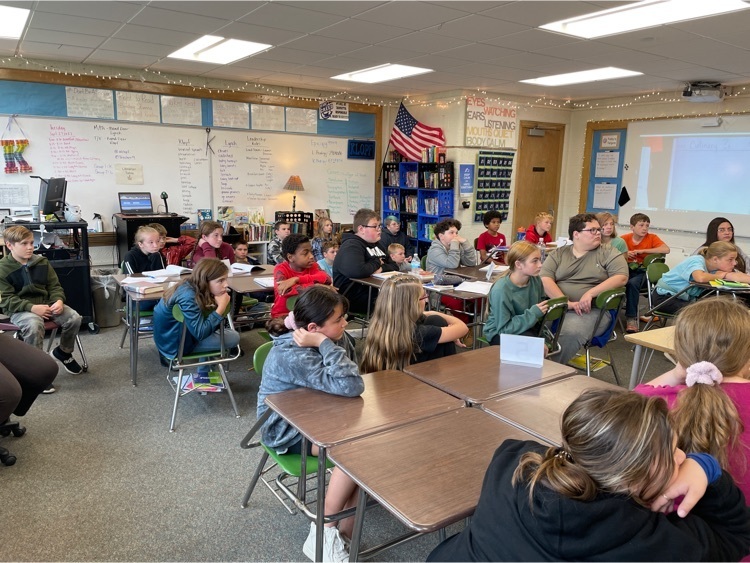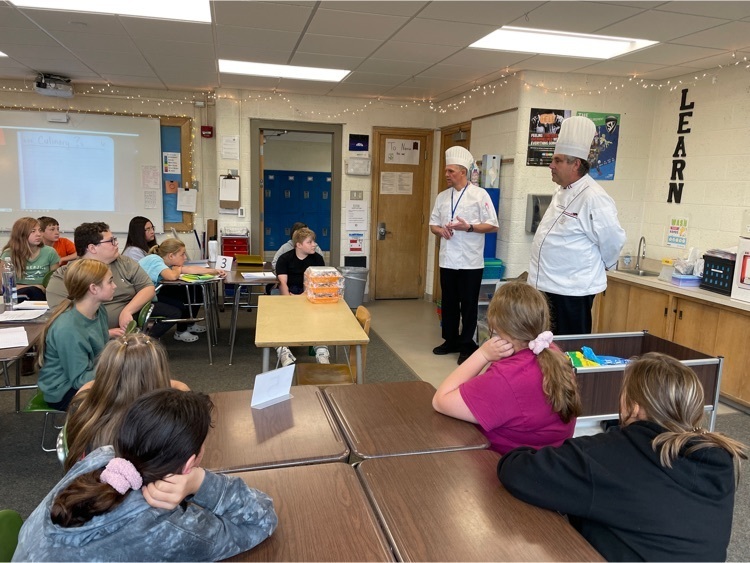 Mark your calendars! Just another reminder that the Homecoming schedule is different this year than normal. Our homecoming parade will be at 5:30 on Friday, October 7th, which will be followed by a Powder Puff football game at 7 pm. Our homecoming football game will be at 11 am on Saturday, October 8th, and our homecoming dance will be at 8pm-11pm on Saturday evening. Be sure to spread the word so no one misses the festivities this year!

Students and families looking for help paying for college are encouraged to register for a Virtual Financial Aid Night provided by Michigan Department of Treasury's MI Student Aid team. Participants will be able to gather information on the following financial aid topics: FAFSA application information, Federal financial aid programs, State financial aid programs, and Scholarship searching resources. All sessions are free of charge and open to the public. Visit the MI Student Aid website to register:
https://www.michigan.gov/mistudentaid/students-fams/virtual-financial-aid-nights
. Also, remember to check the Student Resources page on the Jr/Sr High School website for more after-graduation and college prep resources!
https://www.colemanschools.net/o/jr-sr-high-school/page/student-resources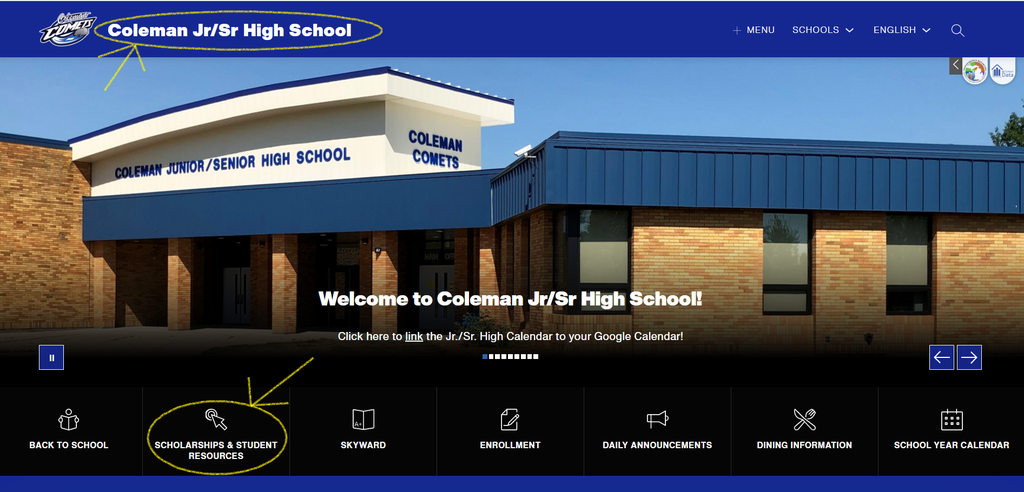 Grace A. Dow Memorial Library will be hosting a used book sale on October 22nd and 23rd. Check out the flier for more info!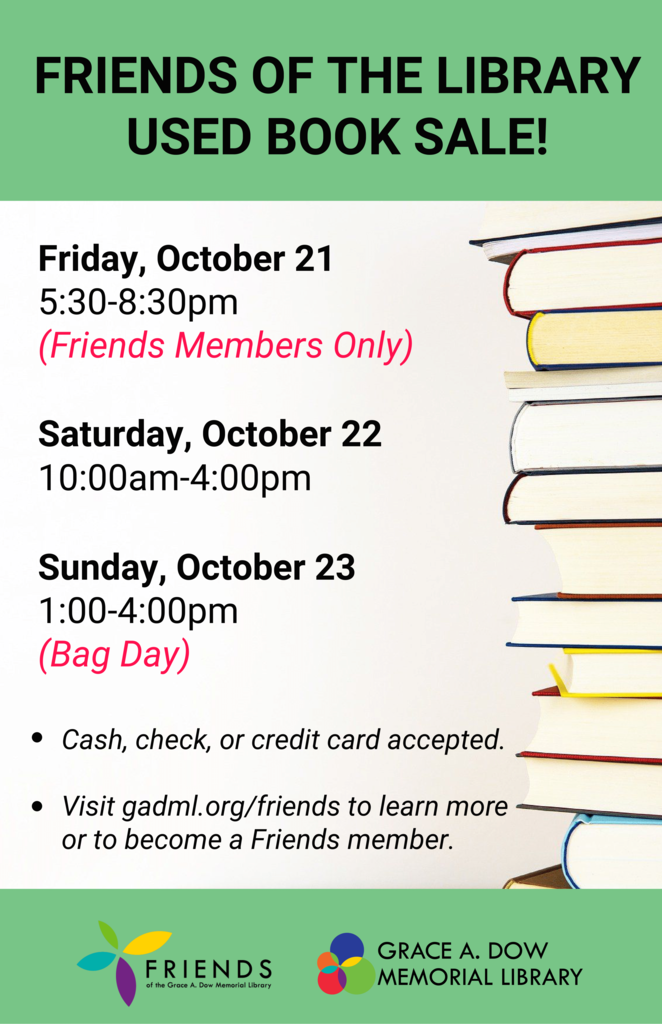 Comet Athletics are looking for those who have an interest in working events with various positions at our home games this year. If you have any interest in working gate (taking tickets), scoreboard, being an announcer, working the book for volleyball and basketball, and specifically for volleyball a Libero Tracker, please reach out to Laurie Bell
lbell@colemanschools.net
or Christian Maloney
cmaloney@colemanschools.net
. There is compensation for working all of these positions. Whether you work or not, we would love to see you all come out to the events to show your support and Comet Pride. Go Comets!

Some families have received P-EBT cards for their child from the State as part of COVID food relief. One glitch is that it asks for the last 4 digits of your child's social security number. However, when you input that number, it tells you it is incorrect information. What you actually need to do is input "0000" and it should work. We hope this is helpful to you.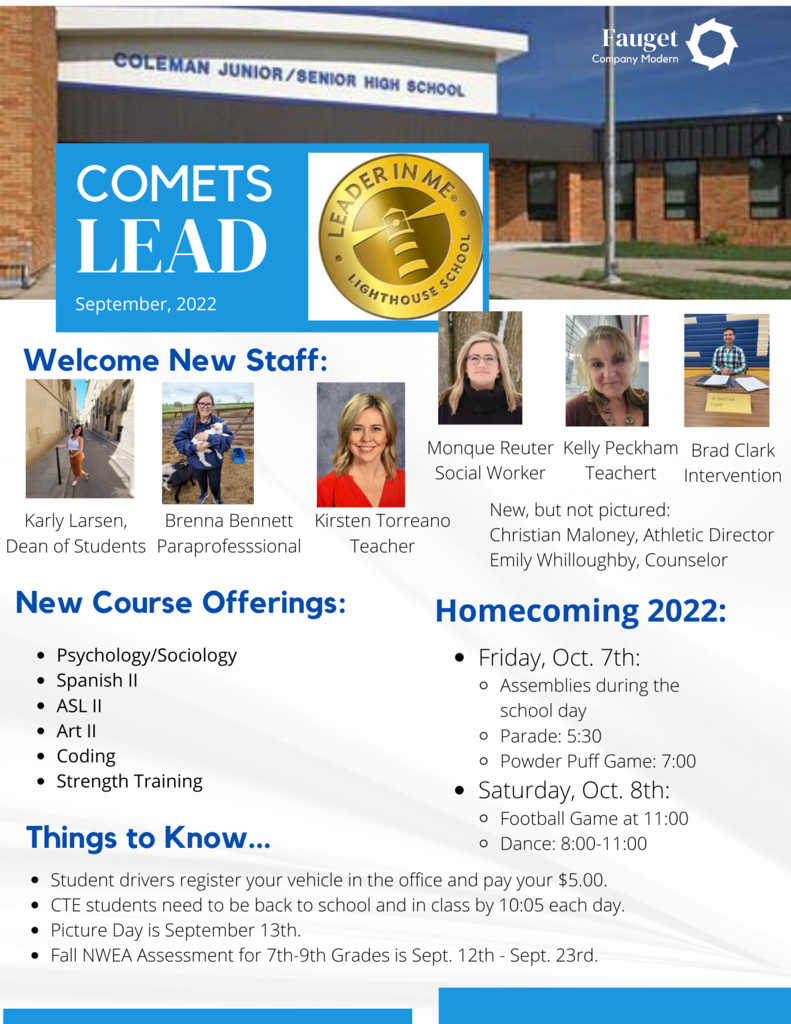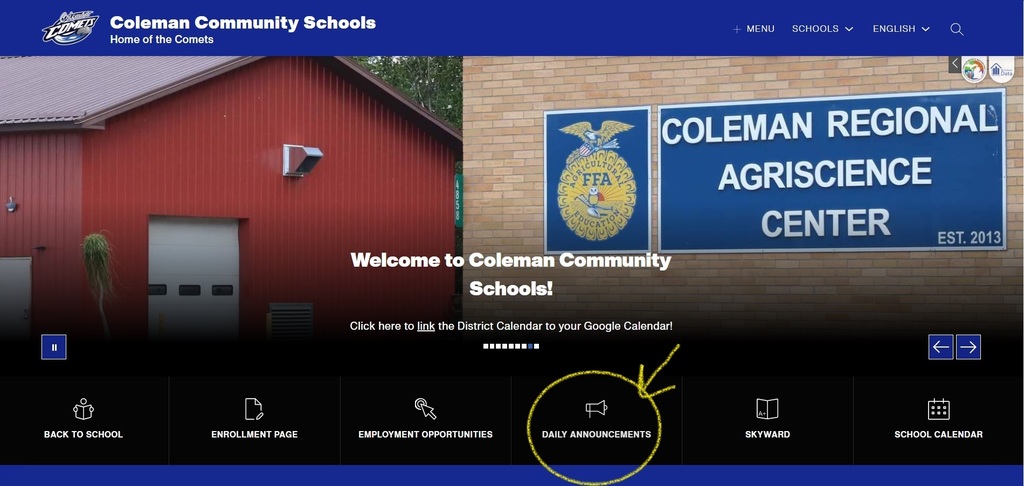 Greater Midland Coleman Family Center has spots in their GSRP classroom as well as some in the 3's class. For GSRP it is free based on poverty level. There are a couple of scholarships available for the 3's classroom. Also, opening later this fall, there will also be a new Head Start classroom. If you're interested in either the scholarship or in Head Start, please fill out an interest form at
www.michiganpreschool.org
. Please contact Tiffeny Schrank at the Family Center if you have any questions.

Coming up at 7 pm tomorrow evening: Athletic Boosters meeting at the Jr/Sr High School auditorium! We hope to see you there.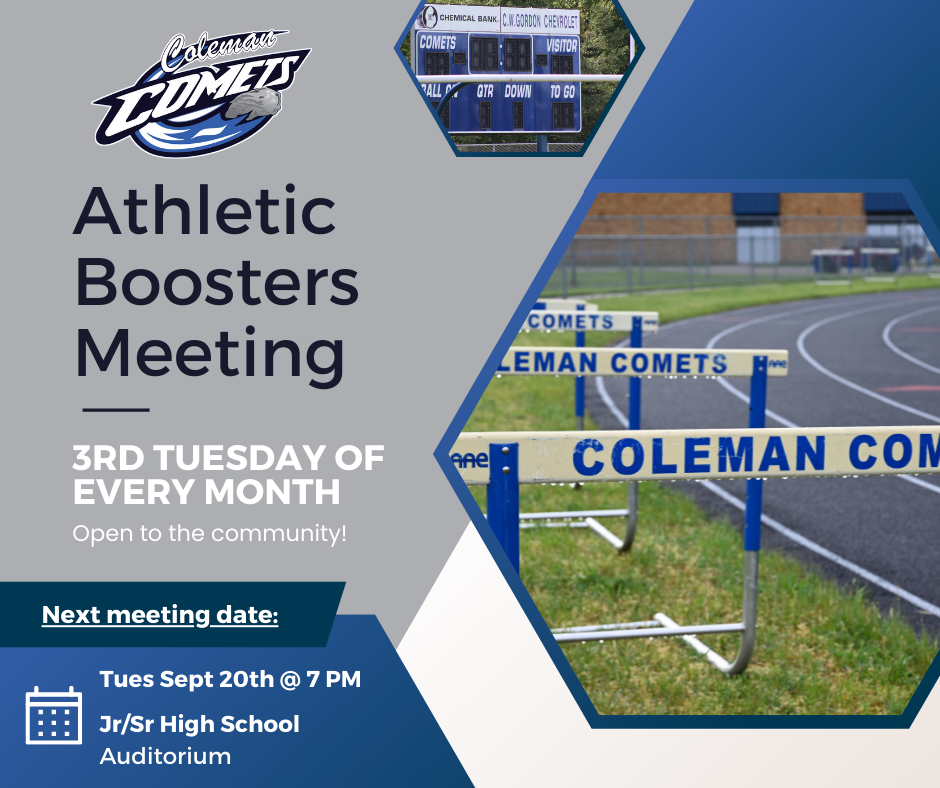 Mrs. McCormack will be at the Old Brick Bakery & Coffeehouse and Scoops tomorrow afternoon. All parents and members of the community are invited to stop in to chat about whatever concern, question, compliment, suggestion, etc. that anyone might have. Stay posted as we share out more opportunities like this!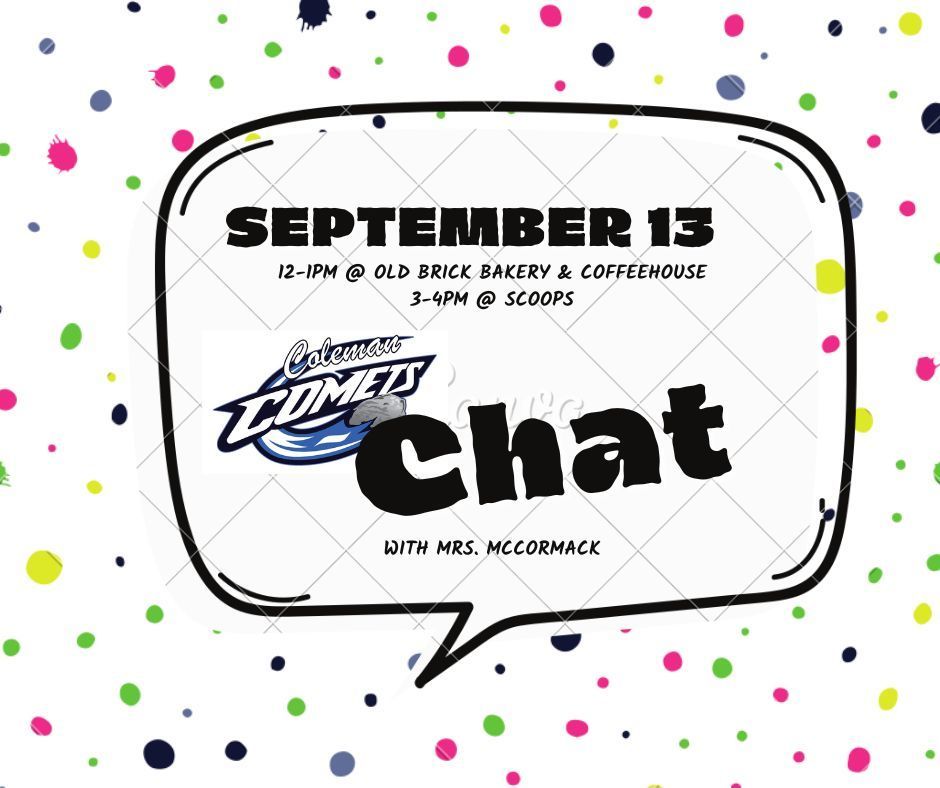 Picture Day tomorrow at the Jr/Sr High. Everyone will get photographed; orders can be placed with the forms that went home with students or online at
https://www.geskusphoto.com/fall-pictures
using the code on the form. Students who do not have forms prepared in advance can order from the photo packages later.

Do YOU know about the changes this year to the Homecoming schedule? Friday, October 7th: Homecoming parade @ 5:30 pm, Powder Puff football game @ 7 pm. Saturday, October 8th: Homecoming football game @ 11 am, Homecoming dance @ 8pm-11pm. Please contact the high school office at (989) 465-6171 with any questions!

The 2022 Homecoming Court is announced! Exchange students, Chiara (Key) Cossutta, Marta Gonzalez, and Carla Escribano, will also be formally presented at Homecoming festivities.

Congratulations to our medalists at the Clare Cross Country Invitational on August 31st! Kaylee Aultman placed 4th among senior girls with a time of 22:27.0, and Cole Aultman (22:20.30) and Chris Tallman (24:06.40) placed 6th and 8th respectively among senior boys. Logan Dudley placed 5th among sophomore boys with a 20:25.92 time.