Welcome to Mrs. Caitlyn Place! She will serve as a long-term paraprofessional substitute for us this year, providing consistency when other paraprofessionals have to be out for a day. So glad to have you with us!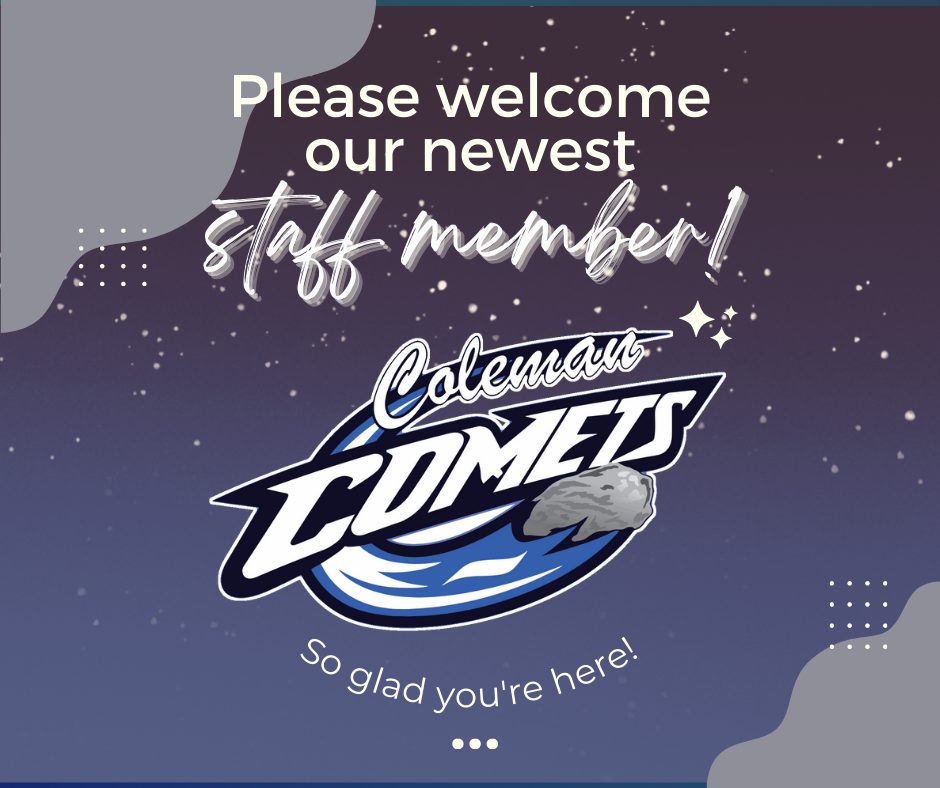 Mrs. Mandy Lattimer will join us as our Career-Technical Education (CTE) Facilities/Lab Assistant a couple of hours per day, helping to get the land and forest lab ready, moving equipment, guiding students with projects under the direction of our CTE teachers, receiving supplies and checking in on the programs as needed after hours. Thank you, Mandy!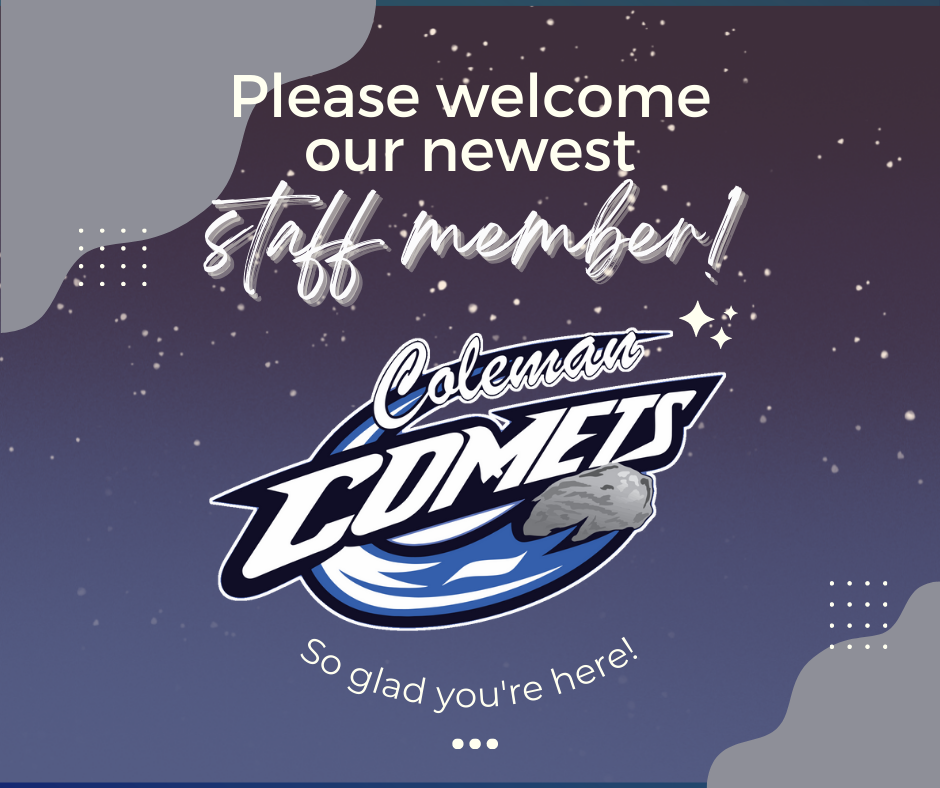 Please consider donating to the Midland County Emergency Food Pantry Network this year to assist them in their annual Community Thanksgiving Food Basket program! Read the attached flier for more information.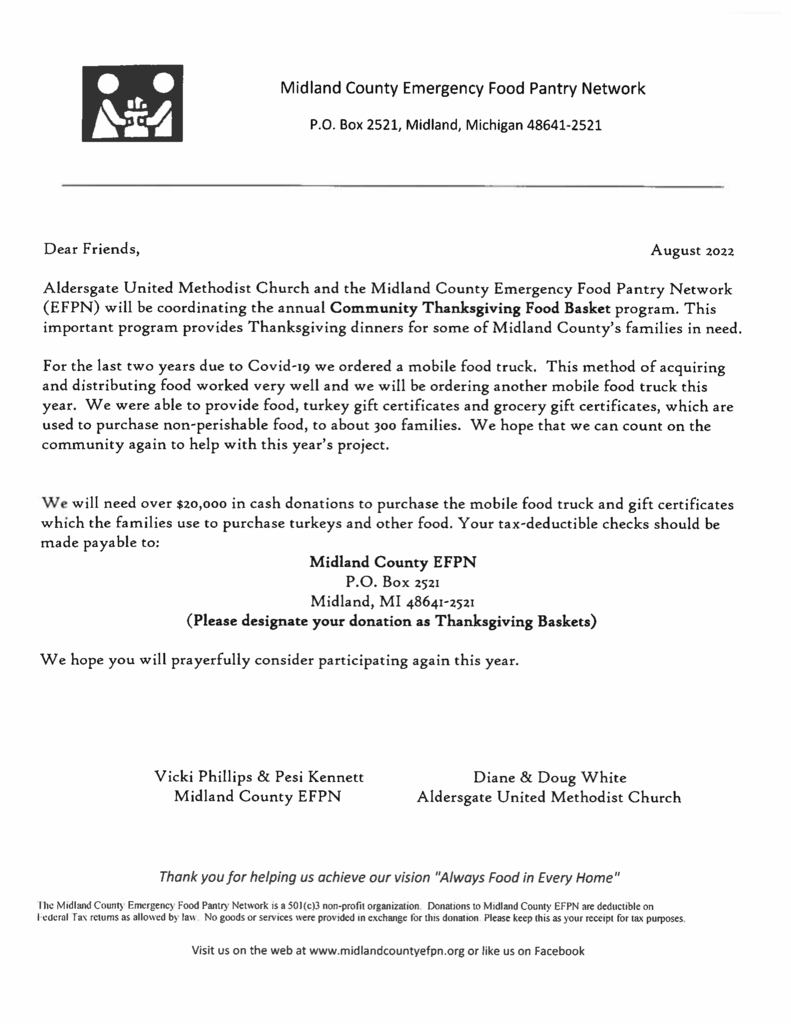 Help us welcome our chefs for the brand new Culinary program, Chef Andy Bacigalupo and Chef Matt Fitchett! Chef Andy Bacigalupo will start the Culinary program full time for the first 2 mos. and then will be available on a limited basis each week through the year to support the program. He has been a member of the American Culinary Federation since 1981, attended the Culinary Institute of America in New York and graduated from Ferris State University with a degree in Education. He has served as the Food and Beverage Director for then Governor of Georgia, Zell Miller and Great Pacific Cruise Line in Seattle, WA, Executive Chef of Chef on the Run Restaurant and Culinary Instructor for two different county-run Culinary programs in Michigan. He has served on the Chefs Move to Schools Task Force with First Lady Michelle Obama, featured on Dr. Oz's NBC show for a low sodium challenge and has been a keynote speaker at the American Culinary Federation National Conference and Delta College as well as being featured in Culinary magazines and receiving several notable awards. Chef Matt Fitchett who will start with us full-time Sept. 15th as the Chef for "Coleman Culinary at the Depot". Matt most recently has been the Chef De Cuisine at the Midland Country Club and has previously served as the a Chef for the Masters Golf Tournament in 2022, Executive Chef for Horizons Conference Center contracted at Dow Global Headquarters, Joe Muer Seafood, Big Rock Chophouse in Birmingham and Saginaw Club as well as a Chef at Cafe Zinc in the H Hotel. He has over 25 years experience, is a member of the American Culinary Federation with over 13 awards and medals in multiple categories through the American Culinary Federation. He was also a judge for ProStart, guiding the next generation of Chefs.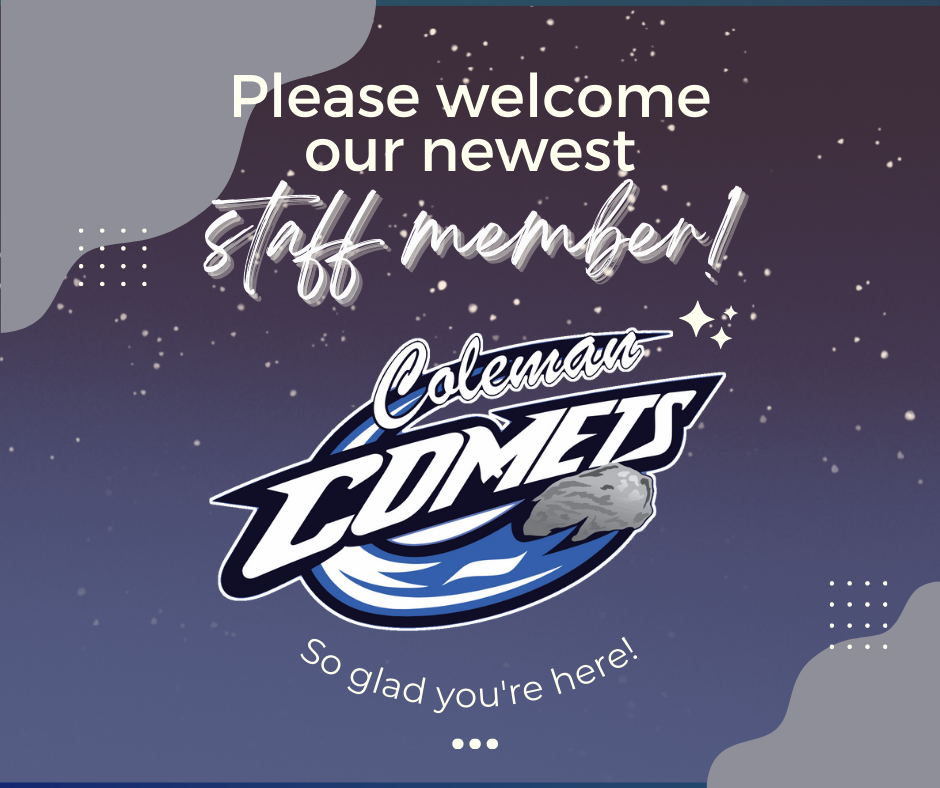 6th graders putting Habit 6: Synergy into action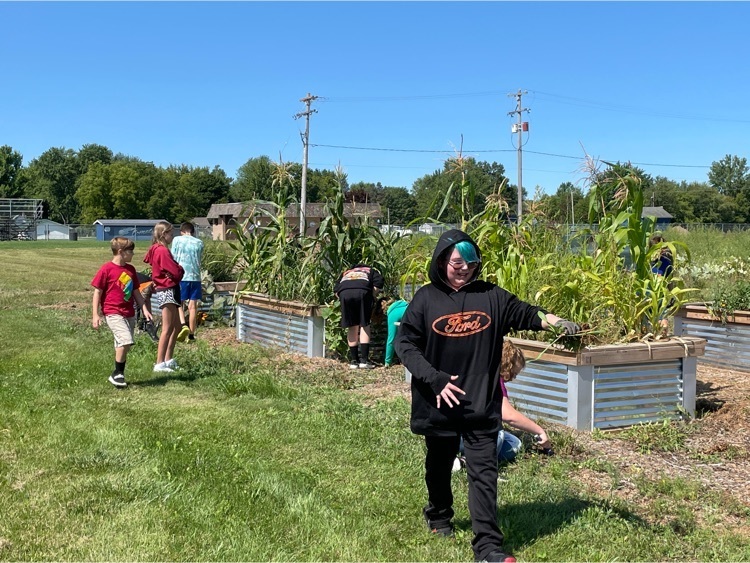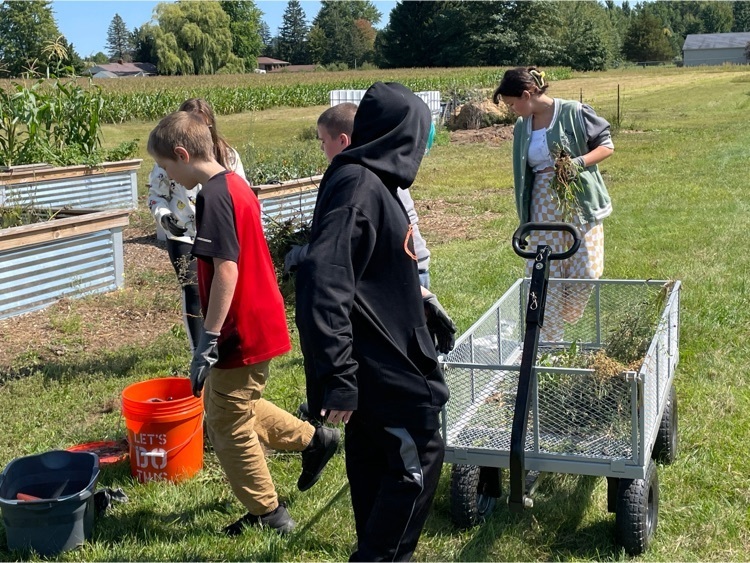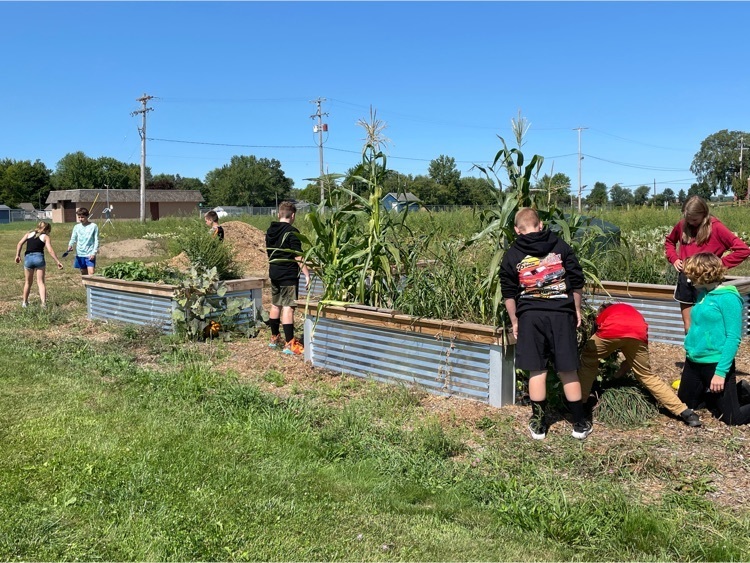 August 2022 Comet News Newsletter is out now:
https://5il.co/1hlaw
. Check it out for back-to-school information, letters from our new Dean of Students and our new Athletic Director, important updates, news on district improvements, and to see what some of our awesome Comets have been up to!

Welcome to Mrs. Leah Sims, who will be our new part-time Secretarial Aide, assisting in the office at both buildings! Please help her feel welcome.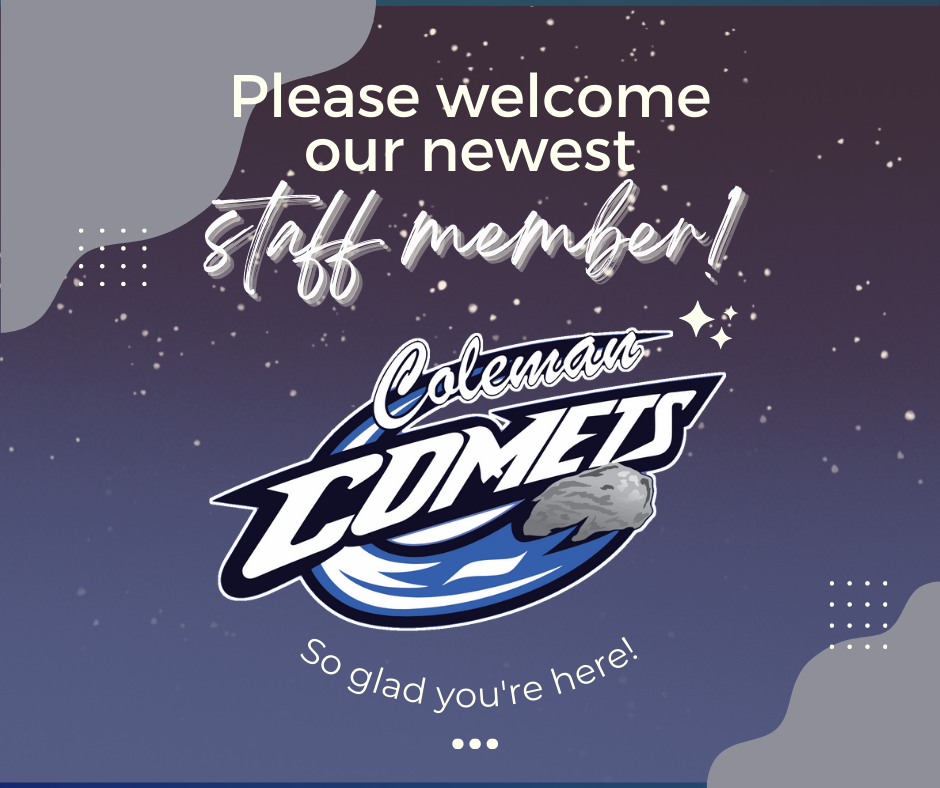 Important announcement regarding Homecoming festivities: due to scheduling of officials and event management conflicts, we have had to adapt our Homecoming schedule for this year. On Friday, October 7th, we will have our Homecoming parade at 5:30, which will be followed by a Powder Puff football game at 7 pm. On Saturday, October 8th, we will host our Homecoming football game at 11 am, and in the evening from 8pm to 11pm, we will host our Homecoming dance for the high schoolers. Please spread the word so the community is informed of this year's big change!

Project Community Connect -- an opportunity to learn about the resources available to you in our community! Check out this flier for more details.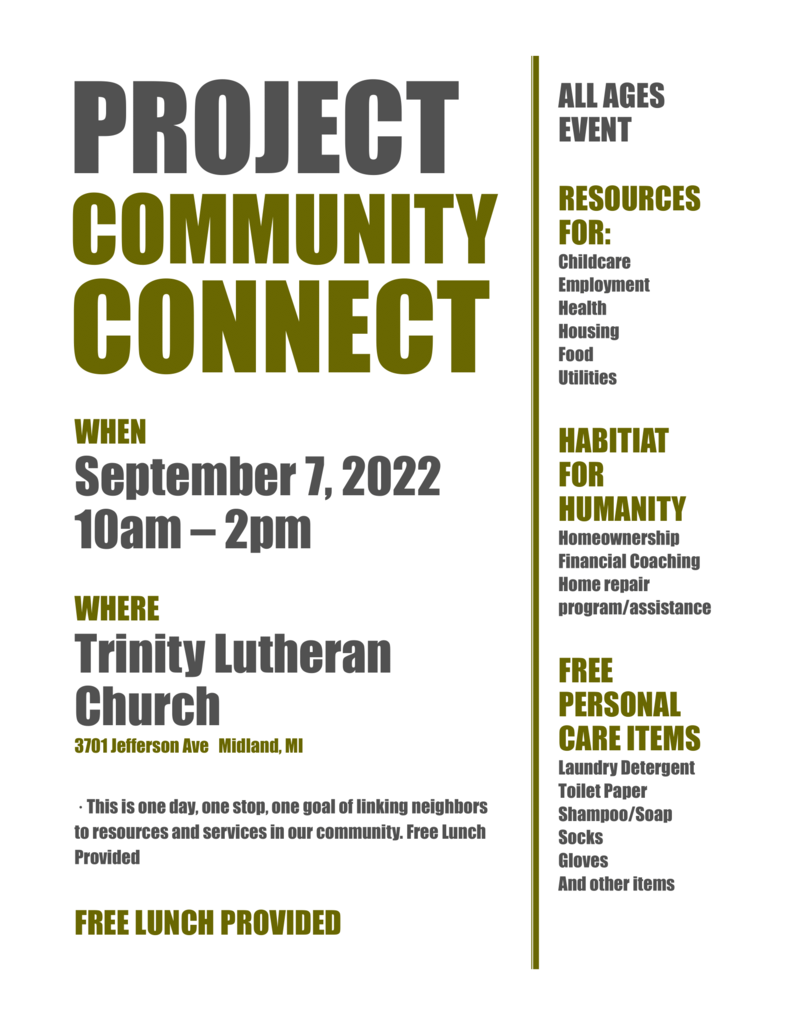 There was a great turnout this morning for our Senior's last first day of school! This is going to be the best year yet for all of you. Enjoy it as much as you can! If you attended senior sunrise and you have any other fun pictures to share from this morning, please be sure to send them to
pr@colemanschools.net
if you'd like them posted to the website!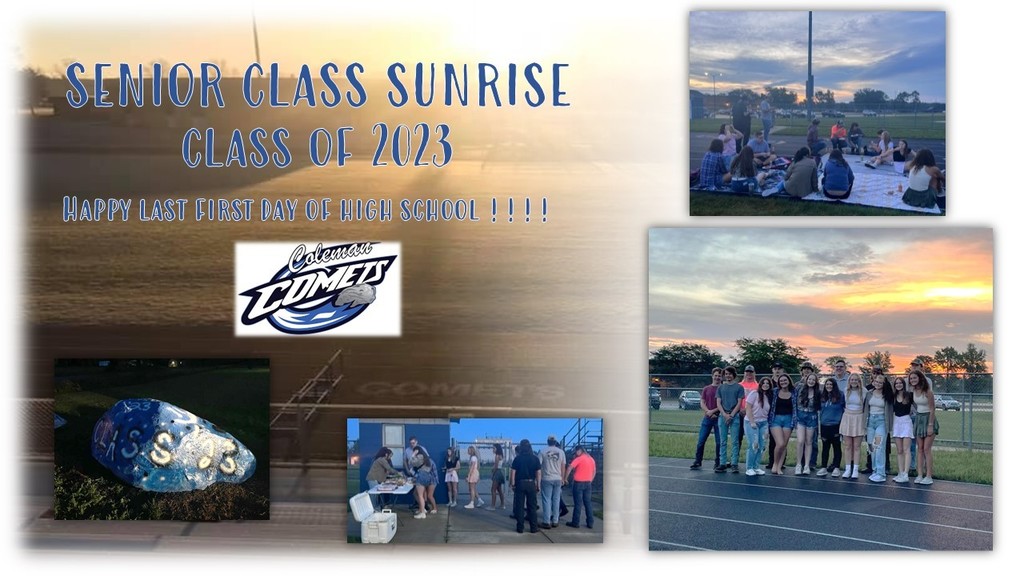 Attention incoming seniors! Join your senior class on Monday morning to enjoy the sunrise and a continental breakfast on the football field to celebrate your last first day of school!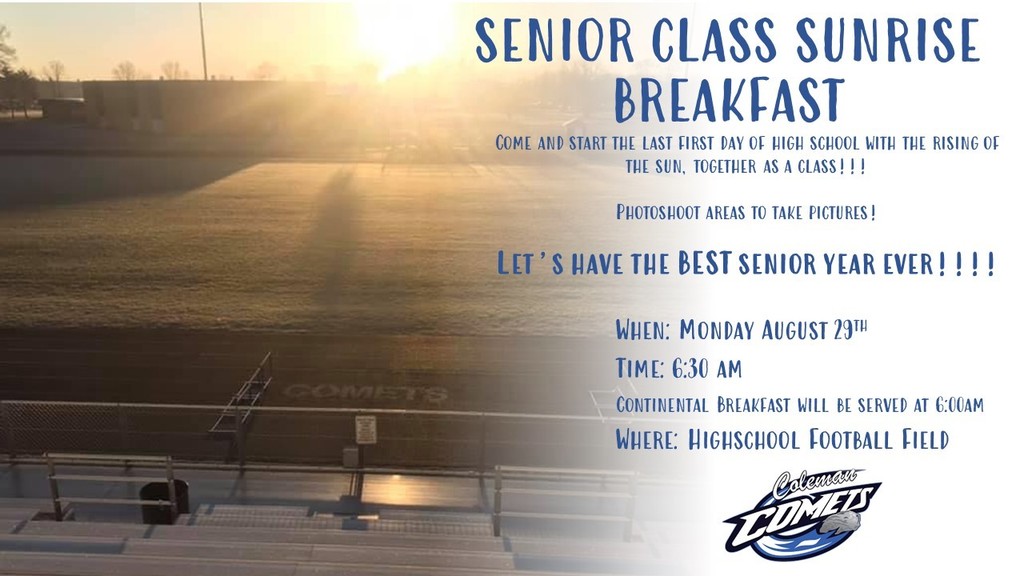 Thanks to all the families, staff members, and organizations that showed up to make our annual open houses a success! We had a lot of fun, and are looking forward to having our students back for the new school year. See you soon, Comets!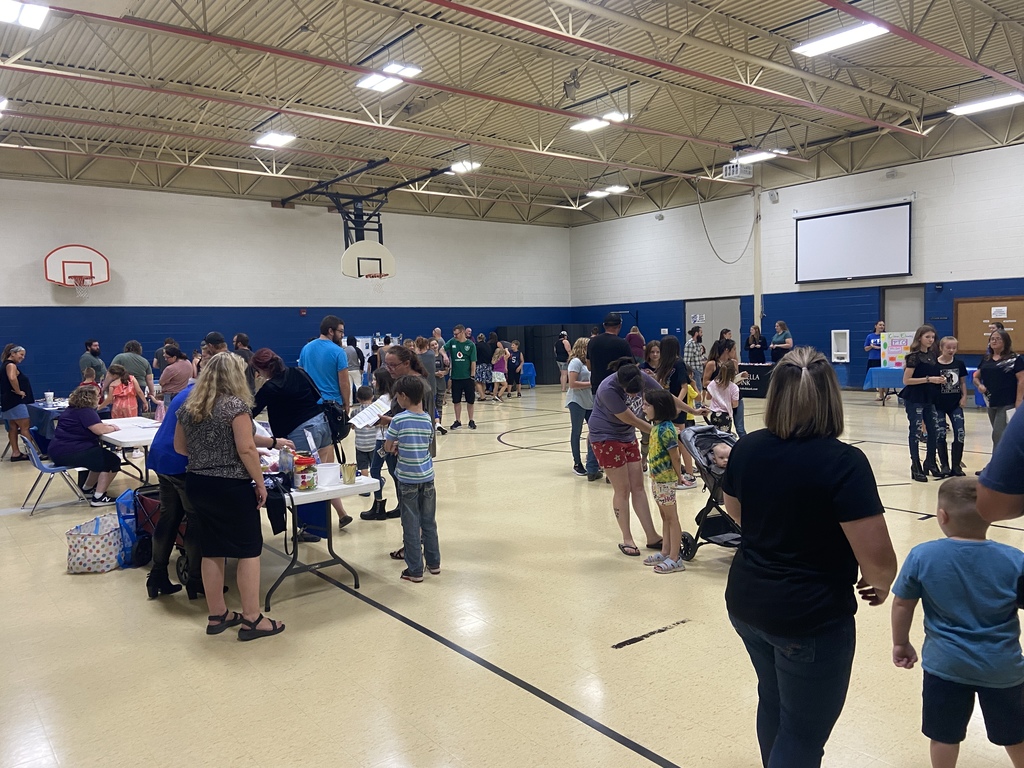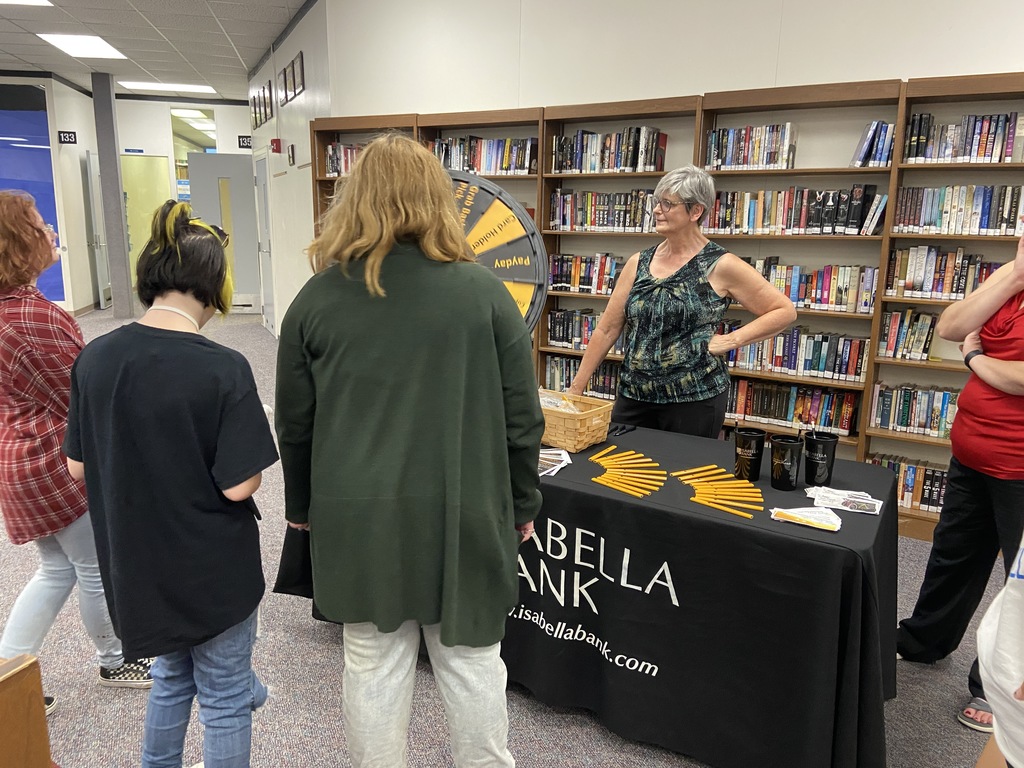 School starts Monday, and the fall athletics season has begun. As we really get rolling, you can keep track of school events on your own Google calendar. Simply go to colemanschools.net, select which calendar (District, Jr/Sr High, or Elementary) you'd like to follow from the drop down at the top right, and click the 'link' near the center of the screen. Ta da, all additions and changes will automatically upload to your calendar! Of course, you can always just download the Comet app and check there, too! Go to your app store and search 'coleman schools mi' and tap on the little Comet logo that pops up.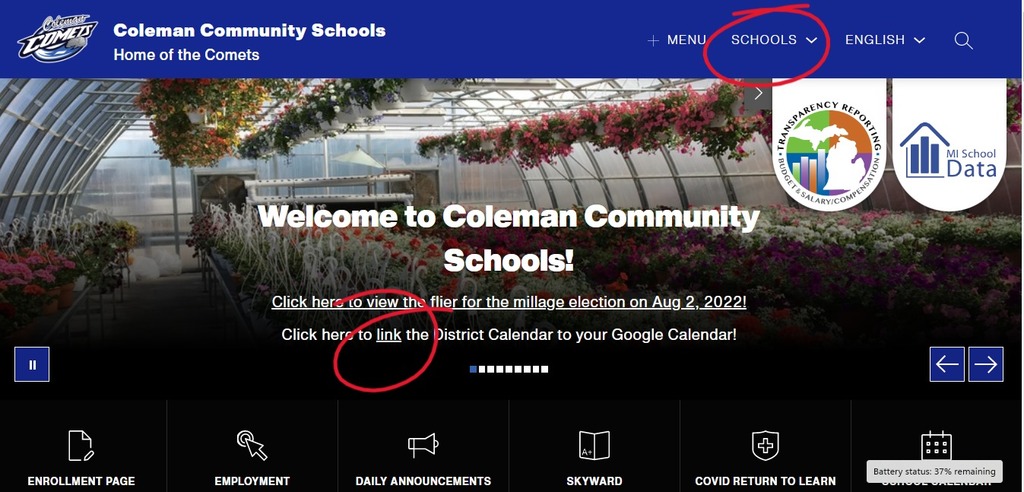 Our awesome custodians have spent the summer cleaning and preparing so we can get back to school Monday morning! Instruction starts in both buildings at 8am for a full day. We look forward to seeing everyone back in the buildings.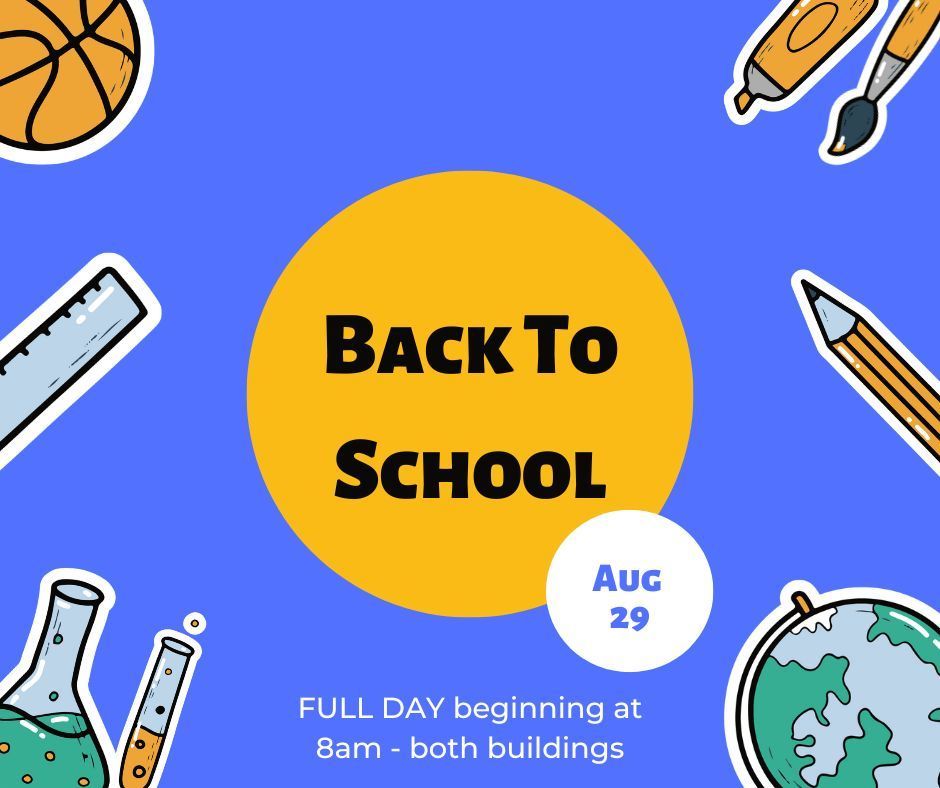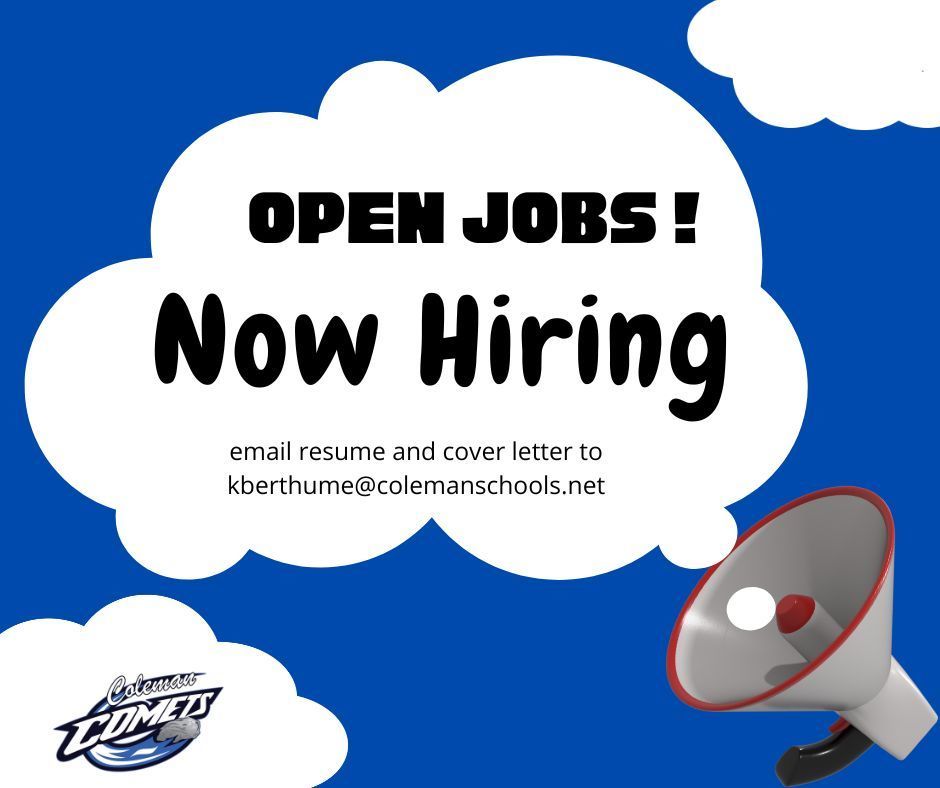 At the Open House tomorrow evening, keep an eye out for our newest staff members and show them a warm Comet welcome! Karly Larsen - Dean of Students, both buildings Tara Wittington - Kindergarten Teacher, Elementary Ella Williams - STAR Advisor, Jr/Sr High (continuing Social Worker, Elementary) Kirstin Torreano - History/Electives Teacher, Jr/Sr High Courtney Nartker - 4th Grade Teacher, Elementary Emily Willoughby - Counselor, Jr/Sr High Kelly Peckham - American Sign Language Teacher, both schools Monique Reuter - Social Worker, Jr/Sr High Christian Maloney - Athletic Director, Jr/Sr High


Attention parents: there is a new method to make payments for your students' meal purchases! Please know that although every student is eligible for free meals at Coleman, you will need to register for this new payment method if your student would like to make additional food purchases beyond their daily free meal. Please read the instructions to register here:
https://5il.co/1gml6
, or visit the Food Services page here to learn more about the school's meal program!
https://www.colemanschools.net/o/jr-sr-high-school/page/dining

Please welcome Melissa Allen, who will be the Jr High Volleyball Coach this year. We are excited to have Melissa working with our students since she already knows the group, has a strong athletic background and is very caring about our students' successes. Thank you, Melissa! Also, please welcome Jess Araway who will be supporting the high school volleyball teams as an Assistant Coach. Thank you, Jess, for working with our students and building their skills!

A few reminders for the start of the year: Aug. 22 @ 7 p.m. is 7th Grade Orientation Aug. 23 @ 7 p.m. is the Athletic Boosters Meeting in the Jr./Sr. High Cafe. All are welcome! Aug. 24 Open House for all students & families- Elem. 5:30-6:30 p.m.; Jr./Sr. High 6-7:00 p.m. Aug. 29 First Day of School. School starts @ 8:00 a.m. for both buildings this year, different than previous years. Also, it is a full day for students. Aug. 31 1st Early Release Day- Students release at 1:50 p.m. at the Jr./Sr. High & 2:00 p.m. at the Elem. EVERY Wed. unless it is a half day. Sept. 2-5 No School for Labor Day Weekend And if you haven't heard the most recent announcement, in addition to the added courses at the Jr./Sr. High and added support positions for students at both buildings, we will also add a new Career-Technical Education Program in addition to Agriscience. This year, high school students will be able to attend "Coleman Culinary at The Depot", located in the former Depot Restaurant, 320 E. Railway for 2 hours/day. We're thrilled to offer this program to students across Midland, Clare and Gladwin Counties. And we're looking forward to connecting our youngest students to the CTE students and teachers as well. If you have friends/families looking to register their child, just stop in the office or visit our Enrollment Page at
www.colemanschools.net
. Can't wait to see all of you soon!

School piano no longer in use for a donation to the school music program and pick up yourself. Please contact
jmccormack@colemanschools.net
989.465.6060 if interested.