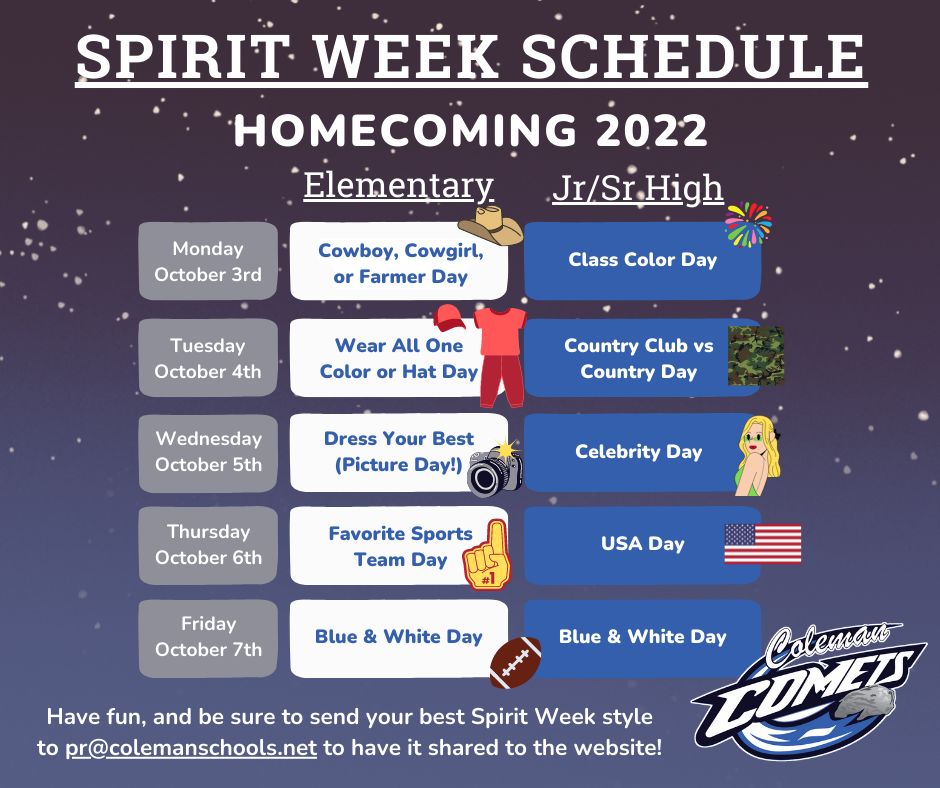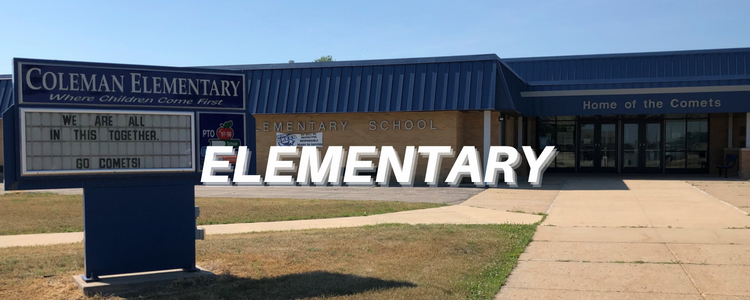 Upcoming Dates & Deadlines
Friday (9/30) is our first Habit Huddle of the year! It will be at 1:00 pm in the Elementary School cafeteria. All students will attend this assembly.
Wednesday 10/5 is Picture Day! Your student should bring home a picture form to be filled out.
It's that time of year again! If it is under 60 degrees, please be sending your students to school wearing sweatshirts and/or jackets. They must wear proper clothing in order to participate in recess time.
Please turn in emergency forms to the office as soon as possible! We need updated information yearly to ensure we have current contact information and knowledge of allergies/medical conditions in case of emergency.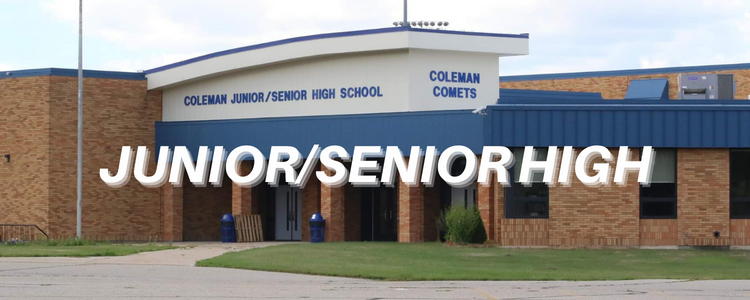 Upcoming Dates & Deadlines
The Junior Class float building will be on Wednesday 9/28 7-8:30pm. If you have any questions, see a junior Class student council member.
If you are bringing a guest to the Homecoming Dance, you must complete a dance form. The forms are located in the library along with a sign up sheet. Completed dance forms are due to Mrs. Robison by Friday, September 30, but please turn them in early if possible!
NHS will have a meeting on Friday, September 30, during Seminar. We will meet in Mrs. Robison's classroom.
Spirit week begins Monday 10/3! Monday is class color day, Tuesday is Country Club vs. Country Day, Wednesday is Celebrity Day, Thursday is USA Day, and Friday is Blue and White Day.
Tuesday (10/4) the Universal Technical Institute & MIAT College of Technology Rep will be in the building. They offer training programs in Aviation, Energy, Robotics & Automation, Welding, and HVACR. Next Thursday Delta College will also be here for a Rep visit. You can sign up for these outside Ms. Jacobs office (near the library).
Homecoming Parade: Friday, 10/7 @ 5:30 PM
Powder Puff Football Game: Friday, 10/7 @ 7 PM
Homecoming Football Game: Saturday, 10/8 @ 11 AM
Homecoming Dance: Saturday, 10/8 @ 8 PM
The Community Christmas Closet in Midland is offering clothing vouchers for K-12 students in need of a set of clothes during the Christmas season. There are application forms available in the information board in the office. Application forms are due before October 15th. Also, there are Sharing Tree forms in the office that need to be completed and turned in soon.
A gold ring was found in the boy's locker room. If you lost a ring, please see Coach Klopf with a description of the ring.
Students and families looking for help paying for college are encouraged to register for a Virtual College Financial Aid Night. Participants will be able to gather information on the following financial aid topics such as FAFSA application and scholarship resources. All sessions are free of charge. Please see Ms. Willoughby in the counseling office for more information on how to register
College representative visits have been posted. 11th & 12th graders can sign up to attend outside Ms. Jacobs office.
We need some people to clean up the stands after the Powder Puff football game on Friday night so it is ready for the homecoming game on Saturday morning. NHS can use this as volunteer hours and if you are not a member of NHS, you can earn a free ticket to the Homecoming game on Saturday morning. Please see Mrs. Robison if you are interested in helping with this event.
Last year's yearbooks are available for sale in Room 122 for only $45. Find Mr. Kalitta for additional information or send him an email at jkalitta@colemanschools.net. Again, yearbooks are for sale: see Mr. Kalitta.
If you would like a used social studies book, help yourself to the ones on the media center shelves.
Students coming from Ag & Culinary MUST wait in the cafeteria before 3rd hour.
Students are not allowed to walk on the service drive behind the buildings after school lets out, as buses and traffic are trying to flow through there. Students are asked to walk on the sidewalks for the driver and students' safety.
All backpacks need to be in lockers. If they do not fit in your locker, put it in the office. Also, remember no phones should be out in the classroom.
Please do not spray cologne, perfume, body spray, or deodorant in the hallways. There are many people allergic to strong smells, and it can cause problems. Take care of these things at home or in the locker room after gym class.
The student section is for the purpose of cheering in support of and for our team, not against the visiting team.
Varsity Football picked up the victory on Saturday night over Vestaburg 64-12 and took home the inaugural Battle for the Tractor trophy! The Comets rushed for 358 yards and kept Vestaburg under 60 yards rushing. Vance Sysak threw 3 TD passes, ran for over 100 yards and 2 TDs, and also scored 4 2-point conv. Jared DeVrieze ran for 149 yards and 2 TDs. Isaiah Biers had 2 receiving Touchdowns. Ty and Travis Murray each had a rushing TD. Dawson Haller had a receiving touchdown. Jack Gates ran in a conversion. Defensively, Carson DeJongh led the team in tackles, Sam Bovee had an interception, and Dawson Haller had 2 fumble recoveries. Congrats to the Varsity on the schools 1st varsity 8-man football victory!
Coach Falor reports for the Cross Country Team: At the Cross Country meet last night everyone on the team ran their fastest race of the year. Kaylee Aultman won a medal and ran a 21:44. Katelin Wilson ran great. The Boys were led by Logan Dudley with a blistering PR time of 19:44. Cole Aultman ran a PR of 21:15 and Chris Tallman's new PR is 23:58. Freshman Jair Martinez's 2nd race of the year was a new PR of 25:27.