EDIT MAIN
Coleman Athletic Boosters
Welcome to the Coleman Athletic Boosters web page! We'll be posting fundraising info for the Coleman Jr and Sr High School sports programs.
Booster Bonanza 16 (2020)! Booster Bopnanza #16 is on the way.......February 8, 2020! Very special guest this year is Howard Johnson....no,not the hotel chain but the third baseman Howard Johnson! HoJo played for the Detroit Tigers in the 1984 amazing season and also won a world series with the New York Mets! The Bonanza will once again be at The Great Hall Valley Plaza in Midland. Tickets are still the same at $45/single and $80/couple. Dinner, auction and raffle. Help raise money for Coleman Athletics. Social hour 5:00-6:00 PM, dinner 6:00 PM. Get your tickets at the High School Athletic Office or at any JV/Varisty home basketball game.
Admissions to High School Athletic Events: $5/person; to Junior High events: $3
Family Passes: Are available from the athletic office for $175/family. A family pass purchases entry for all immediate family members (parents and school-age children; no college students) to normal, regular season, home athletic events throughout the school year.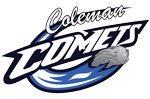 Booster Bonanza 2019 in pictures. All pictures taken and provided by Bob Guiliani of Guys and Dolls Photography Clare, MI