Who's ready for Spirit Week next week? BOTH schools are participating, but with different daily themes. Refer to this schedule to make sure you know what's coming up next. And don't forget -- send your best Spirit Week style pics to
pr@colemanschools.net
to have them shared to the website! Have fun, Comets!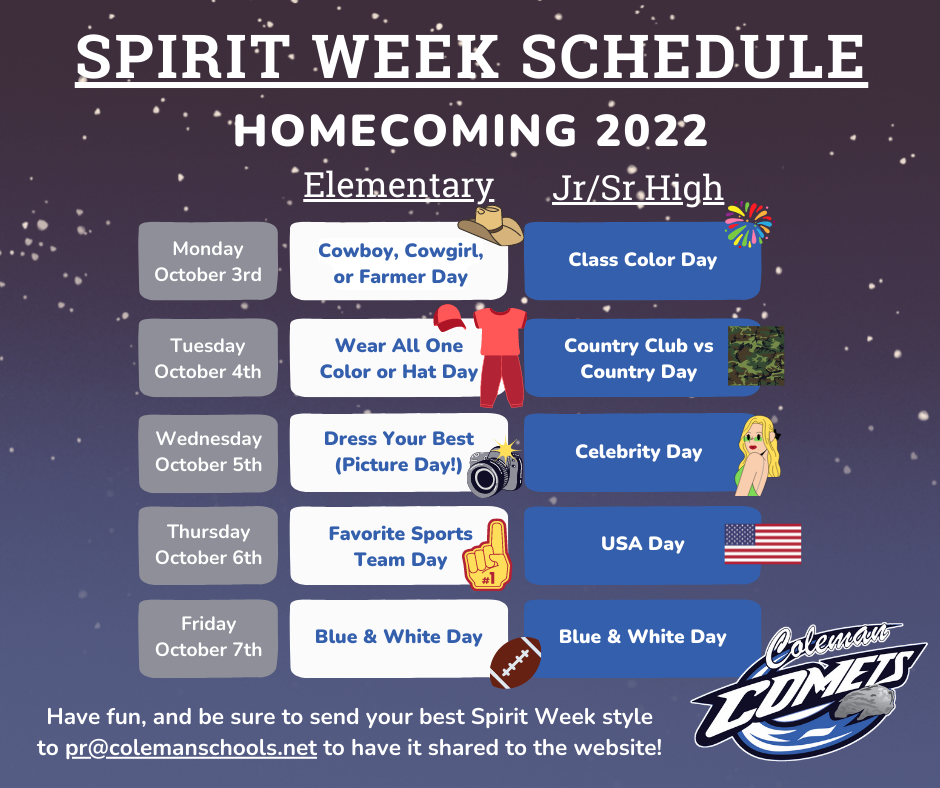 Mark your calendars! Just another reminder that the Homecoming schedule is different this year than normal. Our homecoming parade will be at 5:30 on Friday, October 7th, which will be followed by a Powder Puff football game at 7 pm. Our homecoming football game will be at 11 am on Saturday, October 8th, and our homecoming dance will be at 8pm-11pm on Saturday evening. Be sure to spread the word so no one misses the festivities this year!

Some families have received P-EBT cards for their child from the State as part of COVID food relief. One glitch is that it asks for the last 4 digits of your child's social security number. However, when you input that number, it tells you it is incorrect information. What you actually need to do is input "0000" and it should work. We hope this is helpful to you.

Do YOU know about the changes this year to the Homecoming schedule? Friday, October 7th: Homecoming parade @ 5:30 pm, Powder Puff football game @ 7 pm. Saturday, October 8th: Homecoming football game @ 11 am, Homecoming dance @ 8pm-11pm. Please contact the high school office at (989) 465-6171 with any questions!

Important announcement regarding Homecoming festivities: due to scheduling of officials and event management conflicts, we have had to adapt our Homecoming schedule for this year. On Friday, October 7th, we will have our Homecoming parade at 5:30, which will be followed by a Powder Puff football game at 7 pm. On Saturday, October 8th, we will host our Homecoming football game at 11 am, and in the evening from 8pm to 11pm, we will host our Homecoming dance for the high schoolers. Please spread the word so the community is informed of this year's big change!

Thanks to all the families, staff members, and organizations that showed up to make our annual open houses a success! We had a lot of fun, and are looking forward to having our students back for the new school year. See you soon, Comets!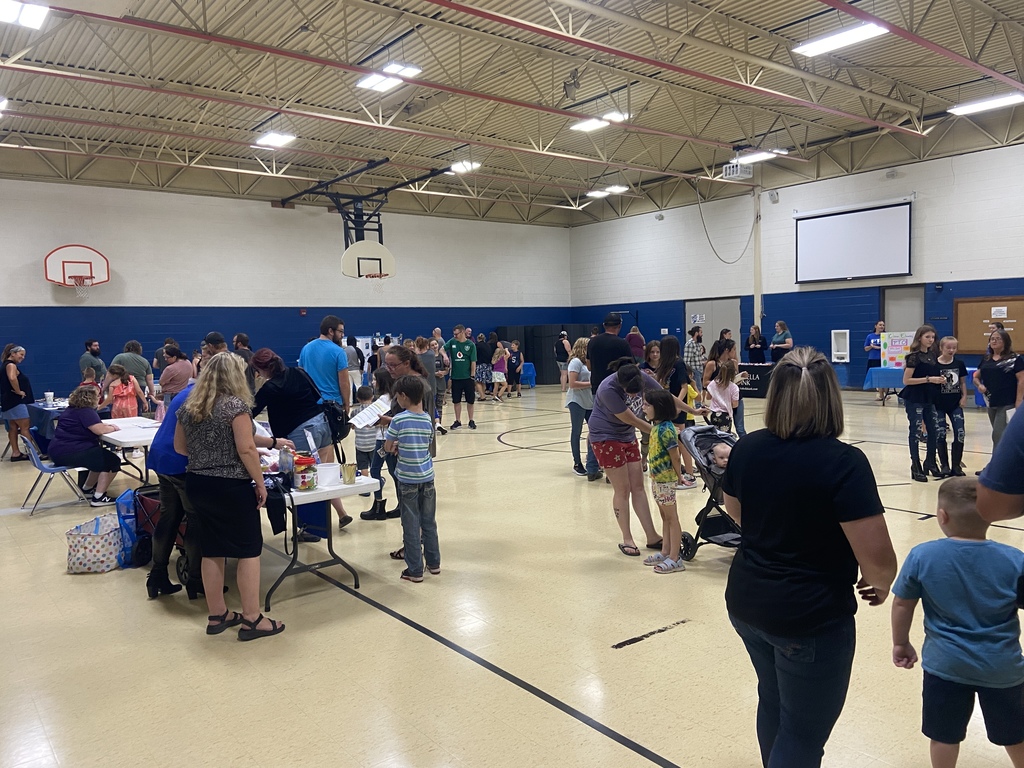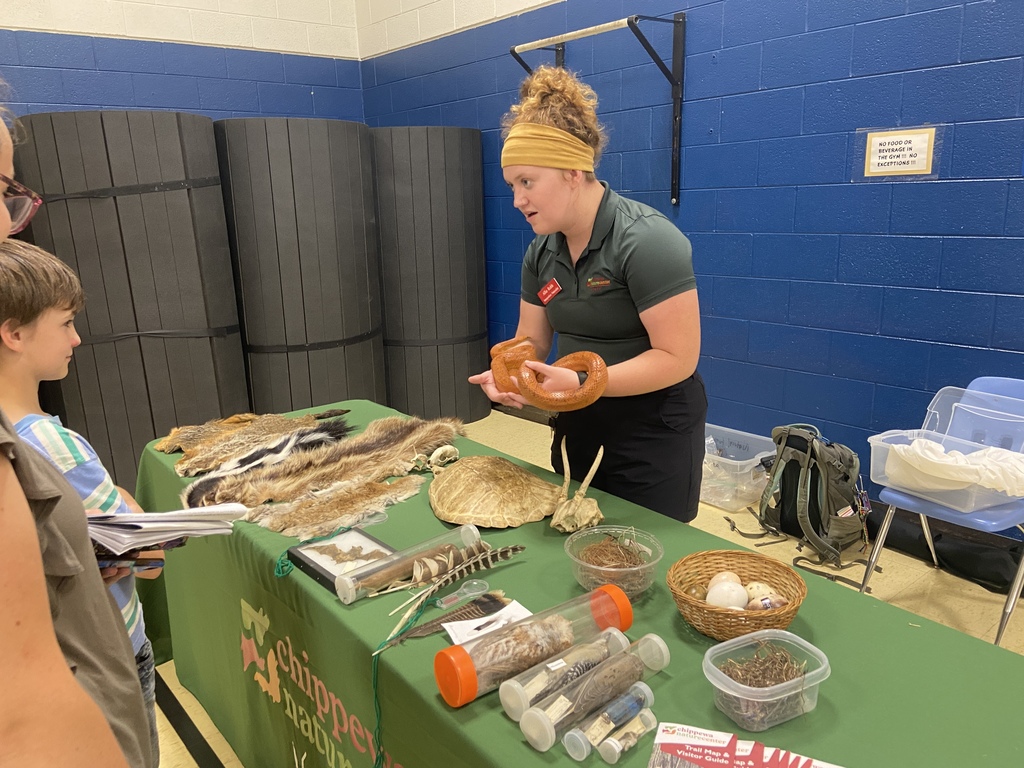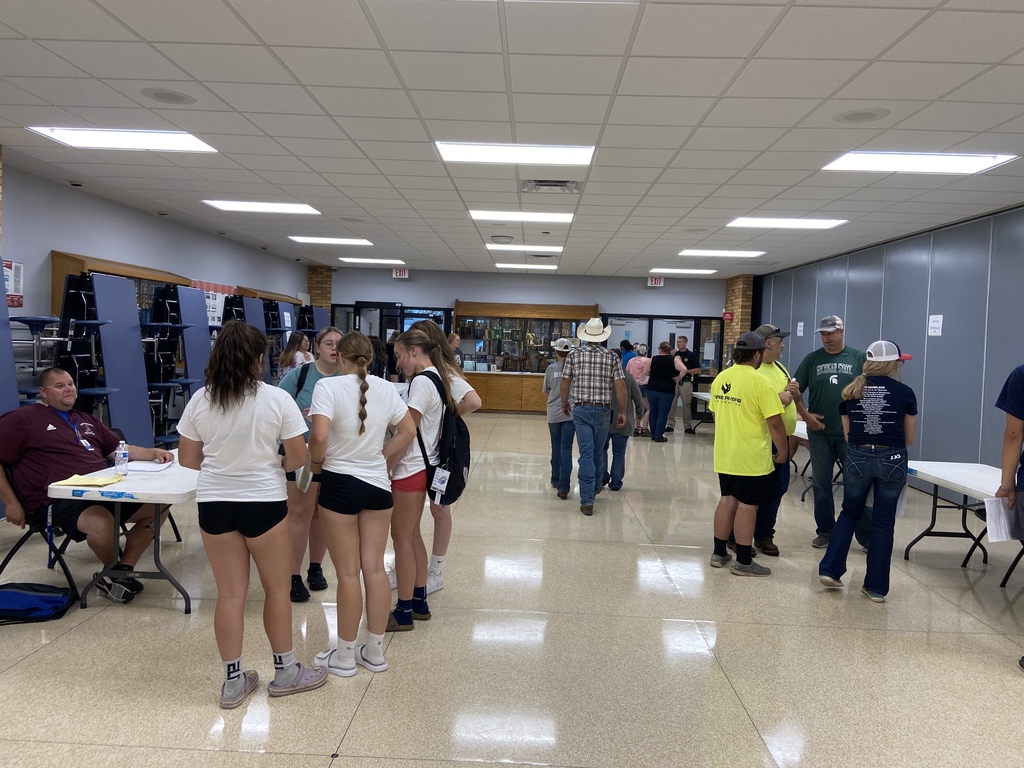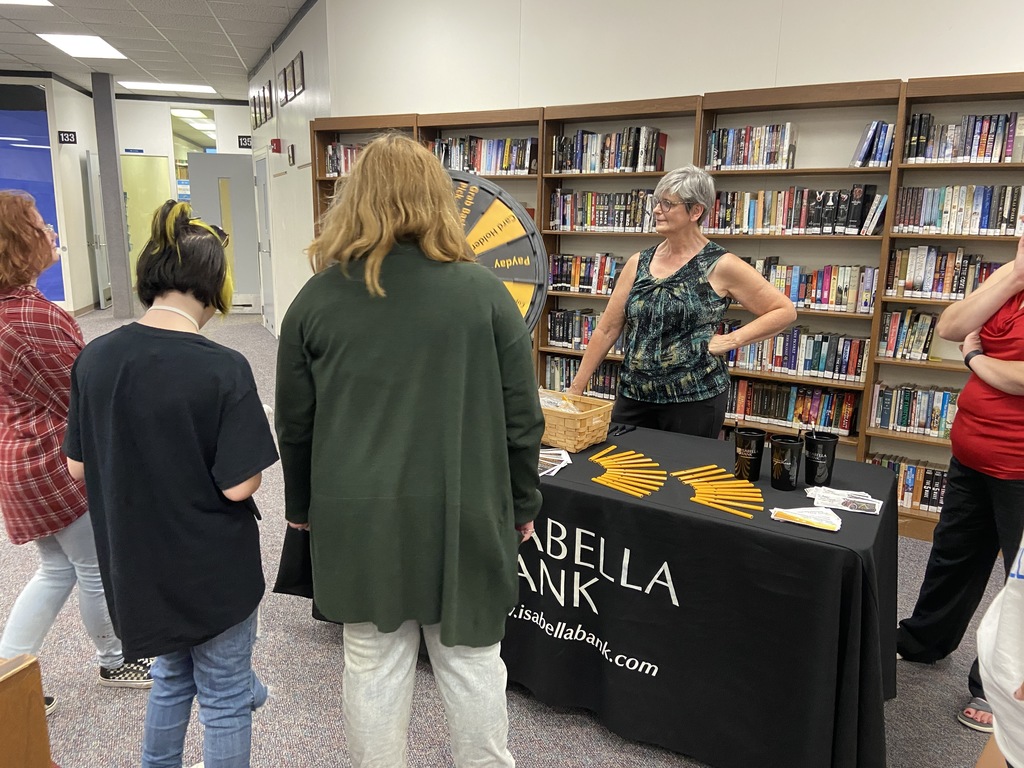 Attention parents: there is a new method to make payments for your students' meal purchases! Please know that although every student is eligible for free meals at Coleman, you will need to register for this new payment method if your student would like to make additional food purchases beyond their daily free meal. Please read the instructions to register here:
https://5il.co/1gml6
, or visit the Food Services page here to learn more about the school's meal program!
https://www.colemanschools.net/o/jr-sr-high-school/page/dining

A few reminders for the start of the year: Aug. 22 @ 7 p.m. is 7th Grade Orientation Aug. 23 @ 7 p.m. is the Athletic Boosters Meeting in the Jr./Sr. High Cafe. All are welcome! Aug. 24 Open House for all students & families- Elem. 5:30-6:30 p.m.; Jr./Sr. High 6-7:00 p.m. Aug. 29 First Day of School. School starts @ 8:00 a.m. for both buildings this year, different than previous years. Also, it is a full day for students. Aug. 31 1st Early Release Day- Students release at 1:50 p.m. at the Jr./Sr. High & 2:00 p.m. at the Elem. EVERY Wed. unless it is a half day. Sept. 2-5 No School for Labor Day Weekend And if you haven't heard the most recent announcement, in addition to the added courses at the Jr./Sr. High and added support positions for students at both buildings, we will also add a new Career-Technical Education Program in addition to Agriscience. This year, high school students will be able to attend "Coleman Culinary at The Depot", located in the former Depot Restaurant, 320 E. Railway for 2 hours/day. We're thrilled to offer this program to students across Midland, Clare and Gladwin Counties. And we're looking forward to connecting our youngest students to the CTE students and teachers as well. If you have friends/families looking to register their child, just stop in the office or visit our Enrollment Page at
www.colemanschools.net
. Can't wait to see all of you soon!

It's not too late to sign up for your student's back-to-school immunizations during our Open Houses on Wednesday! The Health Department will be stationed in the Jr/Sr High Auditorium. This is a great opportunity to receive all of the back-to-school immunizations your K-12 student might still be missing, including the COVID-19 vaccine for those that are interested. They will only bring what they need, so if you'd like to participate, or you'd like to assess what immunizations your student still needs, please contact the nurse, Shelley, at (989) 832-6662.

The annual school open houses are coming up very soon! Make sure to stop by on August 24th from 5:30 - 6:30 at the elementary or 6-7 at the high school for your class schedule, food, and a chance to meet your teachers before school starts on the 29th! Also -- the Midland County Department of Public Health will be providing all recommended back to school vaccines as well as the COVID-19 vaccine in the high school auditorium during the open houses. Please contact Shelley to assess what vaccines your child might need – (989) 832-6662.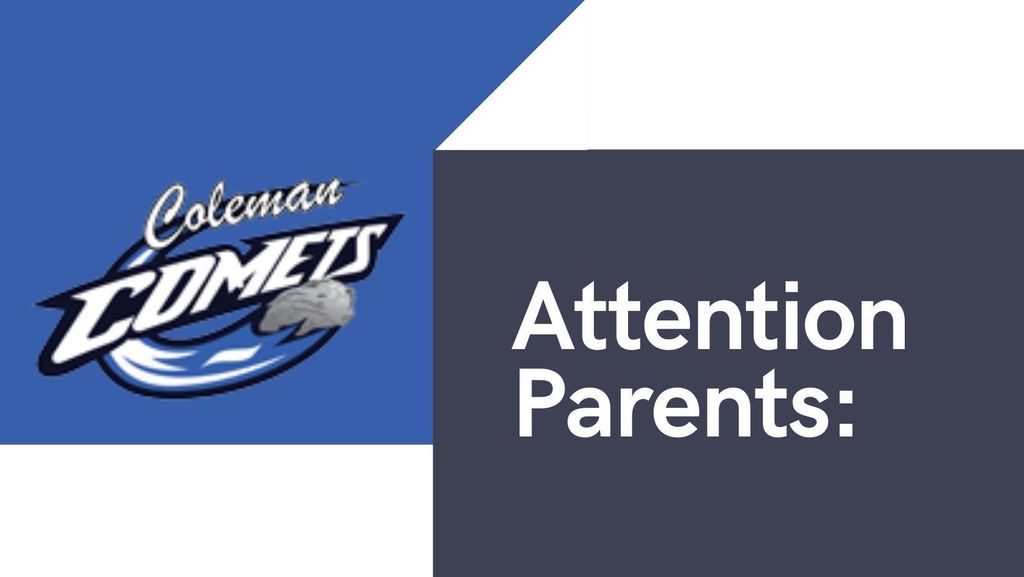 For those outside of our district that are interested in enrolling at Coleman Schools through a School of Choice application this school year, please see the notice posted on the Enrollment page here:
https://www.colemanschools.net/o/coleman-cs/page/enrollment
. If you are submitting a School of Choice application this year, all paperwork is due by the end of the first week of school! (Thursday, September 1st)

In-Person workshop on September 7th from 5-7:45pm in Mt. Pleasant for families of students with disabilities (and professionals who work with them in school settings) with national presenter Sean Roy speaking about preparing for employment. Registration link for families:
https://EmploymentFamiliesWorkshop.eventbrite.com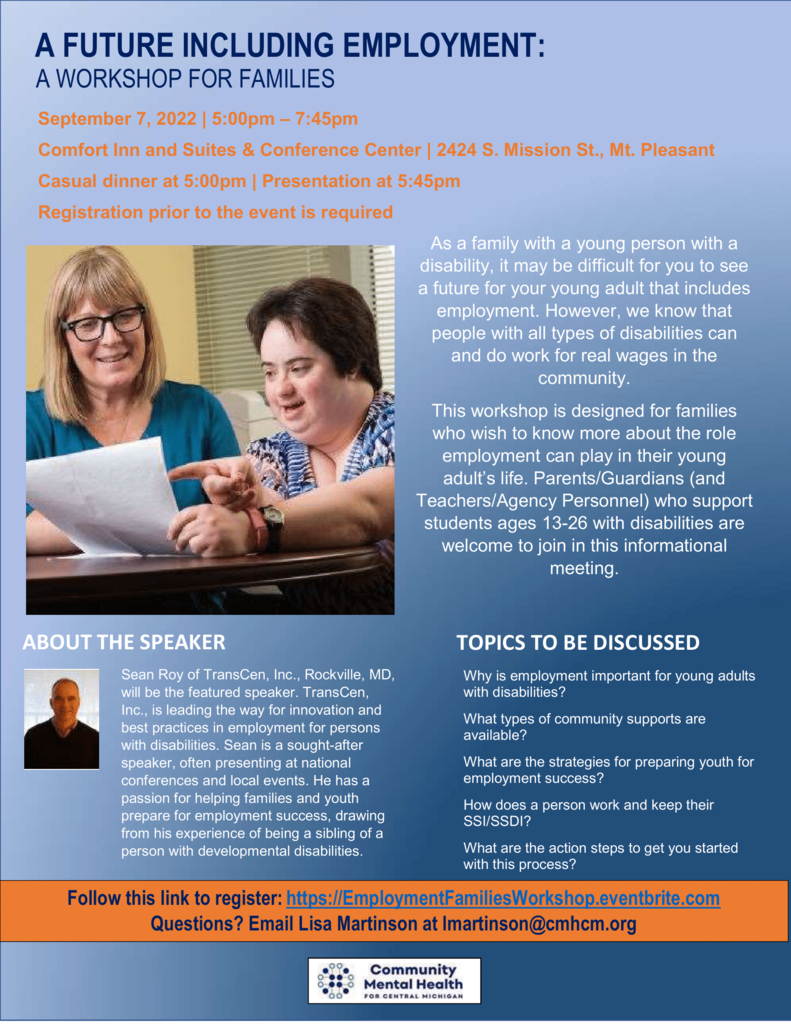 Congrats to our Comets, Elley and Kal Johnson, who both placed at the Isabella County Fair! Elley took 1st, 4th, and 5th. Kal took two 1st place wins -- one in Showmanship and one in Market, plus an additional 2nd place in Market. Outstanding work!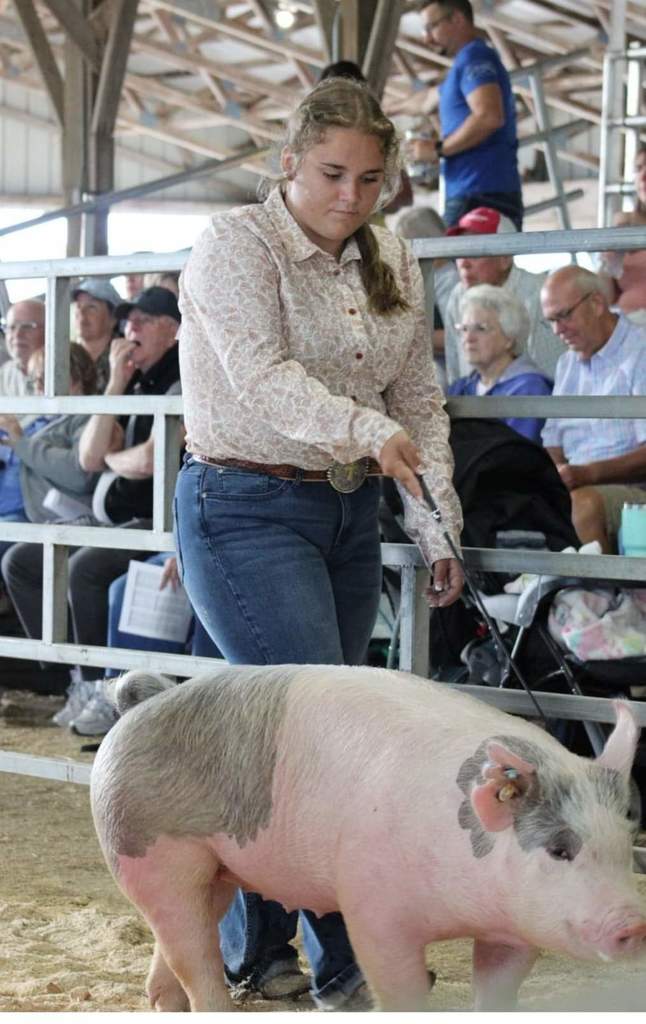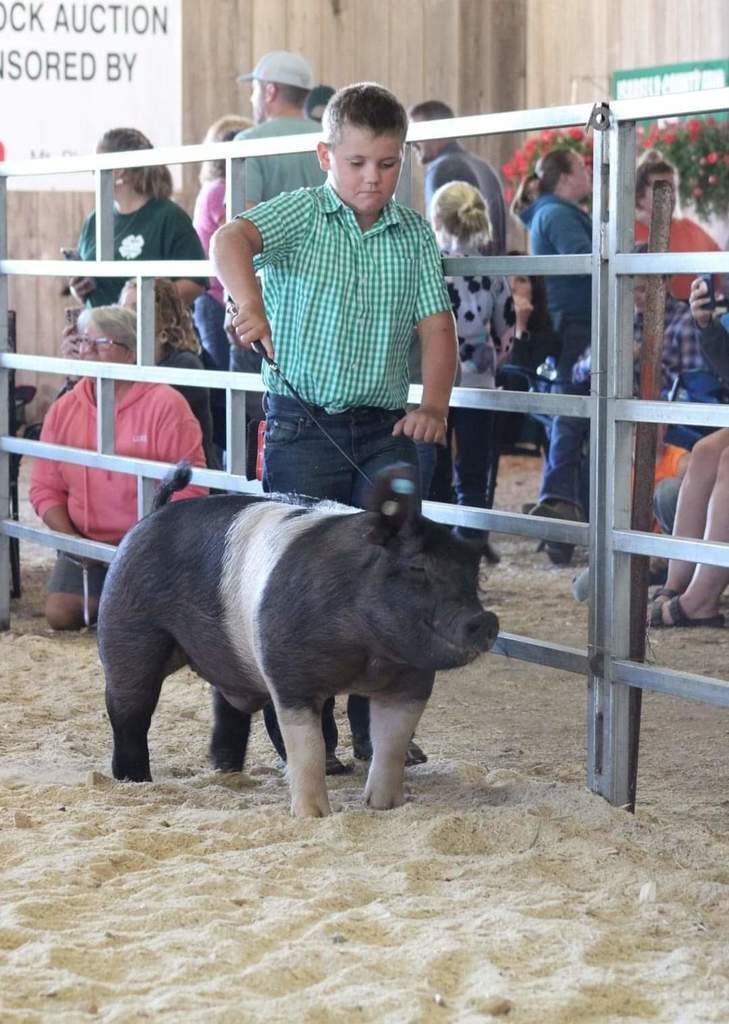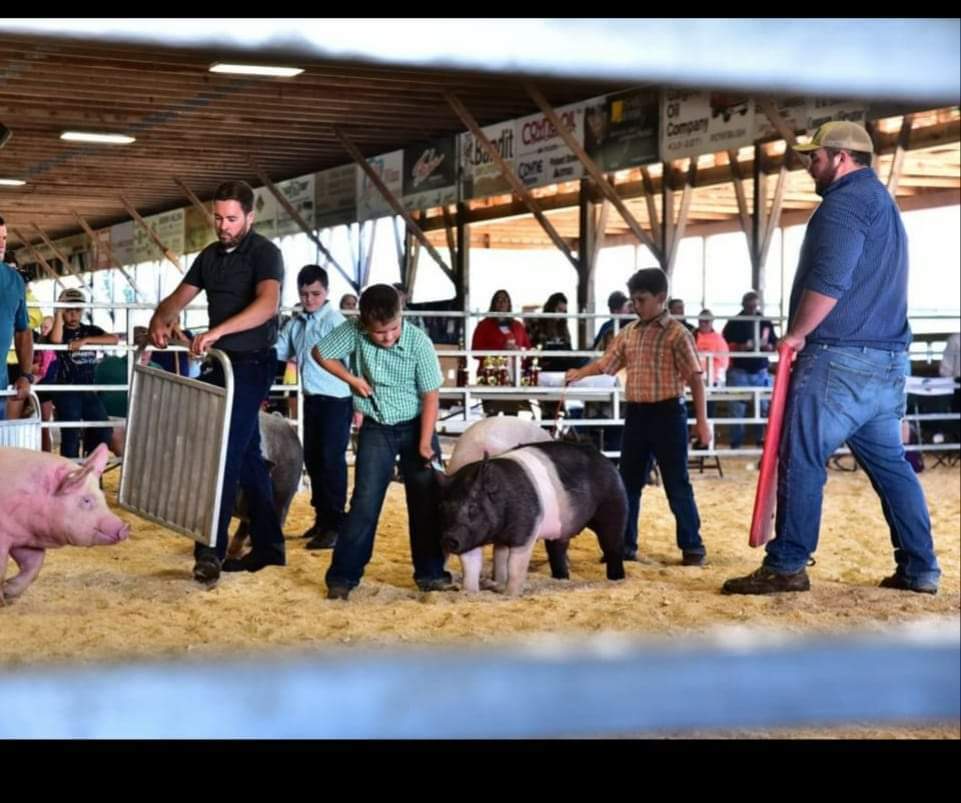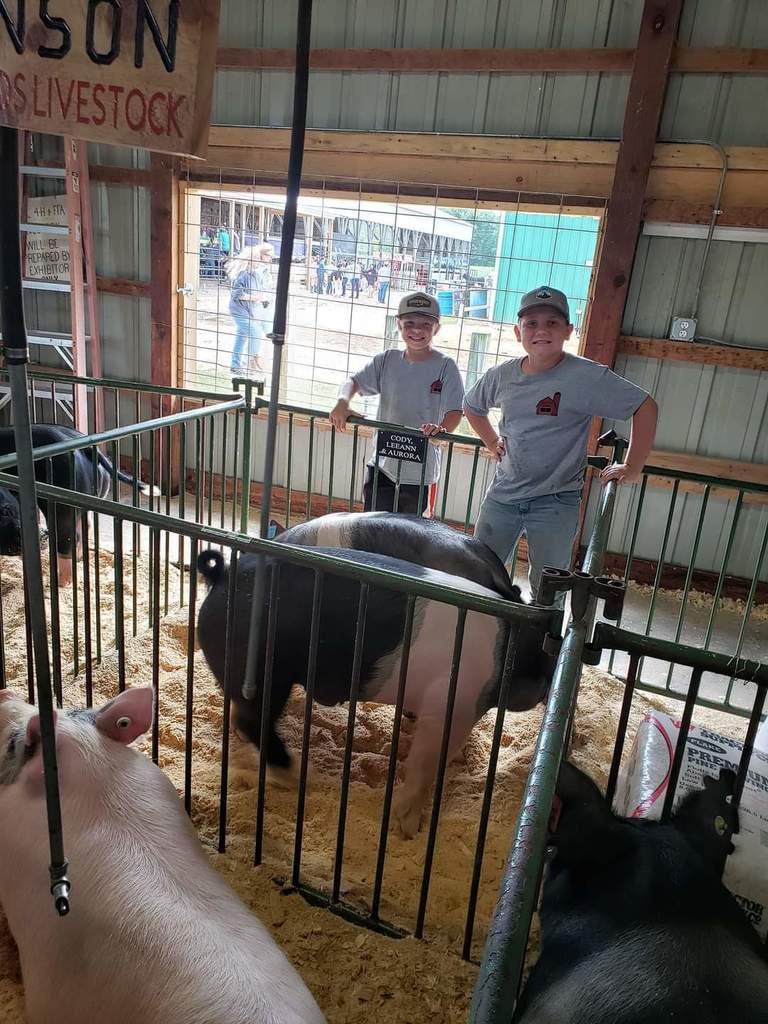 Today's the day! Our operating millage renewal is on the ballot and the polls are open! Please consider taking the time today to VOTE and support our school. We couldn't do it without our awesome community!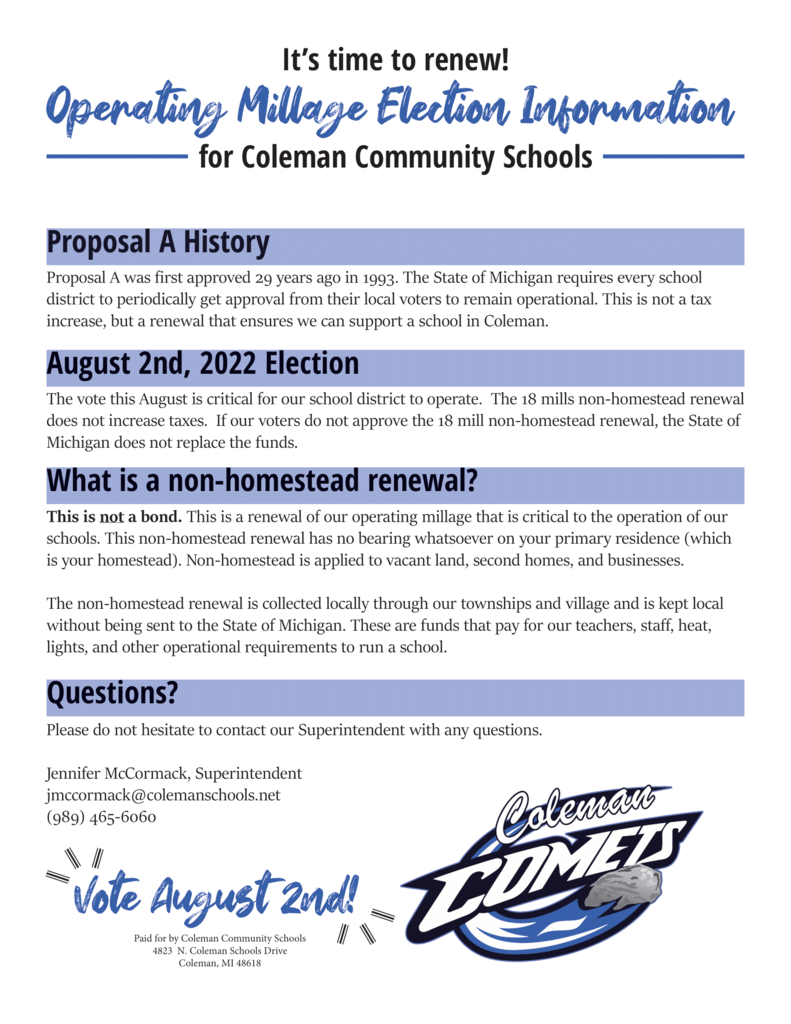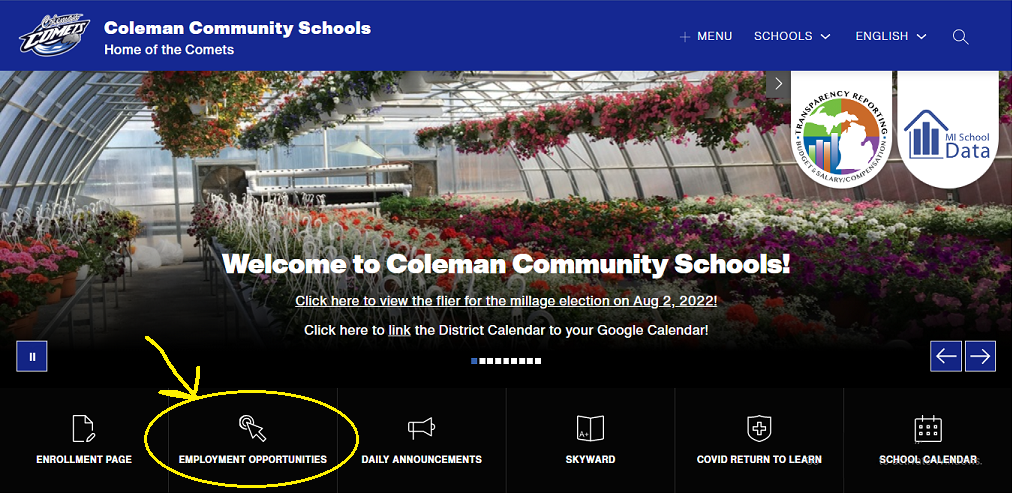 In just 5 days, our operating millage renewal will be on the ballot! Make sure to review our information materials and fliers before you VOTE on Tuesday, August 2nd! Please consider sharing this post to help us spread the word about this opportunity to support our district and our students. Thank you!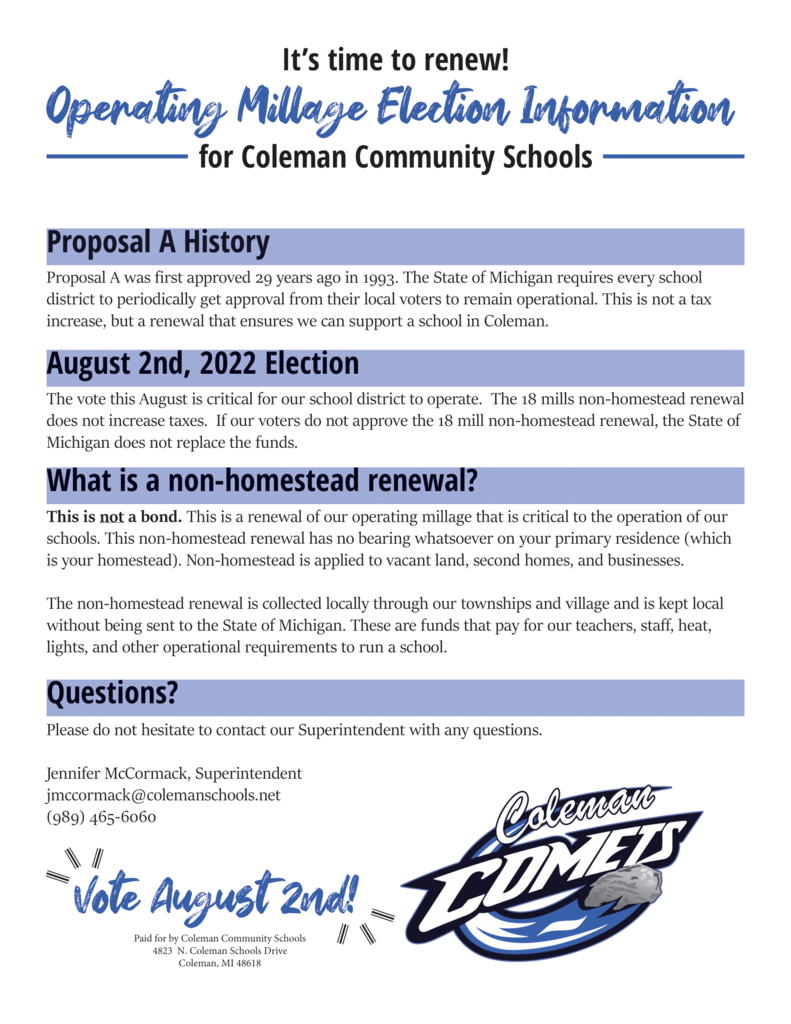 Some key points to keep in mind when considering our upcoming millage election renewal on Aug 2nd, 2022! To view the official information flier, please visit this site:
https://5il.co/1cjdn
.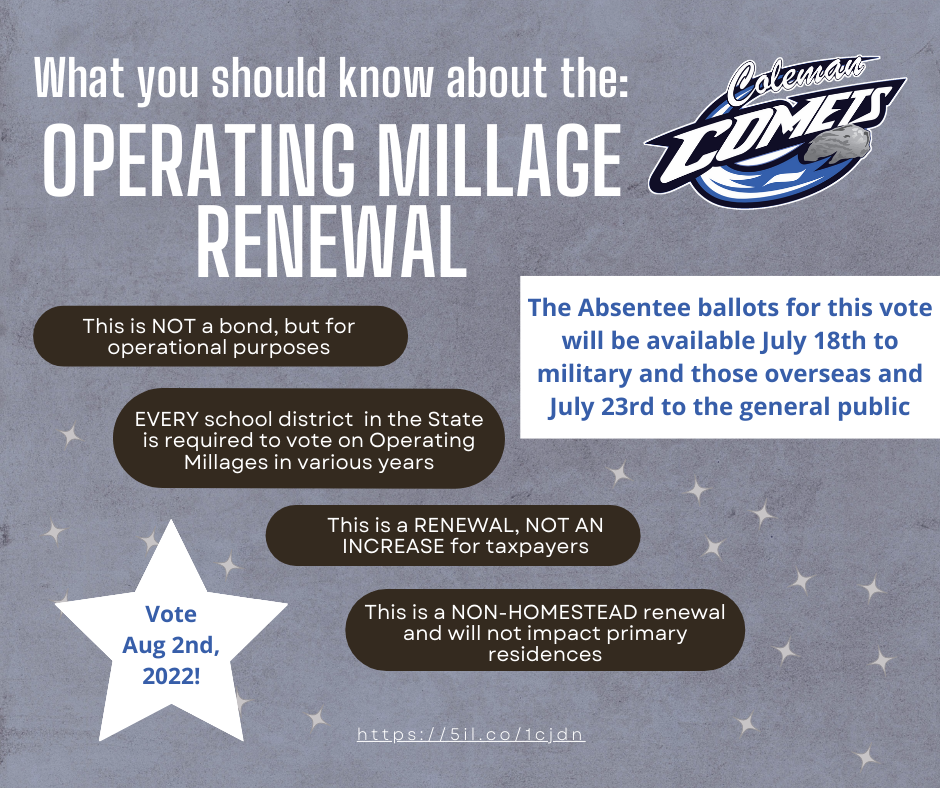 I hope this message finds you enjoying your summer and a more relaxed pace! There are several items on the August 2nd ballot pertaining to schools that I would like to share with you. If you feel willing, please share the information with others you know in the Coleman Community School District. Coleman Schools Operating Millage RENEWAL: The August 2nd primary is just weeks away and the Coleman Community Schools' Operating Millage Renewal will be on the ballot. You can vote now by Absentee Ballot through your Township or City Hall. Information about the Millage can be found at this link:
https://5il.co/1cjdn
This is NOT a bond and is NOT a tax increase, but a renewal ensuring the critical operations of Coleman Community Schools to pay for our teacher, staff, heat, lights and other operational requirements to run a school.  This is also a non-homestead renewal meaning it has no bearing whatsoever on your primary residence (which is your homestead). Non-homestead is applied to vacant land, second homes and businesses. The State of Michigan requires every school district to periodically get approval from their local voters.  Midland County School Resource Officer (SRO) Millage RENEWAL: This millage renewal is on the ballot in August as well, allowing for our SRO, Deputy Brandan Hodges, to be in our schools daily supporting and mentoring students, monitoring behavior, providing us updates on the latest technology and safety strategies and training for our staff and students, assisting with traffic and acting as a resource for administration, staff and Comet families. Again, this is a renewal of the current millage already in place.  Midland County Educational Service Agency (MCESA) Bond: Students from all Midland County Schools, including Coleman, receive support from the Midland County ESA for Career-Technical Education (CTE), Early Childhood Services, Special Education programming and funding and Technology Services. The MCESA has a bond on the ballot for August 2nd. This is a new bond specifically for use by ESA and the programs it supports. The maximum number of years the bond of any series may be outstanding, exclusive of any refunding, is 12 years. A homeowner with a home with a taxable value of $100,000 pays $50.00/year. For more information on this bond proposal, you can Google Midland County Educational Service Agency and click on the bond link on their homepage. Whether voting by absentee ballot now or in person on August 2nd, please get out and vote. Should you have any questions at all, please do not hesitate to contact me at
jmccormack@colemanschools.net
or 989.465.6060. And if you would, please take a minute to share with friends and families of the Coleman Community School District. Excited to see our students and families at Open House on August 24th and in school on August 29th! As always, thank you for your support of our schools, Jen McCormack, Supt.

Any questions regarding the upcoming operating millage renewal for Coleman Community Schools? Our superintendent is happy to address your concerns! You can contact her at
jmccormack@colemanschools.net
.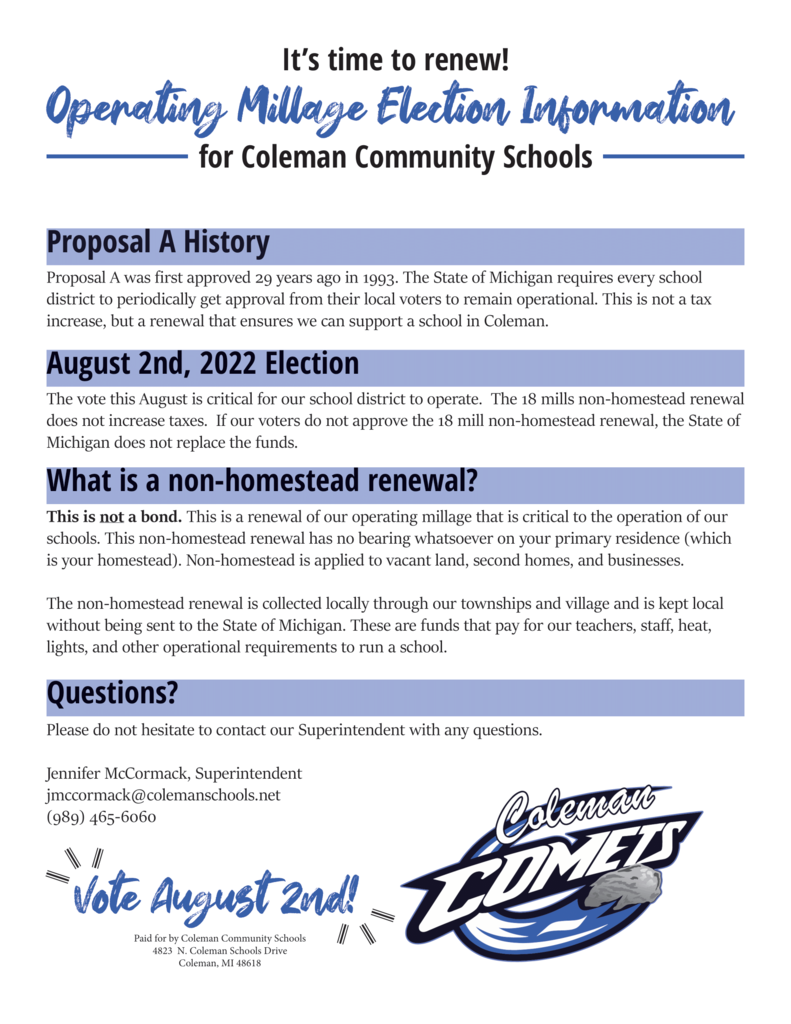 Did you know we have a vote coming up to renew our operating millage? This is NOT a bond, but a RENEWAL that is crucial to the operation of our school district. Please consider voting on Aug 2nd! Thanks for sharing this post and for your continued support of our community!