EDIT MAIN
Comet Athletics
Admissions to High School athletic events: $5/person; to Junior High events: $3/person
Family passes are available from the athletic office for $175/family. A family pass purchases entry for all immediate family members (parents and school-age kids; no college students) to normal, regular season, home athletic events throughout the school year.
Game Day Requirements: As per the Coleman Athletic Code under Section IV - Other Athletic Rules letter "A" states that, "An athlete must be present for all classes on the day of the game in order to participate in that game." Exceptions may be arranged in advance (prior to 8:15 am the day of the game or before) with the principal or athletic director. The amount of time for the excused absence should be appropriate to the circumstances of the excuse. For a Saturday contest, an athlete must have been present for the entire school day prior to the contest in order to participate unless a prior arrangement is made with the principal or athletic director.
Game Day Requirements: A student is allowed to be tardy to a class or first hour but after ten minutes the student will be marked absent. All other absences must be cleared with the principal or athletic director in advance of the student's absence (doctor, dentist, etc.). At no time should a student athlete receive an unexcused absence from school on the day of competition (or the Friday prior for Saturday events). Such absence will result in the ineligibility of the student for the next scheduled date of competition.
At season's end, please return uniforms and equipment on the dates that the coaches have announced. They need to pack things up and put them in storage, and it is much nicer to do it all at once. Thanks for your assistance in this matter.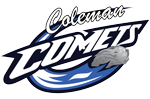 Coleman Comet Fight Song
Onward, Coleman; onward, Coleman
Fight right through that line.
Send the ball, clear all opponents
Touch down/Basket sure each time.
Rah, rah, rah!
Onward, Coleman; onward, Coleman
Fight hard for your fame.
Fight, team, and fight, fight, fight
To win each game!